Sarah Palin: Waterboarding Is How We Baptize Terrorists
So, this happened.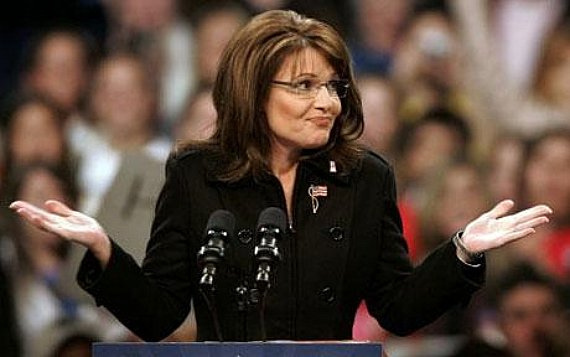 During her Keynote Address at this weekend's National Rifle Association Convention, Sarah Palin spoke of the benefits of torture:
Former Alaska Gov. Sarah Palin (R) defended the controversial enhanced interrogation technique of waterboarding this weekend, and implied that the practice would still be commonplace "if I were in charge."

"They obviously have information on plots to carry out Jihad," she said at the National Rifle Association (NRA) annual meeting on Saturday evening, referring to prisoners. "Oh, but you can't offend them, can't make them feel uncomfortable, not even a smidgen. Well, if I were in charge, they would know that waterboarding is how we baptize terrorists."

The remark stands in stark contrast to the opinion of her former running mate, Sen. John McCain (R-Ariz.).

The former Republican presidential nominee, who spent more than five years in a prison camp during the Vietnam War, has repeatedly denounced the practice, which he says is torture.
Here's the video:
As with most things that the former Governor of Alaska has said since she quit her job in the summer of 2009, it may be best to just ignore Palin's comment. After all, she's been known to throw similar comments in her speeches over the years, much to the adulation of whatever crowd she happens to be speaking to at the moment. However, this remark stands out for a number of reasons. As the linked article notes, Palin's gleeful adulation at the prospect of being able to waterboard a few terrorists stands in stark contrast to the position taken by the man who put her on the map politically. John McCain, who himself spent years being tortured by the North Vietnamese, has been very clear in his assessment that waterboarding is torture and that torture is not something that a civilized nation does. One has to wonder what he thinks when he hears Palin say something like this, and whether perhaps he regrets the decision he made that turned Sarah Palin into a household name.
Not surprisingly, Palin's comments have ignited much comment across the blogosphere. Andrew Sullivan, not surprisingly, is indignant:
A Christian who can equate the sacrament of baptism with a barbaric form of torture is not a Christian, whatever self-righteous blather she emits. And a former vice-presidential candidate who talks of "baptizing" Muslim terror suspects through waterboarding is handing al Qaeda a propaganda coup on a platter. She disgusts me. And what disgusts me even more is the rank cowardice of so many sane Republicans who for far too long have failed to take her on.
Rod Dreher, meanwhile, objects strongly to Palin evoking baptism in her comment, as does Mollie Hemingway:
This is a perfect example not just of civil religion but also how civil religion harms the church. Civil religion is that folk religion that serves to further advance the cause of the state. Civil religion can include invocations of a generic God at inaugurations and other key events (lately these invocations also acknowledge, showing the power of civil religion, the absence of trust in God as well), oblique or overt religious references by political leaders, exaggerated stories about great leaders, interfaith worship events at times of national crisis (e.g., when Oprah Winfrey led a massive interfaith worship service at Yankee Stadium in the aftermath of 9/11), and so on and so forth.

Civil religion can be a unifying force for political power but it manages to unify, typically, at the expense of orthodox belief.

So it must be noted that, again apart from the debate over such interrogation techniques, waterboarding is the opposite of traditional Christian baptism. It does not work forgiveness of sins. It does not give eternal life in Christ. It is not voluntary.
Finally, Conor Freidersdorf points out why Palin's comment, and the cheering reception it got from a friendly crowd, matters:
I wouldn't have subjected readers to this especially inane nostalgia for Bush-era war crimes if not for what it could portend. Palin is a pandering publicity hound. She has a keen sense of what sorts of red meat the GOP base will eat up. For its part, the audience seemed receptive.

So one wonders: If the wrong Republican is elected, or if there is another major terrorist attack, will the United States once again force water into the lungs of captive humans (no ticking time bombs necessary) when they stand accused of terrorism? President Obama has certainly made future torture more likely by ending the practice by executive order rather than legislation, and by refusing to prosecute Bush Administration officials for torture, despite a legal obligation to do so.
Palin's absurd and sick joke, then, matters because it demonstrates yet again the utter fascination that many on the right have with torture and the extent to which they still haven't woken up to the fact that much of what was done in our name by the last Republican President was wrong, not just legally but morally. Until they realize that, they're just going to keep embarrassing themselves.