Sarah Palin's Latest Speech For Donald Trump Must Be Heard To Be Believed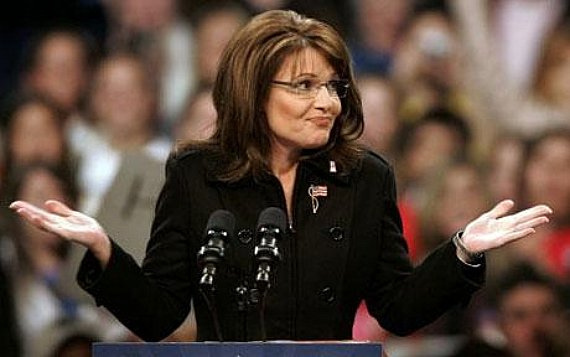 Sarah Palin was in Wisconsin campaigning for Donald Trump and gave a speech in which she seemingly hit new lows when it comes to incoherence:
The entire speech, which you can watch in its entirety above, ran 18 minutes. Palin got applause three times: 1. When she was introduced 2. When she mentioned Hillary Clinton and Benghazi and 3. When she finished. Here are a select few of my favorite lines — in the order in which Palin said them.

* "Getting off the airplane … Seeing all the green and gold and the green and gold until I'm dead and cold paraphernalia everywhere."

* "This awesome awakening, the shifting and sifting and the exposing of this rabid bite for them to hang on to any kind of relevancy and to hang on to their gravy train."

* On immigrants: "Inducing and seducing them with gift baskets … 'Come on over the border and here's a gift basket of teddy bears and soccer balls.' "

* "In order to work, to produce, to strive and to thrive, and to really be alive in the greatest country on earth."

* "Trashin' our economy, shippin' out jobs, lettin' us foot the bill, palin' around with the same old politicos and insiders."

* "And we won't retreat, we'll reload. We'll reload."

It was like watching Walt "Clyde" Frazier give a political speech. It was awkward as hell and impossible to stop watching all at the same time.
It's as if Palin has slipped into some kind of demented self-parody that makes even Tina Fey's Sarah Palin seem sane by comparison, and, but for the result of an election, it's entirely possible that today she would have been completing her second term as Vice-President of the United States. To say we dodged a bullet is an understatement.
Here's the video: