Schools Under Pressure to Re-open
Until our kids go back to school, we can't go back to work.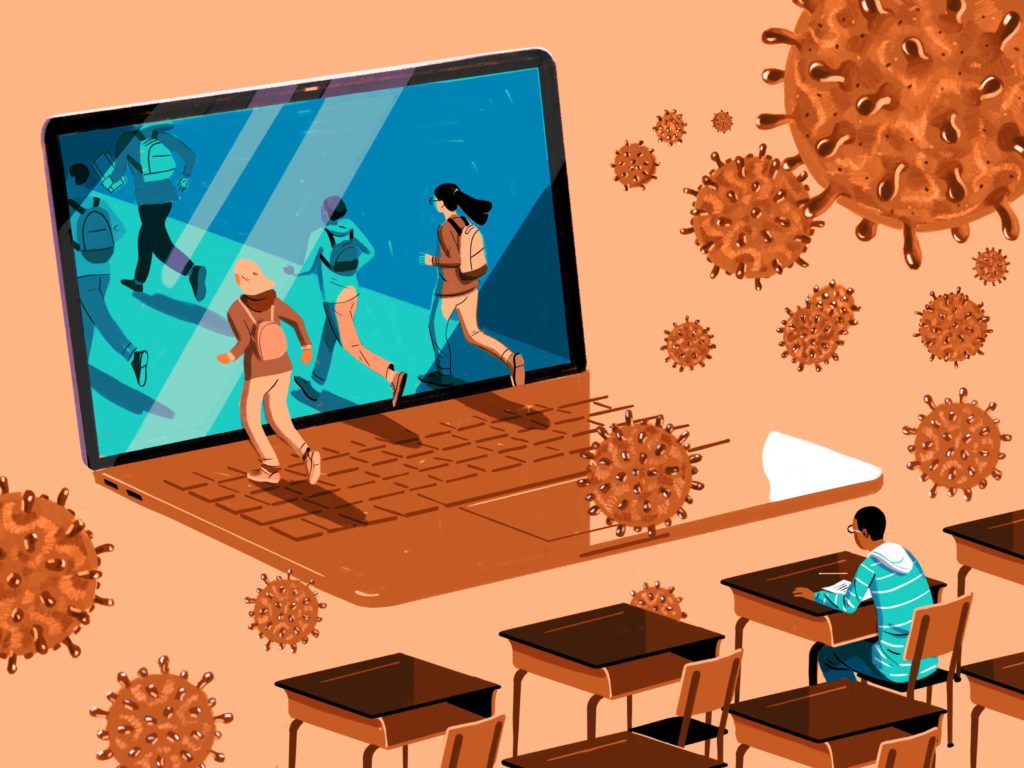 WaPo ("Under pressure to reopen this fall, school leaders plot unprecedented changes"):
From the White House podium to harried homes, pressure is building to reopen the nation's schools. But the next iteration of American education will look far different from the classrooms students and teachers abruptly departed last month.

Many overwhelmed school systems remain focused on running remote education that was set up on the fly. Others, though, are deep into planning for what they see coming: an in-between scenario in which schools are open but children are spread out in places where they are normally packed together.

The new landscape could include one-way hallways, kids and teachers in masks, and lunch inside classrooms instead of cafeterias. Buses may run half empty, and students may have their temperatures read before entering the building. And in districts all over the country, officials are considering bringing half the students to school on certain days, with the rest learning from home. Then they would swap.

"Our students need some kind of normalcy," said Michael Hinojosa, superintendent of the Dallas Independent School District. "Right now, their whole world has been disrupted with things that they've never dealt with before, and they need to be around other people."

Many teachers are scared of going back too early, and teachers unions are cautioning against it. Health experts warn that even if covid-19 cases abate, a second wave of infection could arrive with flu season later this year. And while many parents are eager to end the national experiment in remote education, others are terrified that any return to school would expose their children to a deadly disease.

But President Trump has pressed to reopen the economy, and one key to a functioning workforce is a school system that allows parents to do their jobs. Conservative activists have protested stay-at-home orders in several states, with Trump's encouragement. Several states are starting to reopen some businesses, with more planned in May.

Many educators, too, are eager to get students back, having concluded that remote education is far less effective and may leave lasting academic damage. They also fear for the safety and well-being of students who rely on schools for food, health care, social services and emotional stability.
Like it or not, our schools serve as a de facto national daycare program. They're also a social support network for children from abusive and under-resourced homes.
Those of us fortunate enough to be able to do our jobs remotely are almost certainly less efficient given that we're now doing double-duty as teacher assistants and lunchroom workers. Those who can't work from home are having to risk their kids' health by putting them into daycare—in a system without anything like the excess capacity to handle this many more kids, let alone do so with social distancing.
The upshot of all of this is that we really can't open the economy until we re-open the schools. While kids are seemingly more resistant to the virus than those of us over 50, there are a lot of kids with underlying conditions.
The options, they are not good.