Scott Brown: I'm Not A Tea Party Candidate
Massachusetts Senator Scott Brown was a Tea Party darling when he picked up Ted Kennedy's Senate seat last year, but he's not embracing the movement as he prepares to run for re-election next year.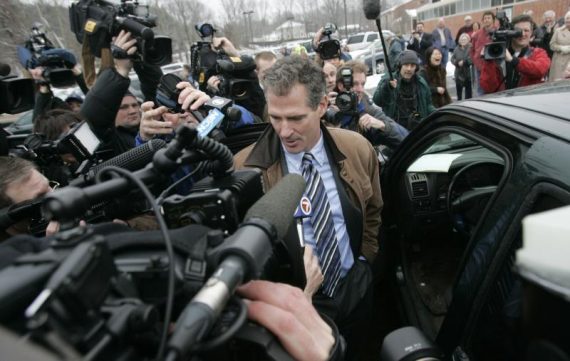 As the 2012 election draws near, Scott Brown is taking extra steps to differentiate himself from the predominant voices in his party:
WASHINGTON — Sen. Scott Brown's upset victory in Massachusetts last year reverberated nationwide, early evidence of the power of the emerging Tea Party even in one of the most liberal states in the nation.

Now, as he prepares for a re-election battle next year to win a full term for the Senate seat long held by Edward Kennedy, Brown downplays the role the Tea Party played last time, expressing support for its fiscal conservatism but keeping the movement at arms' length.

Is he a Tea Partier?

"No, I'm a Republican from Massachusetts," Brown said in an interview with USA TODAY about his new book, Against All Odds: My Life of Hardship, Fast Breaks, and Second Chances.

He calls himself "a Scott Brown Republican" — focused on jobs, the economy and national defense, and a fiscal hawk.

"I'm somebody who keeps an open mind on all the other issues," he says, adding: "I'm not a social crusader."
And, in the year he's been in office, Brown has taken somewhat of an independent streak, much to the frustration of the Tea Party activists who saw something in him that clearly wasn't there:
In office, Brown has voted with the Democrats on some big issues, including the financial regulatory overhaul and repeal of the "don't ask don't tell" policy on gays in the military.

"He's generally positioned as an independent kind of Republican," says Stuart Rothenberg, editor and publisher of the non-partisan Rothenberg Political Report. That's sensible in a state where Republicans make up 11% of registered voters, Rothenberg says, adding that Brown has "a decent chance to be re-elected in a very difficult state."
It won't be easy by any means, of course. Brown won in 2010 in a special election where there were just a little more than 2,1 million votes cast. In the 2008 Presidential election, there were nearly 3 million votes cast. That difference in turnout, plus a badly run campaign by Martha Coakley,obviously helped Brown win. Next year, though, he's going to have the uphill battle of running in a Presidential election year in state that will, most assuredly, vote heavily in Barack Obama's favor. If he's going to win, its going to be not because he ran as a Tea Party candidate, but because he ran as the kind of moderate, fiscally conservative, Republican that has been able to win in the past, and which had nearly disappeared from the party until his victory and the GOP pickups that occurred in the 2010 midterms. Any Republican who gets annoyed at him for taking the positions that he does is putting purity above politics and simply handing that Senate seat back to the Democrats.