Scott Walker Didn't Campaign On This
Wisconsin Governor Scott Walker did not campaign on the union-busting package he's proposing now.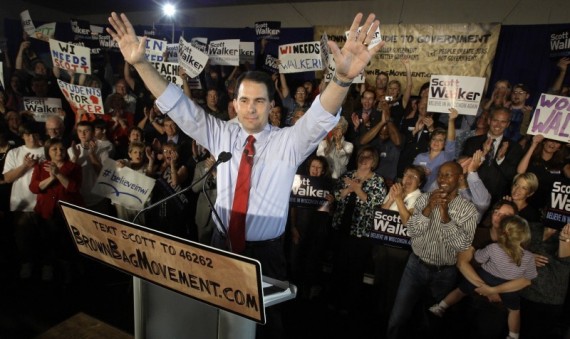 A point I've made several times since weighing into the Wisconsin showdown is that Governor Scott Walker's union busting is rather draconian given that I could find no evidence that he campaigned on it. But I don't live in Wisconsin and didn't follow the campaign; all I had to go on was Walker's own campaign website and a quick Google search.
But PolitiFact confirms my instant analysis. They research Walker's claim that, "I campaigned on (the proposals in the budget repair bill for Wisconsin) all throughout the election. Anybody who says they are shocked on this has been asleep for the past two years."
It seemed to us like the first public hint Walker gave that he was considering eliminating many union bargaining rights was at a Dec. 7, 2010 Milwaukee Press Club forum, some four weeks after the election.

[…]

For this item, we reviewed dozens of news accounts and various proposals on Walker's campaign website to determine what he said about collective bargaining during the campaign. We talked to both campaigns in the governor's race, and union officials.

During the campaign, Walker prided himself on presenting many specific proposals to voters. Our Walk-O-Meter includes 60-plus specific promises. Indeed, his plans for the state Department of Natural Resources include at least seven specific elements, including appointment of a "whitetail deer trustee" to review deer counts. But nowhere in our search did we find any such detailed discussion of collective bargaining changes as sweeping as Walker proposed.

We asked Walker spokesman Cullen Werwie to provide evidence that Walker raised those issues during the campaign. "During the campaign he ran on giving local units of government the flexibility to manage their own budgets," Werwie said. "That is what he is continuing to say and do right now."

He gave one example: a Walker proposal in July, 2010 to allow local units of government to switch from health plans that have high premiums to the state's lower cost employee health plan. Walker's camp said at the time that the switch would not have to be negotiated with unions; Walker would move to take the choice out of the collective bargaining process, they said. Labor officials disagreed and said they would fight attempts to change the collective bargaining law.

Werwie also pointed to a campaign flier circulated by the American Federation of Teachers-Wisconsin, a union representing 17,000 public employees in the state.In addition to criticizing Walker comments on benefit cuts, the AFT flier notes a Walker comment about freeing up local governments from being "strangled" by mediation. And it points out his comment on the health plan switch he proposed in July — the one that would take the choice of health plans off the table for unions.

Both of those are part of collective bargaining and were discussed. But they are a far cry from what was proposed.

For instance, during the campaign Walker talked about who controls the choice of health care providers. After the election he proposed eliminating any negotiations on the subject of health care.

Walker's campaign proposal on mediation and arbitration offers a similar contrast: He told the Appleton Post-Crescent in a lengthy question and answer session in 2009 that "you've got to free up local government officials to not be strangled by things like mediation and arbitration." As his website made clear, he was talking about a specific, significant change in teacher's union arbitration — not the dramatic changes on the table now.

[…]

As the campaign rolled near a close, in late October 2010, Walker told the OshkoshNorthwestern that he would "ask all state workers" for wage and benefit concessions in the collective bargaining process. After the election, he proposed imposing concessions without negotiating and eliminating benefits as a topic of collective bargaining.

[…]

Before the election Walker talked about seeking concessions in the context of face-to-face negotiations — as in the Oshkosh Northwestern interview. He is moving to impose health and pension cost-sharing through legislation, without having taken his proposal to the unions.

He once talked about expanding a statewide cost control system — using collective bargaining — beyond teachers to all state employees. But now he proposes an approach that would let individual municipalities set their own benefit levels — with little input from unions.
At the end of the day, Walker is governor and he's got a right to try to pass any constitutional bills he wants through the legislature. And quorum busting went out as a legitimate tactic in the 1890s. But Walker's defenders' argument that "elections have consequences," implying that this was what the voters asked for, is specious.
via Andrew Sullivan