SCOTUS Lets Stand Transgender ADA Inclusion
The justices declined to review a bizarre 4th Circuit decision.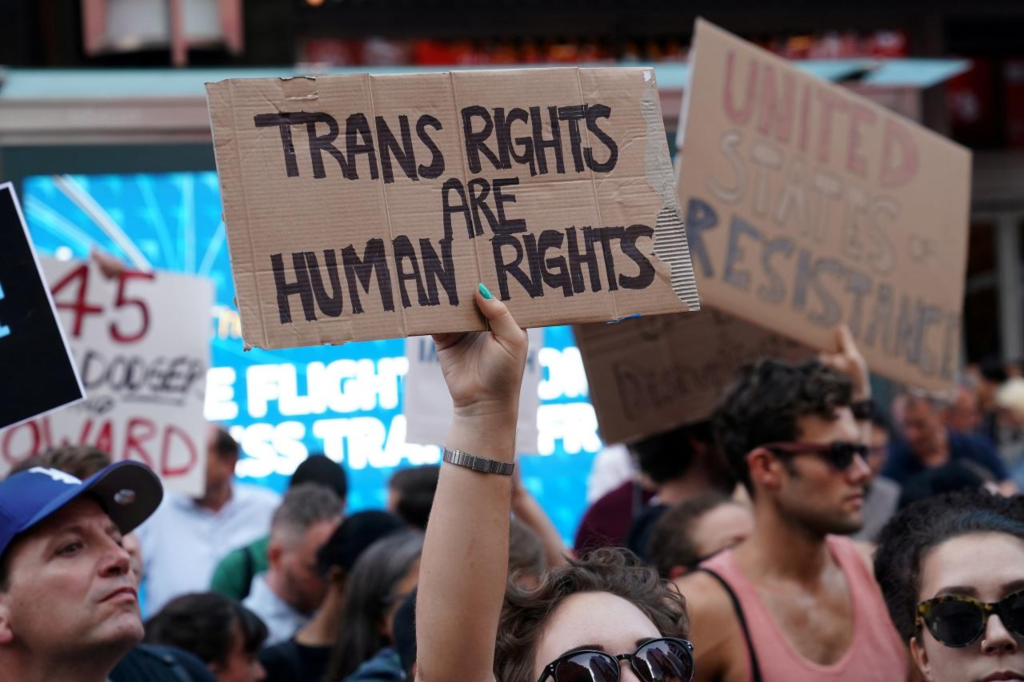 AP ("Supreme Court lets stand ruling that protects people with gender dysphoria under disability law"):
In a win for transgender rights, the U.S. Supreme Court on Friday declined to review a first-of-its-kind ruling from a federal appeals court that found people with gender dysphoria are entitled to the protections of the Americans With Disabilities Act.

Advocates praised the decision to leave a ruling from the 4th U.S. Circuit Court of Appeals in place.

"By declining to hear this case, the Supreme Court implicitly acknowledges what those who have seriously examined the issue have concluded: the ADA protects people who experience gender dysphoria, including transgender and nonbinary people, from being discriminated against on that basis," said Olivia Hunt, policy director for the National Center for Transgender Equality.

But in a scathing dissent, Justice Samuel Alito said he found "several aspects" of the 4th Circuit's reasoning in the case "troubling" and said the ruling "will raise a host of important and sensitive questions" on participation in women's and girls' sports, the use of traditional pronouns and sex-reassignment therapy by physicians who object to such treatment on religious or moral grounds.

In its ruling in August, the 4th Circuit became the first federal appellate court in the country to find the 1990 landmark disabilities law protects transgender people who experience anguish and other symptoms as a result of the disparity between their assigned sex and their gender identity.

Under the ruling, people with gender dysphoria are entitled under the ADA to receive reasonable accommodations and are protected from discrimination. Advocates see the ruling as a tool they can use to challenge legislation in a growing number of states aimed at restricting access to gender-affirming medical care and other accommodations for transgender people.

"The overwhelming majority of Americans support nondiscrimination protections for LGBTQIA+ people, and today's decision means the ADA remains a mechanism that can help our communities secure those protections," Hunt said.

The ruling is binding only in the states covered by the Richmond-based 4th Circuit — Maryland, North Carolina, South Carolina, Virginia and West Virginia.

The decision came in the case of Kesha Williams, a transgender woman who sued the Fairfax County sheriff in Virginia.

Williams told the jail's nurse she has gender dysphoria and received hormone treatments for the previous 15 years. She was initially assigned to live on the women's side of the jail, but after she explained she had not had genital surgery, she was assigned to the men's section under a policy that inmates must be classified according to their genitals, her lawsuit said.

Williams said she was harassed and that her prescribed hormone medication was repeatedly delayed or skipped. Her requests to shower privately and for body searches to be conducted by a female deputy were denied, she said.

A federal judge dismissed the lawsuit, finding that because the Americans with Disabilities Act excluded "gender identity disorders not resulting from physical impairments," Williams could not sue under the law.

A three-judge panel of the 4th Circuit reversed that ruling, finding there is a distinction between gender identity disorder and gender dysphoria. The court cited advances in medical understanding that led the American Psychiatric Association to remove gender identity disorder from the current Diagnostic and Statistical Manual of Mental Disorders and to add gender dysphoria, defined in the manual as the "clinically significant distress" felt by some transgender people. Symptoms can include intense anxiety, depression and suicidal ideation.

Alito, who was joined in his dissent by Justice Clarence Thomas, said he was in favor of having the high court review the ruling.

"The Fourth Circuit's decision makes an important provision of a federal law inoperative and, given the broad reach of the ADA and the Rehabilitation Act, will have far-reaching and important effects across much of civil society in that Circuit," Alito wrote.
WaPo ("Supreme Court declines to review transgender woman's ADA claim"):
The Supreme Court on Friday said it would not review a decision holding that gender dysphoria is covered by the Americans With Disabilities Act, after a transgender woman sued a suburban Washington jail for housing her with men during her incarceration.

The U.S. Court of Appeals for the 4th Circuit in Richmond last August became the first appeals court to rule that the ADA's exclusion in 1990 of "gender identity disorders not resulting from physical impairments" was different from what is now recognized as gender dysphoria. The latter condition is defined as the "clinically significant distress" felt by some of those who experience "an incongruence between their gender identity and their assigned sex."

Leaving the decision undisturbed means that Kesha Williams's lawsuit against the Fairfax County, Va., sheriff can proceed.

"Being transgender is not a disability," 4th Circuit Judge Diana Gribbon Motz wrote in a 2-1 opinion. But "a transgender person's medical needs are just as deserving of treatment and protection as anyone else's."

Judge A. Marvin Quattlebaum Jr., who dissented, said the majority had changed the intent of Congress and words of the law based solely on "linguistic drift."

"The same stress and discomfort from identifying with a gender other than the one assigned at birth that was excluded from the ADA as a 'gender identity disorder' is no longer excluded because an organization now calls it 'gender dysphoria' " Quattlebaum wrote. "So much for looking to the meaning of a statute at the time it was written."
Despite the case in controversy taking place in the county where I've lived almost twenty years now, I was unaware of it until reading these stories this morning. Offhand, I find the 4th Circuit ruling bizarre and the fact that neither the full circuit nor the Supreme Court thought it worthy of review surprising.
As a matter of public policy, I agree with Judge Motz that transgender folks deserve medical treatment. But it makes no sense to simultaneously rule that "Being transgender is not a disability" (which I agree with) and that gender dysphoria is nonetheless a disability covered by the ADA. And it's simply disingenuous to rule that gender dysphoria is somehow different than gender identity disorders, which Congress specifically excluded from coverage under the ADA. Judge Quattlebaum is right: the fact that the medical terminology has evolved along with our understanding of the issue doesn't change the law.
Had they taken the case, it's quite possible the justices would have put transgender medical treatment on firmer ground than a willfully obtuse reading of the ADA. This is, after all, a very Trans-friendly Supreme Court. A ruling based on the Equal Protection Clause of the 14th Amendment would be more expansive and much more logical.