Second Democratic Debate Draws 8.5 Million Viewers, Lowest Of Any 2016 Debate So Far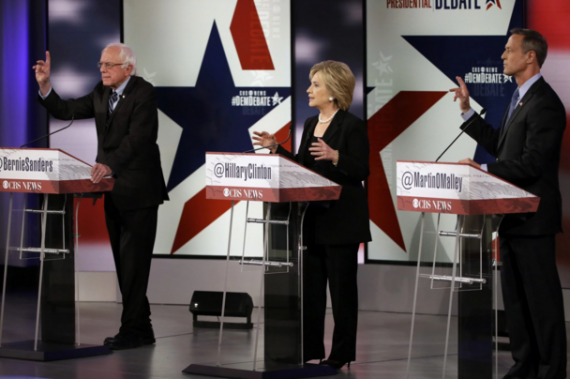 Not unexpectedly, last night's Democratic Debate in Iowa drew the lowest ratings of any debate so far:
The second Democratic primary debate of the year averaged 8.5 million viewers on Saturday night, far fewer than the audience of the first debate, according to preliminary Nielsen ratings.

The debate was the most-watched show of the night on broadcast television, topping the college football games that aired on ABC and Fox.

But the early TV ratings confirm what many observers had expected: The debate's Saturday night time slot hurt total viewership.

(…)

There seemed to be a lot less awareness of the CBS debate, even though it was promoted on the network's morning and evening newscasts. CBS executives had low ratings expectations due in part to the Saturday night time slot.

Saturday's debate was the first for either party to be televised by a broadcast network this election cycle.

Historically, broadcasters have had an edge over cable channels like CNN. But the cablers have garnered record-breaking audiences for debates this season, fueled in part by interest in Donald Trump's candidacy.

CBS's viewership for the Democratic debate is a third of the total viewership for Fox and CNN's Republican debates in August and September.
These numbers compare rather unfavorably with the 24 million that watched the first Republican debate, the 22 million who watched the second GOP debate, the 15 million who watched the first Democratic debate, the 14 million who watched the third Republican debate on CNBC, and the 13.5 million who watched last Tuesday's fourth Republican debate on Fox Business Network. Given the fact that the debate was being aired on a Saturday evening, this decline in viewership was to be expected, of course, notwithstanding the fact that it was being aired on a broadcast network with a theoretically higher audience reach than any of the cable networks. Additionally, the fact that the perception that the race for the Democratic nomination is essentially over likely depressed viewership to no small degree. Even with all that, it's worth taking into account,  as Philip Bump does, that last night's 8.5 million viewers were a higher audience than many of the debates garnered during the 2012 cycle for the Republicans. If nothing else, this suggests that these numbers reflect a higher degree of voter interest in the election even at this early point than there has been in the past.