Senate Passes Spending Bill As Ted Cruz Maneuver Helps Democrats Pass Nominations
As expected, the Senate passed the so-called "Cromnibus," but not before a self-aggrandizing maneuver by Ted Cruz ended up being exploited by Democrats to pass outstanding nominations.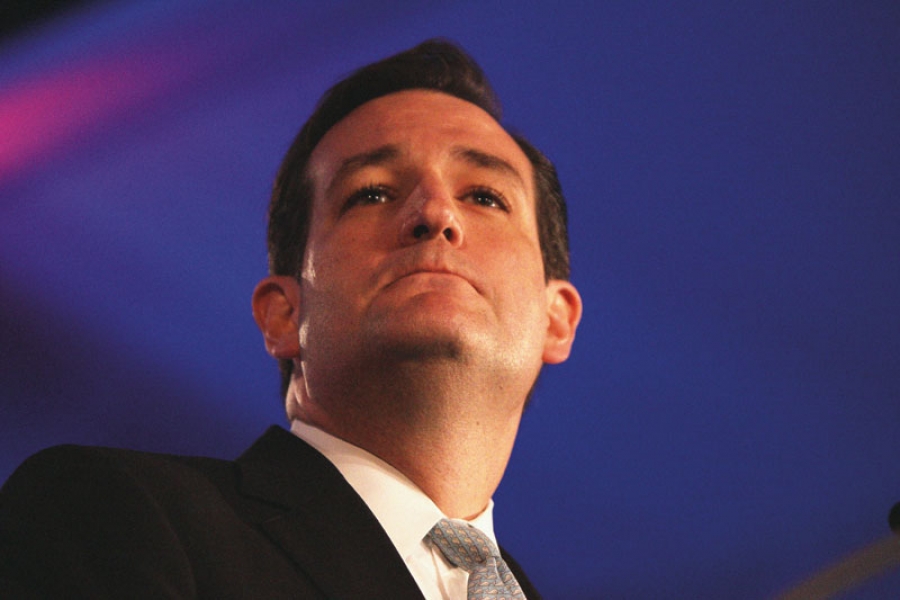 In a rare Saturday session, the United States Senate ended up passing the $1.1 Trillion spending package that will keep most of the Federal Government funded through the end of the Fiscal Year, but not before a late Friday night political manuver by Texas Senator Ted Cruz allowed Democrats to spend most of Saturday easily confirming nominations that Republicans had long been blocking:
WASHINGTON — After moments of high drama, dry process and acrimony, the Senate passed a sweeping $1.1 trillion spending package Saturday night, abruptly ending several days of chaotic legislative maneuvers and clearing the bill for President Obama to sign.

The legislation, which will fund most of the government through the fiscal year that ends in September, passed in a bipartisan vote, 56 to 40, after a turbulent process — a fitting coda for a governing body that has often failed to govern.

The vote concluded a long day of brinkmanship, spurred by a legislative challenge to Mr. Obama's executive action on immigration by Senator Ted Cruz, Republican of Texas, who helped force the Senate into a weekend session. By the end of the day, Mr. Cruz found himself isolated even from members of his own party.

"I don't see what we're achieving here," Senator Jeff Flake, Republican of Arizona, said of Mr. Cruz's strategy.

Throughout the day, lawmakers — many of whom had to cancel holiday plans — trudged to the Capitol to cast a monotonous series of more than two dozen procedural votes. (At one point, Democrats wheeled a piano into a spare room off the Senate floor, where they sang carols including, perhaps optimistically, "I'll Be Home for Christmas.")

The turmoil and infighting offered a glimpse into the dynamic between the two parties as well as the tensions among Republicans that are likely to erupt after they take control of the Senate in January.

In addition to funding core domestic government operations, the bill provides money for more military operations abroad and for combating the Ebola outbreak in West Africa.

(…)

The spending bill greatly increases federal limits on individual contributions to national political parties and relaxes restrictions on big banks' trading of certain risky financial instruments — provisions that infuriated liberal Democrats. Twenty-one Democrats, one Independent and 18 Republicans voted against the bill.

The legislation provides $64 billion for military campaigns in Afghanistan, Iraq, Syria and other countries. It allows certain multi-employer pension plans to shore up their finances by cutting retirees' benefits. And it reduces the budget for the Environmental Protection Agency, the Internal Revenue Service and other agencies out of favor with Republicans. But Democrats staved off deep cuts to many of their favorite health and education programs.
In the end, this part of the weekend's events was not at all surprising. There was never really any doubt that the spending bill was going to pass the Senate to begin with. First, because there was sufficient Republican support to get it over the 60 vote hurdle needed to invoke cloture, and second because the Republican Leadership was fully behind the deal that had led to the budget. Largely, that last part was because Republicans in both the House and the Senate needed to get the Fiscal Year 2015 budget, or at least most of it, out of the way if they were going to have the time to deal with the Fiscal Year 2016 budget under "regular order" — meaning a budget passed by the budget committees and appropriations bills passed by each of the appropriate committees in the House and the Senate — by the end of the Fiscal Year on September 30th. Had they been forced to pass another Continuing Resolution pushing final resolution of the FY 2015 budget into next year then that would have delayed the succeeding budget significantly and reduced the ability of the budget writers and appropriators in both Chambers to deal with the things they need to deal with. It's true that the "Crombinbus" that was passed didn't deal with the entire budget because it left the budget for the Department of Homeland Security funded only through roughly mid-March. This was meant largely to be a sop to the hard right over its opposition to the President's immigration executive action.
As I've explained previously, though, it's unlikely that we will see a significant showdown over immigration when it comes time for the new Congress to approve a DHS budget. For one thing, the office that will be processing the applications for deportation deferments under the President's plan is self-funding via the fees that are charged to process applications for everything from passports to applications for work permits and spousal immigration. This, combined with the President's veto pen and the fact that, in the end, the Republican Congress is not going to want to leave the Secret Service, Border Patrol, and other agencies that fall under the Department of Homeland Security unfunded make it seem unlikely to me that we will see anything other than a symbolic standoff meant to appease the conservative base of the GOP when March rolls around.
Speaking of symbolic standoffs, it was thanks largely to an effort by Senators Ted Cruz and Mike Lee to create a symbolic standoff on the immigration issue that Democrats were able to spend the better part of yesterday pushing through a whole host of nomination that had been bottle necked for months:
Sen. Kelly Ayotte returned home to New Hampshire Friday, planning to see "The Nutcracker" with her daughter this weekend.

But there was an unexpected conflict: Texas Sen. Ted Cruz

Cruz, along with Utah Sen. Mike Lee, took to the floor Friday night to demand Republicans stop President Barack Obama's executive action on immigration and scuttled a bipartisan agreement to push back votes until Monday, effectively forcing the Senate to return for a rare weekend session and cast a marathon series of procedural votes.

Senior Republicans say there's a problem with Cruz's strategy: The GOP lacks the votes to stop Obama on immigration now, the $1.1 trillion spending package was speeding to passage, and they won't resort to shutting down the government to mount their objections. Plus, the weekend session could allow Obama to get even more of his nominees confirmed.

So while Cruz and Lee argue they're taking a hard stand against Obama, the result might allow Democrats to end the year with more of their priorities advanced — and the two conservatives getting nothing.

"I think this is ridiculous," Ayotte said in an interview.

The fiasco has turned many of Cruz's colleagues openly against him, a dynamic that might bolster his cred with the tea party wing of the party if he makes a run for the GOP's presidential nomination in 2016, but could also leave him vulnerable to attacks that he's more troublemaker than leader — able to shutdown the government or stall votes — but unable to advance a proactive agenda.

On Saturday, GOP senator after GOP senator teed off on Cruz, arguing that his strategy had blindsided the caucus, forced them to return to Washington and even strengthened Senate Majority Leader Harry Reid's ability to exploit the Senate rules and push through 24 of Obama's stalled nominees. Several senators had to abruptly change plans, including Tennessee Sen. Bob Corker, who had to cancel his official trip to Iraq and Turkey this weekend.

On the floor, angry GOP senators pressed Cruz over whether he was fundraising off of his tactics, sources said, and Maine Sen. Susan Collins ripped him in a private conversation. Several Republicans were discussing whether to mount a protest vote against Cruz: Unite in opposition to his point-of-order challenging the constitutionality of the spending bill's funding of Obama's immigration move.

And 20 Republicans, including incoming Senate Majority Leader Mitch McConnell, ultimately opposed the Texas Republican. Cruz and Lee won the backing of 22 GOP senators total, including potential 2016 rivals Marco Rubio of Florida and Rand Paul of Kentucky.

The frustration was abundantly clear in the hallways of the Capitol. Asked if he thought the Cruz-Lee plan was effective, Utah Sen. Orrin Hatch said: "The answer is no."

"I don't see how conservative ends are achieved," said Arizona Sen. Jeff Flake, a fiscal hardliner. "I think it's counterproductive. Some of the nominations that we had issues with, like the surgeon general, were not going to move forward. Now they're going to move forward. "

Sen. Johnny Isakson (R-Ga.) canceled his flight back to Atlanta Saturday morning and said, "I don't know what the strategy is."

(…)

The breakdown occurred Friday night. Reid and McConnell believed they had a deal to delay consideration of the omnibus spending package until Monday and pass a stop-gap funding measure that would keep the government afloat through Wednesday. Over McConnell's objections, Reid planned to begin processing the president's stalled nominations next week, including a number of federal district judicial nominees and several controversial executive branch nominees like Vivek Murthy to be the new surgeon general, White House adviser Tony Blinken to be the deputy secretary of State and Sarah Saldana to head Immigration and Customs Enforcement.

After McConnell left the chamber Friday night with no plans to return until Monday, Reid tried to lock down an agreement to schedule the spending vote for Monday evening. But Lee, unexpectedly, objected, demanding a stand-alone vote on defunding the president's immigration order to defer deportations for millions of undocumented immigrants. Reid said: "I am unable to do that."

After Lee objected, Reid saw an opening. He brought the Senate back into session Saturday to begin processing nominations through a series of procedural votes. Senior Republicans were furious. By skipping a weekend session, McConnell had hoped that Reid would relent on nominations next week as senators grew anxious about returning home for the holidays. But the Lee-Cruz strategy essentially gave Democrats an opening to begin the process Saturday.
As noted, in the end the Senate voted on the budget last night and Cruz got what he wanted in the form of a "Constitutional Point of Order" on the issue of the issue of the President's executive action on immigration. The fact that, in the end, only twenty-two of Cruz's fellow Republicans ended up voting in favor of his "point of order" should be a pretty good indication of just how annoyed the rest of the Republican caucus was with the junior Senator from Texas by the time Saturday was over and done with. I doubt that Cruz actually cares about that, though. He's made it clear since arriving on Capitol Hill that he's not there to make friends, or to build relationships even with members of his own party, or even to get anything productive done. He's there to do whatever it takes to enhance the Ted Cruz brand, whether for the purposes of running for President in 2016, a race that he of course will not win, or eventually following former Senator Jim DeMint into the "purity for profit" private sector after a term or two in office. In any case, this latest move on Cruz's part, which will also allow Democrats to use the remaining amount of Senate time this year to approve a dozen or more additional nominees, including Federal Judgeships and a nominee for Surgeon General who has become controversial thanks to opposition from the National Rifle Association, has clearly further alienated him from his caucus and its worth nothing that while someone like Rand Paul did end up voting for Cruz's "point of order" he was not involved at all in defying leadership in the manner Cruz did and setting up what ended up being a very good day of approving nominations for Democrats. Keep an eye out for more potential conflicts between Cruz and Paul in the new year, especially as they both maneuver their way to a 2016 Presidential run.