Senate To Vote On Bills Doomed To Fail As Shutdown Continues
The Senate has the ball this week in terms of action on the government shutdown, but its work is going to end up being utterly pointless.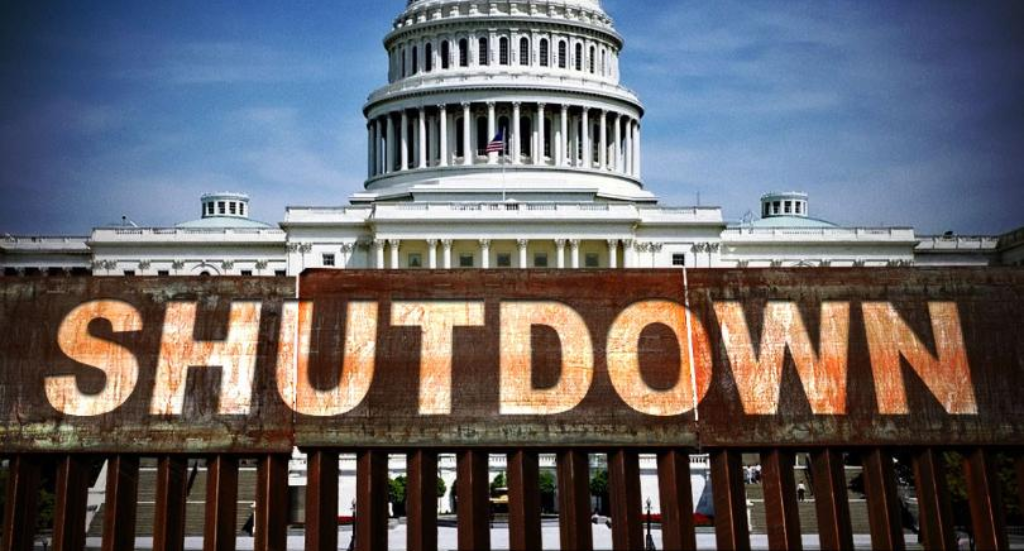 As the Federal Government enters its thirty-third day, action has for once shifted to the Senate, which will consider two separate, seemingly contradictory bills bring it to an end, neither one of which seems designed to bring it to an end:
WASHINGTON — The Senate will hold competing votes on Thursday on President Trump's proposal to spend $5.7 billion on a border wall and on a Democratic bill that would fund the government through Feb. 8 without a wall. It will be the first time the Senate has stepped off the sidelines to try to end the monthlong government shutdown.

The procedural move by Senators Mitch McConnell of Kentucky, the majority leader, and Chuck Schumer of New York, the Democratic leader, is the first time the parties have agreed to do virtually anything since the shutdown began Dec. 22. With most Republicans united behind Mr. Trump's insistence that any legislation to reopen the government include money for a border wall and most Democrats opposed to the linkage, neither measure is expected to draw the 60 votes required to advance.

That means Friday is likely to come and go without action to end the shutdown, forcing 800,000 federal workers to go without a paycheck for the second time this month.

But there was hope that the votes could usher in a more cooperative phase in a crisis that has so far been marked almost entirely by partisan posturing; if both measures fall short, the votes could add new energy to efforts to negotiate a bipartisan compromise. With the shutdown now in its fifth week, the pressure is growing on both parties to reopen the government.

"People are saying, isn't there a way out of this mess? Isn't there a way to relieve the burden on the 800,000 federal workers not getting paid? Isn't there a way to get government services open first and then debate what we should do for border security?" Mr. Schumer said Tuesday on the Senate floor after Mr. McConnell announced the votes. "Well, now there's a way."

(…)

In the Senate, Mr. Trump's proposal, which he promoted in a televised address on Saturday as a bipartisan compromise to pair wall funding with temporary legal protections for some immigrants, is facing all but certain death after White House officials conceded privately on Tuesday they had tacked on controversial proposals anathema to Democrats that would block many migrants from seeking asylum.

The Republican legislation, unveiled Monday night, would provide $5.7 billion in wall funding and large spending increases for the detention and removal of immigrants, as well as three-year provisional protections for 700,000 of the young undocumented immigrants known as Dreamers and for about 325,000 immigrants mostly from Latin American countries and Haiti who have been living in the United States under Temporary Protected Status.

As sweeteners to entice Democrats to back the measure, Mr. McConnell added $12.7 billion in disaster aid and an extension of the Violence Against Women Act, a measure that expired last year when government funding lapsed.

"The opportunity to end all this is staring us right in the face," Mr. McConnell said Tuesday, calling the president's proposal "a comprehensive and bipartisan offer."

(…)

Mr. Schumer's proposal would add disaster aid to previously passed House measures to fund the government at current levels through Feb. 8.

The Democratic proposal might have some appeal to a handful of moderate Republicans who have expressed concern about the continuing shutdown, but to prevail, all Democrats would need to vote for it, and they would need the support of 13 Republicans, a tall order.

Even as the Senate planned for high-stakes votes on Thursday, the House was preparing to advance its own pair of proposals starting Wednesday to reopen the government. Democrats scheduled votes on a package of six spending bills negotiated between House and Senate Republicans and Democrats that would include funding for immigration judges and infrastructure improvements at ports of entry. They also planned a vote on a separate stopgap spending bill that would fund the Department of Homeland Security at current levels through Feb. 28.

The measures are similar to legislation that the House has passed repeatedly over the past few weeks, only to meet with a blockade in the Republican-controlled Senate, where Mr. McConnell has refused to take them up.4
Neither one of these bills is expected to get sufficient support to even proceed forward to a floor vote in the Senate, never mind either get a floor in the House or the President's signature.
In addition to the fact that it contains the same $5.7 billion in wall funding that Democrats have been rejecting since December, the Senate Republican bill contains what amount to poison pills in the form of changes to the asylum process that Democrats are sure to reject. These changes, which have been advocated for in the past by Stephen Miller, President Trump's decidedly anti-immigrant senior adviser, would make it much harder for people from Central America from claiming asylum, making it difficult for them to seek refuge from government persecution and gang violence in their home countries. One of these changes seems especially cruel in that it would bar children from claiming asylum in the United States, and would instead require them to do so in their home countries. The changes would allow U.S. authorities to quickly be returned to their home countries notwithstanding an outstanding asylum application. Additionally, the provisions would create new grounds for determining that an application for asylum is "frivolous" by expanding the definition in a way that it would make it easier for authorities to deny asylum applications sua sponte. Not surprisingly, Democrats have rejected the GOP bill, and pointing to the asylum changes in particular as "poison pills" and not having been made in good faith. Given that, it's unlikely that the GOP bill will get any Democratic support. Given that Republicans would need at least seven Democrats to get past a cloture vote, this means that the Republican bill will fail.
As for the Democratic bill mirrors those passed by the House since the beginning of the new Congress in that it funds those agencies of the government not impacted by the border wall funding and leaves that issue, along with other issues related to immigration to be battled over after the government reopens. On principle, this is the perfectly rational response to all of this, of course, and the manner in which all of this should be resolved in a rational universe. However, if there's anything that has been abundantly clear for the past two years or more, we are not living in a rational universe. Any President other than Trump would have been willing to sit down and negotiate and, likely come up with a deal that provided for some funding for "border security" that allowed him to save face while at the same time reopening the government. Trump, however, remains adamant in his insistence that any final bill will include $5.7 billion in funding for his wall and the fact that Republicans and the Senate remain largely united behind him. In any case, even if there were a handful of Republicans willing to stand up to McConnell and the President, the current makeup of the Senate would mean that thirteen Republicans would need to join with a united Democratic caucus to get the bills passed. That is not going to happen.
As noted, the vote on these bills isn't even scheduled to take place until tomorrow, meaning that the shutdown will stretch through the end of the week and into the weekend without any resolution or chance of a resolution coming in the near future. To be frank about it, there isn't much hope of a resolution beyond that either, at least not in the short-term. So far, nothing has moved either side off their current positions. Not the reports about Federal workers having to figure out how to survive without first one and now a second paycheck. Not the polls that continue to show that the public blames the President for the current state of affairs, that the shutdown is eroding faith in the overall health of the economy, and that the President's job approval numbers are suffering because of it. Not the reports about how the shutdown is impacting, the Coast Guard, the Transportation Security Administration, the Federal Bureau of Investigation, and countless other branches of government. What is it going to take the move the needle on either side? Honestly, I have absolutely no idea at this point, and I wouldn't be surprised if this shutdown continues well into February.