Senator Joe Manchin Is A Stupid Ape
We're all apes. And some are willfully stupid about their public duties.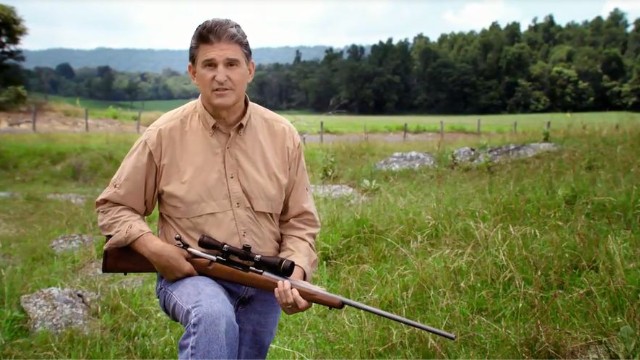 I'm a fervent believer in building political bridges whenever possible because of the value of sincerely-made counterarguments, raising facts or interpretations not considered. I believe in respecting public officials in a variety of ways, such as calling them by their proper titles. In practice, these principles are not absolute, however. Sometimes, people are not genuinely interested in having an open, honest debate. Some public officials become so remiss in performing their duties that they do not deserve all the respect that they once received. In fact, they may need to experience some disrespect to see exactly how remiss they have been in discharging their responsibilities to the electorate. That is why I am calling Senator Joe Manchin a stupid ape.
It is uncontroversial that he is an ape. All homo sapiens are apes, so it is no insult to Senator Manchin to call him an ape. The phrase "stupid ape" has greater resonance than merely identifying someone as a stupid person, which is why I am applying that combination of two words to the Senator from West Virginia.
Which, of course, leads us to the question of what makes Senator Manchin a stupid ape, primate, hominid, or whatever other taxonomic term you wish to apply to him. The answer is simple: there is no good interpretation of why he is continuing to block important reforms to our political system, at a time when democracy is under threat from a political faction dedicated to minority rule and other anti-democratic outcomes. Perhaps future historians will discover a kinder interpretation of his actions, based on currently unavailable documents or testimony. Some scholars of WWII now believe that Neville Chamberlain wasn't a gullible fool, as he was depicted at the time, but a Prime Minister desperate to buy the time needed to re-arm Great Britain before it had to face the Nazi war machine. Who knows, maybe there will be a revisionist history of our current time that will uncover reasons for a similarly more forgiving view of Senator Manchin. For now, we have to go with the evidence we have, which points straight to the conclusion that Senator Manchin is a stupid ape.
If I were speaking to Senator Manchin in person at this moment, he might rage-quit this conversation. Or, to give him the benefit of the doubt, he might coolly conclude that it is not worth having further discussion with someone who calls him a stupid ape. Perhaps you, the reader, believes that Senator Manchin deserves better treatment, based on his years of service, and the respect due to his office. However, I would ask Senator Manchin, or any offended reader, which is worse: being the target of a verbal barb, or having your state government deny you the inalienable right to vote? Which is worse, puncturing some of the politeness that surrounds people who are seated in The World's Greatest Deliberative Body ™, or refusing to oppose to people who are actively dismantling the American democratic experiment? Which is worse, abandoning political processes, such as the filibuster, that are clearly not working by any definition of the word "working" (including achieving the bipartisanship that Senator Manchin says that he prizes dearly), or abandoning the whole ethos of politics, which according to Max Weber was the art of getting things done, not glad-handing your fellow politicians.
If the plight of the disenfranchised or nods to dead German sociologists isn't enough to move Senator Manchin, perhaps we may appeal to the Senator's sense of self. Senator, you look ridiculous. The Republican "colleagues" whom you hope will join you in old-fashioned bipartisan compromise are too afraid of the Baron Harkonnen of Mar-A-Lago, too invested in the current anti-democratic creed that has become the dominant force in Republican politics, or just laughing at your foolishness. They already think you are a stupid ape. If you believe their words over, say, their eagerness to put the January 6 in the memory hole, or make common cause with the governors and state legislators who want to make fair political contests impossible, then you are one of the worst sorts of politicians, a hopelessly naive rube enslaved to a simplistic idea that cannot work in politics as it exists, as opposed to politics as you wish it existed.
Senator Manchin's op-eds have the whiff of desperation to "prove" that the light is at the end of the tunnel, that success is right around the corner, that Tinkerbell will live if you only wish it hard enough. Tortured arguments about how electoral reforms should only happen if the newly-empowered voters are just as likely to vote for the people who wanted to deny them representation as those who wanted to grant it are hilarious, not serious, and unhistorical, not in line with obvious precedents like, oh, say, the Fourteenth Amendment or the Civil Rights Act. And insisting that there are enough well-meaning Republicans to forge a compromise on meaningful electoral form is just embarrassing at an Emperor's New Clothes level.
Or perhaps this is all theater, some way of Manchin to exit the Democratic Party, having shown that he tried to be reasonable, but gosh darn it, those liberals and progressives wouldn't give him the deference due to a Blue Dog. If so, that would be script writing at a level of Ed Wood-level stupidity, peopled with cardboard characters and unconvincing motivations.
We have enough stupidity in American politics. Fortunately, other elected representatives, such as Louis Gohmert, the avatar of stupidity in public service, are not pivotal votes on critical issues, such as voting rights. Senator Manchin is another matter. His steadfast denial of reality is directly preventing some important fixes to our badly out of kilter political system. His defenses are hollow and laughable, based on the notion that some imaginary, unattainable fellowship among 100 Senators is more important than the needs of millions of Americans. If the worst thing that ever happened to Senator Manchin was that someone called him a stupid ape, he will have escaped his historical dereliction of public duty very, very easily.