Sharron Angle: Conservative ? Or, Theocrat ?
Sharron Angle's views about the role of religion in politics are disturbingly similar to those of people who believe that the Bible itself should be the law of the land.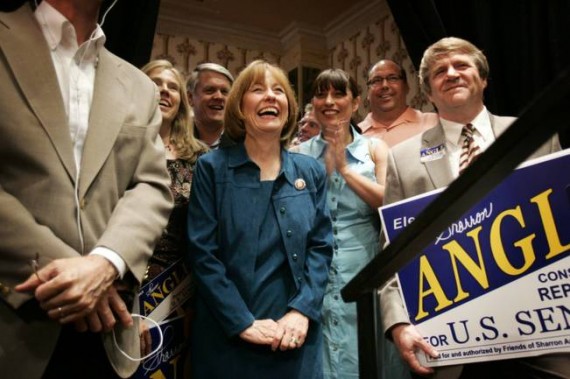 As Steven Taylor noted a few days ago, Nevada Republican Senate candidate Sharron Angle recently raised eyebrows when she stated that the Obama Administration was violating the First Commandment by forcing Americans to worship government rather than God. It was an odd comment to make, but, as it turns out, not so odd once you realize just what kind of religious-political beliefs Angle actually holds:
When Republican Senate candidate Sharron Angle told a Christian news interviewer this year that "entitlement programs (are) built to make government our God," she voiced a central tenet of Christian Reconstructionism, according to academics who study the movement.

Christian Reconstructionism is a political-religious movement formed in the 1960s and '70s that seeks to return American society to the rule of biblical law. Any attempt to expand government beyond the dictates in the Old Testament — for example, by establishing Social Security benefits, education policy or property taxes — turns government into a false idol, reconstructionists believe.

(…)

Many of Angle's religious and political beliefs appear to align with the tenets of Christian Reconstructionism. She's supported eliminating Social Security and Medicare, is a home schooling champion, sees the separation of church and state as an unconstitutional doctrine that was never meant to protect the state from religious belief, and believes public policy should support the traditional family structure as defined in the Bible.

She also helped resurrect the Nevada affiliate of a national party founded by a prominent Christian Reconstructionist and has raised campaign money from reconstructionists.

But Ingersoll said Angle's comments on government as a false idol come directly from the movement's founder, R.J. Rushdoony, an orthodox Presbyterian minister.

"Since this spring you've had all this flap over the degree to which you might suggest Angle was influenced by the Reconstructionist movement," Ingersoll said.

"But if you really sum up Rushdoony's philosophy on government, that's it. That really is it."
But Rushdoony's view on the role of religion in government went far beyond that:
Rushdoony's Institutes was arguably his most influential work. In the book, he proposed that Old Testament law should be applied to modern society and that there should be a Christian theonomy, a concept developed in his colleague Greg Bahnsen's controversial tome Theonomy and Christian Ethics, which Rushdoony heartily endorsed. In the Institutes, Rushdoony supported the reinstatement of the Mosaic law's penal sanctions. Under such a system, the list of civil crimes which carried a death sentence would include homosexuality, adultery, incest, lying about one's virginity, bestiality, witchcraft, idolatry or apostasy, public blasphemy, false prophesying, kidnapping, rape, and bearing false witness in a capital case.[8] Although supporting the separation of church and state at the national level, Rushdoony understood both institutions as under the rule of God,[9] and thus he conceived secularism as posing endless false antitheses, which his massive work addresses in considerable detail. In short, he sought to cast a vision for the reconstruction of society based on Christian principles.

The book was also critical of democracy. He wrote that "the heresy of democracy has since then worked havoc in church and state … Christianity and democracy are inevitably enemies." He elsewhere said that "Christianity is completely and radically anti-democratic; it is committed to spiritual aristocracy," and characterized democracy as "the great love of the failures and cowards of life."[5]
Just how similar are Angle's views of the proper role of religion in government to those of Rushdoony and other Christian Reconstructionists ? It's a fair question given Angle's statements, and her continued refusal to answer questions about her past statements just raises more questions about her.