Should Trump's Translator Be Compelled To Testify About That Meeting With Putin?
Some Democrats want to compel President Trump's translator to testify about his private meeting with Vladimir Putin. That's a bad idea.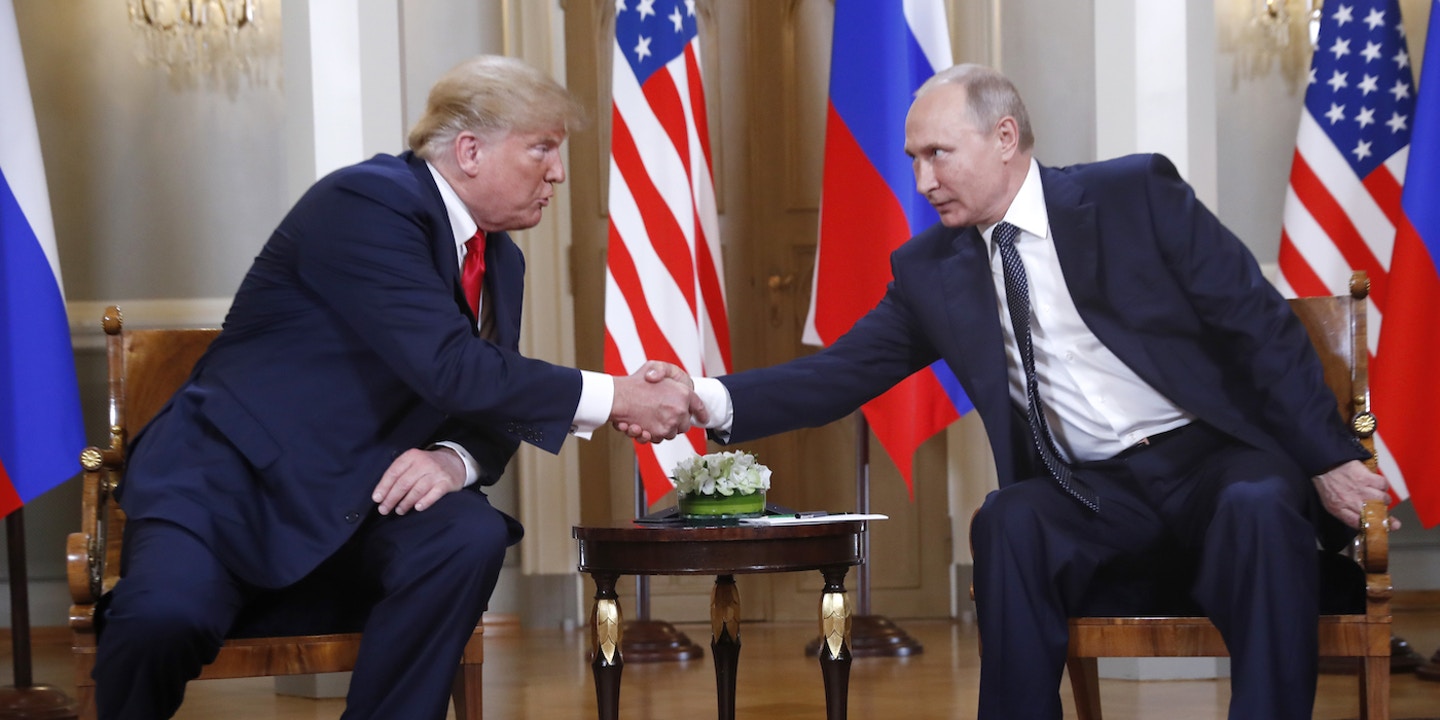 In the wake of President Trump's disastrous press conference after his meeting on Monday with Russian President Vladimir Putin, which included a two-hour closed-door session at which only the principles and their translators were present, many Democratic lawmakers are calling on the Administration to reveal what may have been discussed at that meeting and, specifically, what was discussed during the aforementioned closed-door meeting. Toward that end, Secretary of State Mike Pompeo will be testifying next week before House and Senate Committees regarding both the results of the Helsinki Summit and last month's summit in Singapore between Trump and North Korea's Kim Jong Un. Some Democrats, though, are pushing for more than that, they want the translator who accompanied Trump in the meeting with Putin to be subpoenaed as well:
Rep. Bill Pascrell (D-N.J.) on Tuesday called for the American translator present during President Trump's private meeting with Russian President Vladimir Putin to tell Congress what was said during the encounter.

In a letter to the leaders of the House Oversight and Government Reform Committee, Pascrell said the panel should hear testimony from translator Marina Gross, who was the only other American in the room with Trump and Putin.

"Given the public concessions President Trump made to Russian President Vladimir Putin by siding against the U.S. intelligence community, law enforcement, and our military officials about Russia's attack on our democracy, Congress and the American public deserve to know the details of their private conversation," Pascrell wrote.

His call echoes similar proposals made Tuesday by Sen. Jeanne Shaheen(D-N.H.) and Rep. Joe Kennedy III (D-Mass.), who both said the American translator should testify in front of Congress.

Though Putin speaks English, both Trump and Putin had translators with them at the meeting in Helsinki due to protocol.

(…)

Pascrell noted that translators are not typically compelled to testify before Congress. The code of ethics published by the American Translators Association says translators must "hold in confidence" any privileged information they come across.

"In general, any information that's confidential has to remain confidential even if you're an interpreter. For example, attorney-client confidentiality extends to interpreter," American Translators Association spokeswoman Judy Jenner said.

"But as a diplomatic interpreter, you are probably aware of how precarious things could possibly be."

"It may be unprecedented to subpoena a translator to reveal the details of a private meeting between the President and another world leader, but Trump's actions are unprecedented in a way that harms our national security," Pascrell wrote in his letter to Reps. Trey Gowdy (R-S.C.) and Elijah Cummings (D-Md.), the chairman and ranking member of the Oversight and Government Reform Committee, respectively.

Pascrell listed evidence that members of the Trump family continue to profit from their businesses, some of which have connections to Russia.

"Over the years, the Trump family has bragged about their financial connections to Russia," Pascrell wrote, citing several quotes by Trump's sons boasting about the Trump Organization's ties to Russia.
New Hampshire Senator Jeanne Shaheen has also called on Congress to call the translator to testify:
I'm calling for a hearing with the U.S. interpreter who was present during President Trump's meeting with Putin to uncover what they discussed privately. This interpreter can help determine what @POTUS shared/promised Putin on our behalf.

— Sen. Jeanne Shaheen (@SenatorShaheen) July 17, 2018
As has Connecticut Senator Richard Blumenthal:
"We are in a 9/11" level "national emergency because our country is under attack," says Democratic Sen. Richard Blumenthal, who wants to subpoena Trump's Putin meeting translator and the national security team that debriefed him https://t.co/5JxFEp0OPW https://t.co/rwVBt0EwnN

— New Day (@NewDay) July 18, 2018
Senate Minority Leader Chuck Schumer has also raised the possibility:
Senate Minority Leader Chuck Schumer: "Where are the notes from that meeting? What did President Trump agree to? Can we have the translator come in and testify? Was Secretary of State Pompeo briefed?…The notes need to be turned over to Congress immediately"

— Edward Hardy (@EdwardTHardy) July 18, 2018
This suggestion was repeated this morning on Morning Joe by New Jersey Senator Bob Menendez, the ranking Democrat on the Senate Foreign Relations Committee, and seems as though it is likely to become a talking point among Democrats and members of the media, especially if the White House remains silent regarding the substance of what the President and President Putin may have discussed in their one-on-one meeting. In that regard, so far all we've gotten from the President and his aides have been vague generalities about the substance of those talks and, so far at least, there has been no official "read out" or summary of the substance of that conversation that we typically get after the President has had a private discussion with a world leader in the past, including from this Administration. Given all of that, it's not surprising that Democrats, Trump critics, and even average Americans are justifiably curious about what the President and Vladimir Putin may have discussed privately for two hours on a Monday afternoon in Helsinki.
As a general rule, I agree with those members of Congress that the Administration needs to explain in far greater detail than it already has exactly what was discussed between Trump and Putin in their private meeting and what, if anything, they may have agreed to. The main reason for this, of course, is because any such agreements are going to have a serious impact on American policy going forward and because the American people and Congress deserve to know what, if anything, may have been agreed during that meeting. This is especially true given the ongoing investigation regarding Russian influence in the 2016 election and potential collusion between the Trump campaign and Russian officials. With that hanging over the entire summit meeting, the public deserves to know what happened during this meeting with Putin and both Congress and the press should keep the pressure on the White House until they answer questions about it.
All of that being said, I have significant doubts about the propriety of requiring the Presidential translator to testify and even whether Congress has the legal authority to do so. As noted above, the national organization that represents translators generally states as part of its ethical standards that translators need to respect the privacy of any privileged communications that they may be a part of as part of their duties. This includes private communications such as those between an attorney and client, a doctor and patient, or a member of the clergy and a penitent, to name just three examples of legally recognized privileges. As a general rule, the presence of a translator for such interactions does not legally vitiate a privilege notwithstanding the fact that, under ordinary circumstances, the presence of a third party in such communications would void the privilege. This, of course, is because the translator in those cases is essentially acting as the voice and ears of the participants to the communication and are, indeed, necessary for the conversation to take place. In that respect, there is effectively no difference between a foreign language translator and a sign language interpreter in a situation where one of the participants in an otherwise privileged communication is deaf.
In the case of the President, of course, the attorney/client, doctor/patient, and clergyman/penitent privileges don't apply. However, there are plenty of situations where Executive Privilege and the right of a President to keep certain conversations private or classified as secret would apply, and it's arguably the case that the exact contents of a conversation with another world leader can be one of those situations. The exact contours of what does and does not constitute material protected by this privilege are not entirely clear and often ends up being the subject of dispute and court proceedings, but as a general rule, it means that a President has the privilege of keeping the contents of certain communications related to his official duties secret. This privilege is not absolute, of course, and I'm not aware of any Court case that has reached the question of whether or not the privilege can apply to conversations with foreign leaders, but I think you can at least make a case that they should be. Additionally, one could make the argument that the President's broad statutory authority regarding the classification of information gives him the authority to order that the contents of those communications are classified and therefore cannot be disclosed publicly.
This isn't to say that the translator in this meeting cannot be compelled to testify in either a public or classified setting, however, I believe that Congress ought to be careful before taking this step. The translators that the President makes use of are, generally speaking, employees of the State Department who are professionally trained and bound by both government ethics rules and by the ethical rules established by their profession. If they are involved in conversations that are otherwise privileged or classified then they cannot and should not be forced to testify regarding the content of those conversations. Additionally, forcing translators to testify in these circumstances would arguably cause both Presidents and foreign leaders to doubt whether what they say will remain confidential, which in and of itself would have a deleterious impact on the conduct of Presidential business requiring the use of translators.
The American people deserve to know more about what the President and President Putin talked about on Monday, but forcing the translator to testify is not the way to do it.