Should We Blame Bernie for His Trolls?
There's a disturbing pattern of misogyny from his supporters.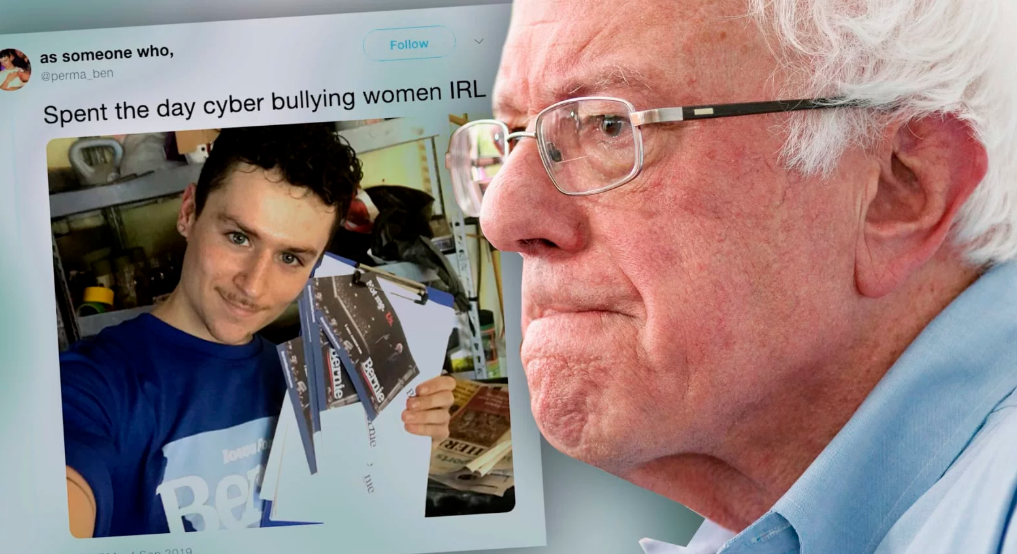 Last night, the Daily Beast published a story headlined "Bernie Staffer Mocked Warren's Looks, Pete's Sexuality on Private Twitter Account."
The details are pretty much what you'd expect:
During the most recent presidential primary debate in Las Vegas, Sen. Bernie Sanders (I-VT) suggested that critiques of some of his most antagonistic online supporters are largely unfounded and unfair, proposing that some of the worst offenders might actually be Russian trolls on a mission to sow disunity in the field.

But the private Twitter account of a newly promoted campaign staffer indicates that despite his condemnation of online harassment, at least some of the Vermont senator's most toxic support is coming from inside the house.

Using the account @perma_ben, Ben Mora, a regional field director for Sanders' campaign based in Michigan, has attacked other Democrats in the field—as well as their family members, surrogates, journalists, and politically active celebrities—in deeply personal terms, mocking their physical appearance, gender, and sexuality, among other things.
Those interested in reading Mora's juvenile smears are welcome to follow the link to the report. They are fairly standard online trolling, although I'm unfamiliar with at least one trope deployed against Warren. Apparently, there's a reason for that:
For users familiar with the patois of Gay Lefty Twitter, many of Mora's tweets come across as fairly run-of-the-mill gay shitposts: tweets dragging the Queer Eye guys as neoliberals, mocking would-be #activist gays for shirtless photos on Instagram, or creating a meme wherein Mora's followers share how their iPhone suggests completing the sentence "Elizabeth Warren lied about…" (Mora's answer: "lied about being fat.")
So, basically, we're dealing with some juvenile "shitposting" within a subcultural niche. And this was not only not on an official Sanders account but on a "private" one presumably viewable only to those with Mora's permission.
The Sanders campaign has reacted as one might expect:
After this story was published, Mike Casca, the Sanders campaign's communications director, told The Daily Beast that "we are running a multiracial, multigenerational campaign for justice where disgusting behavior and ugly personal attacks by our staff will not be tolerated."

Mora, the Sanders campaign confirmed, has been fired.
I am not, as regular readers may have surmised, a Sanders supporter. But this is the sort of thing I tend not to hold against campaigns. If one employs a large staff of young enthusiasts, this sort of thing is inevitable.
But there's an argument to be made that Sanders has somehow attracted this type of behavior in his supporters. Whether it's the simple coincidence that his main challenger in the 2016 cycle was a woman or some other reason, he developed an online following that directed misogynistic insults at Hillary Clinton and her supporters, especially other women.
These "Bernie Bros," as they became known, have continued this style of attack against Sanders' female opponents in this cycle, Warren and Klobuchar. (Probably Kamala Harris as well but I don't know for sure.) And where there's misogyny, there's usually homophobia, so the attacks on Buttigieg aren't surprising.
This issue came up during the Nevada debates and Sanders and Buttigieg made valid points:
SANDERS: We have over 10.6 million people on Twitter, and 99.9 percent of them are decent human beings, are working people, are people who believe in justice, compassion, and love. And if there are a few people who make ugly remarks, who attack trade union leaders, I disown those people. They are not part of our movement.

But let me also say what I hope my friends up here will agree with is that if you look at the wild west of the internet, talk to some of the African-American women on my campaign. Talk to Senator Nina Turner. Talk to others and find the vicious, racist, sexist attacks that are coming their way, as well.

So I would hope that all of us understand that we should do everything we possibly can to end the viciousness and ugliness on the internet. Our campaign is about issues. It's about fighting for the working families and the middle class. It is not about vicious attacks on other people.

[…]

BUTTIGIEG: Senator, when you say that you disown these attacks and you didn't personally direct them, I believe you.

SANDERS: Well, thank you.

BUTTIGIEG: But at a — but at a certain point, you got to ask yourself, why did this pattern arise? Why is it especially the case among your supporters that this happens?

SANDERS: I don't think it is especially the case, by the way.

BUTTIGIEG: That's just not true. Look, people know the way your supporters treat them.

SANDERS: Well, Pete, if you want to talk to some of the women on my campaign, what you will see is the most ugly, sexist, racist attacks that are — I wouldn't even describe them here, they're so disgusting.

And let me say something else about this, not being too paranoid. All of us remember 2016, and what we remember is efforts by Russians and others to try to interfere in our election and divide us up. I'm not saying that's happening, but it would not shock me.

saw some of those tweets regarding the Culinary Workers Union. I have a 30-year 100 percent pro-union voting record. Do you think I would support or anybody who supports me would be attacking union leaders? It's not thinkable.

BUTTIGIEG: But leadership is about what you draw out of people. It's what — it's about how you inspire people to act.

(APPLAUSE)

And right now, we're in this toxic political environment. Leadership isn't just about policy. I think at least in broad terms, we're largely pulling in the same direction on policy, but leadership is also about how you motivate people to treat other people.

I think you have to accept some responsibility and ask yourself what it is about your campaign in particular that seems to be motivating this behavior more than others, because in order to turn the page on the Trump era, we're going to need a president, not just a candidate who can win, but a president who can move us forward.
There has been a loosely related debate renewed on Twitter and elsewhere recently about the long-running Comedy Central show "South Park" and its influence on a generation of trolls.* The show is frequently brilliant but its style of humor is the opposite of "woke." It is often incredibly juvenile and quintessentially male in its outlook.**
Whether "South Park" spawned or is merely an exemplar of the sort of trollish behavior we're seeing among Sanders supporters is immaterial. The show originated at about the time the broadband Internet became widespread and we've seen this behavior online, whether on BBSes and message boards or blogs and Twitter—not to mention the darker spaces of Reddit and 4Chan—for a long time now.
Sanders clearly draws a disproportionate amount of this behavior. Is it simply because he appeals to a younger demographic? Because his message and demeanor are angrier than the others? I don't really know. (And, it's worth noting, Donald Trump attracted the very same kind of conduct, with some weird anti-Semitism thrown in, in the last cycle and likely will again this go-round.)
Like Buttigieg, I believe Sanders when he decries it. But the fact that he inspires it is nonetheless troubling.
UPDATE: Cheryl Rofer responded on Twitter:
To which I responded,
While I was driving in, this drew some helpful insights.
That fleshes out considerably what was for me more an inkling than an idea.
____________________
*See Dana Schwarz' WaPo op-ed for a discussion of the current controversy, Katharine Timpf for an excellent rejoinder, and Robert Hamer and Sean O'Neal for representative earlier iterations.
**That doesn't mean the show doesn't attract plenty of female fans. See Timpf, above. And my late wife was a huge fan of the show.