Sinema's Filibuster Defense
It's no better than Joe Manchin's.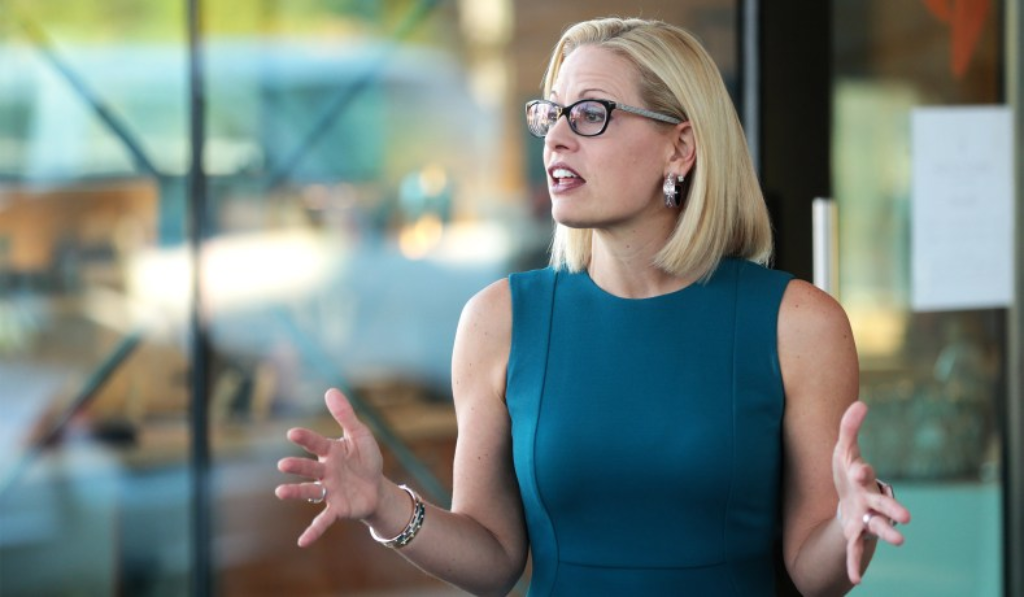 Back in April, West Virginia Senator Joe Manchin defended the filibuster in a Washington Post op-ed that mostly displaced wishful thinking and a lack of historical understanding. Today, the paper let Arizona Senator Kyrsten Sinema give it a whirl in an op-ed arguing "We have more to lose than gain by ending the filibuster."
Her opener is not strong:
Everyday Arizonans are focused on questions that matter most in their daily lives.

Is my job secure? Can I expand my business? Can we afford college? What about health care? When can I retire? Is my community safe?

Meanwhile, much of Washington's focus is on a Senate rule requiring 60 votes to advance most legislation.
So, what if the reason much of Washington is focused on this Senate rule is that it's stopping the passage of legislation addressing the issues that matter most in the daily lives of Americans, including those from Arizona?
Arizonans expect me to do what I promised when I ran for the House and the Senate: to be independent — like Arizona — and to work with anyone to achieve lasting results.

Lasting results — rather than temporary victories, destined to be reversed, undermining the certainty that America's families and employers depend on.
So, the way democracy is supposed to work is that the people elect representatives to make laws. If those laws are popular, they re-elect said representatives to keep making laws. If those laws are not popular, they elect new representatives to repeal the unpopular laws and pass different ones. And so on and so forth.
The best way to achieve durable, lasting results? Bipartisan cooperation.
But what if one of the two parties systematically refuses to compromise? What if their entire legislative agenda in the last eight-and-a-half years of opposition-party Presidents, going back to 2009, is the provide zero votes for legislation that's even slightly controversial? What if they won't vote even for programs popular with their own constituents if the other party gets the credit?
I understand bipartisanship seems outdated to many pundits. But the difficult work of collaboration is what we expect in Arizona. And I still believe it is the best way to identify realistic solutions — instead of escalating all-or-nothing political battles that result in no action, or in whipsawing federal policy reversals.
So, very few pundits are opposed to bipartisanship. Indeed, a fetish for bipartisanship would fairly characterize more national-level pundits. The problem is that, even when Presidents and Congressional leaders go out of their way to secure bipartisan support—with the Affordable Care Act the best example in the current era—it simply goes nowhere.
Since I was elected to Congress, a bipartisan approach has produced laws curbing suicide among our troops and veterans, boosting American manufacturing, delivering for Native American communities, combating hate crimes, and protecting public lands.
You were elected to Congress in 2012. Nine years ago. That's not exactly an impressive list of accomplishments for that span.
Eventually, she gets to her strongest point:
Once in a majority, it is tempting to believe you will stay in the majority. But a Democratic Senate minority used the 60-vote threshold just last year to filibuster a police reform proposal and a covid-relief bill that many Democrats viewed as inadequate. Those filibusters were mounted not as attempts to block progress, but to force continued negotiations toward better solutions.

And, sometimes, the filibuster, as it's been used in previous Congresses, is needed to protect against attacks on women's health, clean air and water, or aid to children and families in need.
As best I can tell, rather than forcing compromise toward "better solutions," the police reform and COVID relief filibusters simply killed the legislation. This term, Republicans will almost surely filibuster the Democrats' police reform bill.
But, yes, it's true that the filibuster occasionally kills bills Democrats dislike.
Regardless, Sinema's major argument for the filibuster—and I must confess, it's not one I'd seen trotted out much until quite recently—is that it provides stability.
My support for retaining the 60-vote threshold is not based on the importance of any particular policy. It is based on what is best for our democracy. The filibuster compels moderation and helps protect the country from wild swings between opposing policy poles.

To those who want to eliminate the legislative filibuster to pass the For the People Act (voting-rights legislation I support and have co-sponsored), I would ask: Would it be good for our country if we did, only to see that legislation rescinded a few years from now and replaced by a nationwide voter-ID law or restrictions on voting by mail in federal elections, over the objections of the minority?

To those who want to eliminate the legislative filibuster to expand health-care access or retirement benefits: Would it be good for our country if we did, only to later see that legislation replaced by legislation dividing Medicaid into block grants, slashing earned Social Security and Medicare benefits, or defunding women's reproductive health services?

To those who want to eliminate the legislative filibuster to empower federal agencies to better protect the environment or strengthen education: Would it be good for our country if we did, only to see federal agencies and programs shrunk, starved of resources, or abolished a few years from now?

This question is less about the immediate results from any of these Democratic or Republican goals — it is the likelihood of repeated radical reversals in federal policy, cementing uncertainty, deepening divisions and further eroding Americans' confidence in our government.
So, there's something to this argument. Wild swings in things like the retirement age, the taxation of IRA accounts, the mortgage interest deduction, and the like wreak havoc on planning. But, for the most part, democracy acts as a rheostat in a positive way.
My guess is that "slashing earned Social Security and Medicare benefits" would be wildly unpopular. Even ObamaCare, which Republicans hate by that name has been really hard to "repeal and replace," because many of the particulars are popular.
But, if one supports expanded abortion access and voting access, it's odd, indeed, to argue that we shouldn't have those things unless we can guarantee that they'll be around forever. And, frankly, even if Republicans take back the House and Senate next year, they're not going to do so by margins wide enough to override President Biden's veto. So, we're talking about an eventuality where Republicans sustain control of both Houses of Congress and then retake the White House. At which point, they ought to be able to govern.
And to those who fear that Senate rules will change anyway as soon as the Senate majority changes: I will not support an action that damages our democracy because someone else did so previously or might do so in the future. I do not accept a new standard by which important legislation can only pass on party-line votes — and when my party is again in the Senate minority, I will work just as hard to preserve the right to shape legislation.
That's fair enough. But, realistically, if Republicans end the filibuster in 2023, Democrats aren't bringing it back the next time they have a majority.
The rest of the piece is a combination of self-promotion and hope for bipartisan cooperation that won't be forthcoming.