Six Californias?
A rich guy wants to break up California.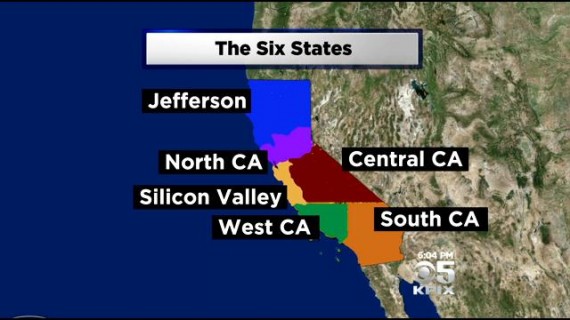 A rich guy wants to break up California.
AFP ("Plan to split California into six states gains ground"):
A plan to divide California into six separate US states is closer to making it on to a November ballot, with organizers gaining approval to collect signatures.

The seemingly far-fetched initiative, sponsored by Silicon Valley venture capitalist Tim Draper, claims "political representation of California's diverse population and economies has rendered the state nearly ungovernable."

And on Tuesday, the California Secretary of State's office gave the movement a boost, saying that proponents "may begin collecting petition signatures."

At least 807,615 voters — representing eight percent of the total ballots cast for governor in the 2010 election — will need to sign the petition by July 18 to make it on to the ballot.

The proposal aims to split the state — America's most populous with around 38 million inhabitants — into "six smaller state governments, while preserving the historical boundaries of the various counties, cities and towns."
I don't have the foggiest idea whether the movement will be able to garner that many signatories, much less win approval in November. The problem with this sort of thing is that there are far more reasons to oppose than support it. But, for the sake of argument, let's assume this passes in November. 
On the merits, I'm rather dubious. To be sure, California is currently grossly underrepresented in the United States Senate, with its 38 million voters getting the same two votes as Wyoming's 576,000. Indeed, California has more people than Wyoming and the next twenty least populous states combined! But Texas has a similar complaint and the entire system is grossly inequitable. It makes more sense to reform the system than to game it.
As to the argument that its size makes California ungovernable, I'm similarly dubious. To the extent it's ungovernable, it's a function of a crazy referendum system, not too many people. Draper disagrees and sits down with TIME ("Q&A: The Man Who Wants To Split California Into 6 States") to make his case:
Where did this idea come from?

We now spend the most and get the least. We spend among the most for education and we're 46th in education. We spend among the most for prisons, and we are among the highest recidivism rates … So the status quo is failing. And there have been some very good people running California, governing California. So it must be systemic. At best, the system seems to be on a spiral down. At worst it's a monopoly, and in a monopoly, they can charge whatever they want and provide whatever service they want. In a competitive environment, people get good service and they pay fair prices.

So you see the current state government as a monopoly?

Yeah. … The strongest argument for Six Californias is that we are not well-represented. The people down south are very concerned with things like immigration law and the people way up north are frustrated by taxation without representation. And the people in coastal California are frustrated because of water rights. And the people in Silicon Valley are frustrated because the government doesn't keep up with technology. And in Los Angeles, their issues revolve around copyright law. Each region has its own interest, and I think California is ungovernable because they can't balance all those interests. I'm looking at Six Californias as a way of giving California a refresh and allowing those states to both cooperate and compete with each other.
Regardless of whether splitting it up would make California–or parts of it–run better, the solution of breaking it up into several states has a major hurdle beyond approval of California's voters. Pursuant to Article IV, Section 3, Clause 2 of the US Constitution, "New States may be admitted by the Congress into this Union; but no new States shall be formed or erected within the Jurisdiction of any other State; nor any State be formed by the Junction of two or more States, or Parts of States, without the Consent of the Legislatures of the States concerned as well as of the Congress." The first part of this would be satisfied by passage in California; the second part is a high hurdle, indeed, under normal circumstances and next to impossible in the current climate.
In terms of the politics, there are at least two obvious issues: the impact on the political parties and the impact on the other 49 states.
I haven't seen the precise breakdown being proposed. Democrats would almost certainly balk at an outcome that takes what has for two decades been a reliable 55 presidential Electors, more than twenty percent of the 270 needed to retain the White House, out of their column. Similarly, the state's two Senators would seem to be almost guaranteed Democrats for years to come. At the same time, Congressional Republicans are unlikely to be happy with a breakdown that adds an additional ten senators from what's now a reliably Blue state to the mix unless they come out ahead somehow. How many Republican states would be carved out of the present California?
Presumably, the unequal representation that would motivate Californians to support this initiative would have the opposite impact in the smaller states. Right now, Wyoming accounts for 2 percent of the Senate. Why would it want to suddenly vote itself down to 1.8%? Only seven states have more than 10 million people; only 22 have more than 5 million people. So, depending on one's definition, there are 28 or 43 "small" states. It seems to me that they would be reluctant, indeed, to give up their current advantage.