Slowly But Surely, Republicans Seem To Becoming Less Socially Conservative
It will be some time before sanity prevails in the GOP, but slowly but surely Republicans seem to be becoming less socially conservative.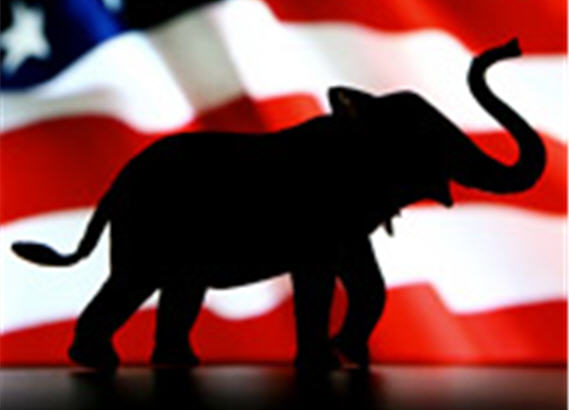 If a new Gallup poll is any indication, there seems to be a change occurring in the Republican Party:
PRINCETON, N.J. — The percentage of Republicans and Republican-leaning independents who describe themselves as both social and economic conservatives has dropped to 42%, the lowest level Gallup has measured since 2005. The second-largest group of Republicans (24%) see themselves as moderate or liberal on both social and economic issues, while 20% of all Republicans are moderate or liberal on social issues but conservative on economic ones.

These data are from Gallup's Values and Beliefs poll, which since 2001 has included questions asking Americans to rate themselves as conservative, moderate or liberal on social and economic issues. These trends show not only that Americans as a whole have become less likely to identify as social or economic conservatives, but also that Republicans' views are changing along the same lines.

This change in recent years has been significant. The percentage of Republicans identifying as conservative on both dimensions has dropped 15 percentage points since 2012, largely offset by an increase in the percentage who identify as moderate or liberal on both dimensions. Still, the current ideological positioning of Republicans is not unprecedented; the proportion of social and economic conservatives was as low or lower from 2001 through 2005.
This chart shows how these numbers have changed over the years: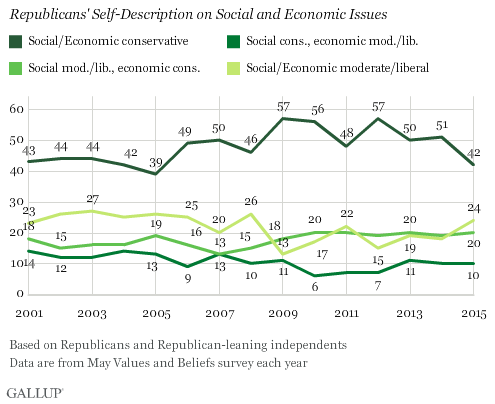 Not surprisingly, there's a strong correlation with age:
The percentage of Republicans and Republican-leaning independents who are conservative on both social and economic issues rises steadily with age. An analysis of aggregated surveys conducted since the 2012 election shows that the size of the social and economic conservative group is twice as large among Republicans aged 65 and older as it is among those aged 18 to 29. This may be good news for GOP candidates who are running on a conservative platform and can assume that older Republicans will constitute a sizable portion of primary and caucus voters. But it would not be such good news when it comes to the challenge of energizing a broader base of Republican voters to come out to vote in the typically higher-turnout general election.
Chris Cillizza comments on these results:
Politicians — and this will be some breaking news — tailor their messages to the people who they believe will turn out to vote. And, history suggests that the likeliest voters tend to be the truest of true believers in your party's base. They are the ones who prioritize voting — every time and always.

That's especially true in states like Iowa and South Carolina, which will cast two of the first three votes of the 2016 Republican presidential primary season. In Iowa in 2012, 57 percent of GOP caucus attendees described themselves as evangelical or born again; that number was 65 percent in South Carolina.  The truth of the matter then is that the men and woman who want to the be the GOP nominee don't really care all that much about the fiscally conservative/socially moderate Republicans living in the other 48 states.  To win the Republican presidential primary, you need to win conservative voters.  Everyone else, theoretically, will come along for the ride.

That basic dynamic — with a bit of a twist — explains what's going on in the growing partisanship among Congressional Republicans too. Two straight decennial redraws of the 435 congressional districts in the country have largely solidified the partisanship of the House seats in the country. That means that the path to Congress for most Republicans (and, to be fair, Democrats) is to make the base happy.  Just like at the presidential level, the most conservative voters tend to be the ones who vote in downballot contests — meaning that if you are seen as the most conservative person in a race, you are very likely to win.  The only danger to an incumbent Republican in most of the districts in the country is a primary challenge from their ideological right. Given that, Republican incumbents do everything they can to compile as conservative a voting record as possible while in Congress.

(…)

If both the country as a whole and the Republican party are moving away from pure conservatism — particularly on social issues — that translates to a massive gap between what it takes for a GOP candidate to win a presidential primary and what it takes for that same candidate to win a presidential general election.
The caveats that Cillizza comments on are well-taken. Even if these ideological changes inside the Republican Party are a real thing and continue into the future, which certainly seems to be the case, it will likely be several more election cycles before those changes have an impact on the policy positions the party takes and the candidates it selects in primaries. By and large, it is the people who are conservative on both social and economic issues that are most active in the party and most likely to vote in primary elections. This is especially true in the south, and the effect becomes even more appparrent in elections at the Congressional and state legislative level. That's likely to remain the case for some time to come, and candidates that are less socially conservative are likely to find themselves losing to social conservatives in primaries for awhile. If this trend continues, though, then eventually the Republican Party will change.
We already see some evidence of this, of course, in the fact that Republicans as a whole have tended to become more tolerant on issues such as same-sex marriage even as those who most strongly identify themselves as conservative remain firmly opposed. You can find similar changes in attitude in connection with issues such as the war on drugs, where polling has shown increasing numbers of self-identified Republicans saying that they favor legalization of marijuana for medical purposes, decriminalization to the point where marijuana possession is treated like a traffic ticket, and even outright legalization. On these and other issues, though, the base of the party remains staunchly in the control of the social conservative wing of the party and, for reasons that have to do with both demography and geography, that's likely to remain true for some time to come. It took time for the Republican Party to become as dominated by its hard right wing as it is today, and if these trends that show Republicans as a whole becoming more socially tolerant continue it's going to take some time for things to change. Between now and then, the GOP is likely to find its hard right base becoming even more of an albatross.