The Return of the Liberals
More Democrats are calling themselves "liberal" than they have in years. Republicans, too.
Americans who identify with the Democratic Party have moved substantially to the left even since the last election.
Gallup's Frank Newport ("Democrats in the U.S. Shift to the Left"):
Democratic candidates for the 2016 presidential nomination face a significantly more left-leaning party base than their predecessors did over the last 15 years. Forty-seven percent of Democrats and Democratic-leaning independents now identify as both socially liberal and economically moderate or liberal. This is compared with 39% in these categories in 2008, when there was last an open seat for their party's nomination, and 30% in 2001.
Here we see the trend in graphic form: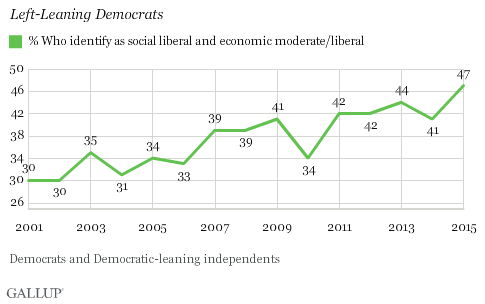 Newport continues:
This combined group of Democrats consists of 25% who are pure liberals — identifying as liberal on both social and economic issues — and 22% who are social liberals but moderate on the economy. At the other end of the ideological spectrum, a scant 7% of Democrats are socially and economically conservative. Most of the rest of Democrats have more mixed ideological leanings, with 18% moderate on both social and economic issues, and 12% socially moderate or liberal but economically conservative.

These data are from Gallup's annual Values and Beliefs poll, which since 2001 has included questions asking Americans to rate themselves as conservative, moderate or liberal on social and economic issues. The trends for the entire country show a shift toward more liberal self-identification, and that trend is even more pronounced among Democrats on social issues. More than half of Democrats (53%) describe themselves as socially liberal at this point, up from 35% in 2001. On the economic front, Democrats remain most likely to say they are moderate, but among the rest who don't call themselves moderate, economically liberal has become a more frequent self-label than economically conservative.
He sees serious implications:
Americans' perceptions of their social and economic views on the ideological spectrum are quite general, and such labels don't always translate directly into specific policy and issues positions. Ideological labels, however, are helpful in understanding voters' positioning in the election year to come. The shift leftward appears to fit with trends on very specific issues such as same-sex marriage.

Primary voters can vary from state to state, but broadly these national trends broadly suggest that Democratic candidates can be somewhat more left-leaning in their policy and issue prescriptions in the 2016 election campaign than in the past.

Democratic front-runner Hillary Clinton faces a more liberal base than she did when she last ran for president in 2008, and no doubt will be calibrating her positions accordingly. The shift in the electorate may help explain the attention being garnered by long-shot candidate Sen. Bernie Sanders of Vermont who has used the label "socialist" to describe himself and who is avowedly liberal across the board. Two other announced Democratic candidates — former Maryland Gov. Martin O'Malley and former Republican senator from Rhode Island Lincoln Chafee — have taken liberal positions in the past. In the 2016 election, they will be seeking to connect with the electorate on that basis, while also attempting to position themselves against Clinton on specific issues.
What's not clear from the data is whether the shift reflects changed policy preferences or simply a renewed willingness to identify under the "liberal" banner. Certainly, for a long time—at least since Ronald Reagan's 1980 campaign—"liberal" had become sort of a dirty word, indicating being "soft" on crime and "weak" on national security issues. Maybe that stigma has gone away? At the same time, there has certainly been a real movement to the left on social issues, notably gay rights and even transgender acceptance. And, with the Great Recession, Occupy, and the like, there's increased support for the use of government to level economic outcomes as well.
Interestingly, despite the widespread perception—which I share—that American politics is getting more polarized and that the Republican Party in particular has become more extreme, the polling actually shows something else. A Gallup poll last month showed fewer identifying as "conservative" than at any point since the survey started.  Jeffrey Jones:
Thirty-one percent of Americans describe their views on social issues as generally liberal, matching the percentage who identify as social conservatives for the first time in Gallup records dating back to 1999.

Gallup first asked Americans to describe their views on social issues in 1999, and has repeated the question at least annually since 2001. The broad trend has been toward a shrinking conservative advantage, although that was temporarily interrupted during the first two years of Barack Obama's presidency. Since then, the conservative advantage continued to diminish until it was wiped out this year.

The newfound parity on social ideology is a result of changes in the way both Democrats and Republicans describe their social views. The May 6-10 Gallup poll finds a new high of 53% of Democrats, including Democratic-leaning independents, describing their views on social issues as liberal.

Democrats were more likely to describe their views on social issues as moderate rather than liberal from 2001 to 2005. Since then, socially liberal Democrats have outnumbered socially moderate Democrats in all but one year.

Meanwhile, the 53% of Republicans and Republican leaners saying their views on social issues are conservative is the lowest in Gallup's trend. The drop in Republicans' self-identified social conservatism has been accompanied by an increase in moderate identification, to 34%, while the percentage identifying as socially liberal has been static near 10%.
Indeed, as Newport noted at the time, a growing number of Republicans were calling themselves "liberal."
The percentage of Republicans and Republican-leaning independents who describe themselves as both social and economic conservatives has dropped to 42%, the lowest level Gallup has measured since 2005. The second-largest group of Republicans (24%) see themselves as moderate or liberal on both social and economic issues, while 20% of all Republicans are moderate or liberal on social issues but conservative on economic ones.

These data are from Gallup's Values and Beliefs poll, which since 2001 has included questions asking Americans to rate themselves as conservative, moderate or liberal on social and economic issues. These trends show not only that Americans as a whole have become less likely to identify as social or economic conservatives, but also that Republicans' views are changing along the same lines.

This change in recent years has been significant. The percentage of Republicans identifying as conservative on both dimensions has dropped 15 percentage points since 2012, largely offset by an increase in the percentage who identify as moderate or liberal on both dimensions. Still, the current ideological positioning of Republicans is not unprecedented; the proportion of social and economic conservatives was as low or lower from 2001 through 2005.
To be sure, 42% of Republicans–by far the largest plurality—see themselves as both economically and socially conservative. But it's surprising to me that 24% would label themselves liberal on both dimensions and another 30 percent label themelves liberal on one of the two dimensions.