Americans Are Becoming More Liberal On Social Issues
A new poll shows that Americans have moved to the left on a wide variety of social issues.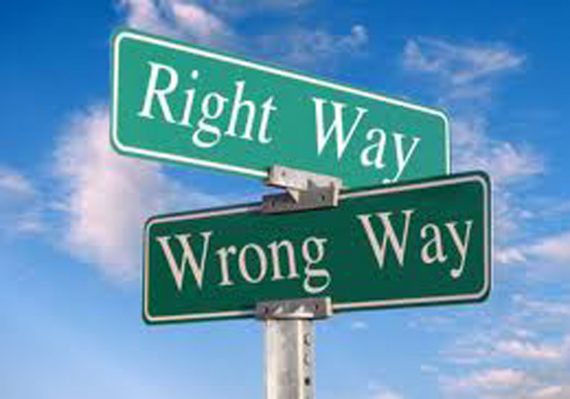 A new Gallup poll seems to be the strongest indication yet that Americans have become much more accepting of things that used to be considered "taboo" than they used to be in the past:
Americans are increasingly taking their laissez-faire attitude outside of the marketplace and into the moral arena.

A new Gallup poll released Monday found the numbers of Americans that believe cloning humans, polygamy, having extramarital affairs, and suicide are "morally acceptable" are reaching record highs.

Nineteen percent of respondents said that suicide is "morally acceptable," tied for the highest percentage since Gallup began asking in 2001. Likewise, 16 percent of respondents said the same of polygamy and 15 percent of cloning humans, both record highs since the survey.

Though at one point in 2002, 9 percent of those surveyed said extramarital affairs are "morally acceptable," the number stayed at 7 percent or lower up until this most recent survey. Now, 8 percent of Americans say extramarital affairs are OK from a moral standpoint — the most minor increase of any of the behaviors surveyed.

Millennials were found to be the most tolerant of the aforementioned behaviors. Only extramarital affairs polled at less than 20 percent among the age group.

On certain matters, baby boomers aged 50 to 64 were the least permissive, though more boomers found suicide morally acceptable than respondents from generation X.

Only 18 percent of seniors ages 65 and older said that pornography and sex between teenagers are morally acceptable and less than 10 percent of them said polygamy, cloning humans and extramarital affairs are as well.
These numbers are part of a larger survey that Gallup does annually regarding American public opinion on moral and ethical issues. We've already seen some of the results of that polling in the report last month that public acceptance of same-sex marriage had passed the 60% mark for the first time in the two decades and that a majority of Americans identified as "pro-choice" on the issue of abortion for the first time in seven years. There is also a marked increase in the number of people who support physician assisted suicide and find it to be morally acceptable Beyond those specific issues, though, and beyond the "taboos" that are making headlines today, the survey found clear evidence that Americans attitudes on a wide variety of social and ethical issues have moved decidedly to the left over the past fifteen years:
Americans are more likely now than in the early 2000s to find a variety of behaviors morally acceptable, including gay and lesbian relations, having a baby outside of marriage and sex between an unmarried man and woman. Moral acceptability of many of these issues is now at a record-high level.

This latest update on Americans' views of the moral acceptability of various issues and behaviors is from Gallup's May 6-10 Values and Beliefs survey. The complete results for each of the 19 issues tested in this year's survey appear at the end of the article. Gallup has tracked these moral issues in this format since the early 2000s.

The upward progression in the percentage of Americans seeing these issues as morally acceptable has varied from year to year, but the overall trend clearly points toward a higher level of acceptance of a number of behaviors. In fact, the moral acceptability ratings for 10 of the issues measured since the early 2000s are at record highs.

Americans have become less likely to say that two issues are morally acceptable: the death penalty and medical testing on animals. But Americans' decreased acceptance of these practices actually moves them in a more liberal direction.

These results reflect the same type of shift evident in the public's self-reported ideology on "social issues." More Americans now rate themselves as socially liberal than at any point in Gallup's 16-year trend, and for the first time, as many say they are liberal on social issues as say they are conservative.

(…)

Americans are becoming more liberal on social issues, as evidenced not only by the uptick in the percentage describing themselves as socially liberal, but also by their increasing willingness to say that a number of previously frowned-upon behaviors are morally acceptable. The biggest leftward shift over the past 14 years has been in attitudes toward gay and lesbian relations, from only a minority of Americans finding it morally acceptable to a clear majority finding it acceptable.

The moral acceptability of issues related to sexual relations has also increased, including having a baby outside of wedlock — something that in previous eras was a social taboo. Americans are more likely to find divorce morally acceptable, and have also loosened up on their views of polygamy, although this latter behavior is still seen as acceptable by only a small minority.

This liberalization of attitudes toward moral issues is part of a complex set of factors affecting the social and cultural fabric of the U.S. Regardless of the factors causing the shifts, the trend toward a more liberal view on moral behaviors will certainly have implications for such fundamental social institutions as marriage, the environment in which children are raised and the economy. The shifts could also have a significant effect on politics, with candidates whose positioning is based on holding firm views on certain issues having to grapple with a voting population that, as a whole, is significantly less likely to agree with conservative positions than it might have been in the past.
The details of how attitudes have changed over time can be seen quite clearly in this chart: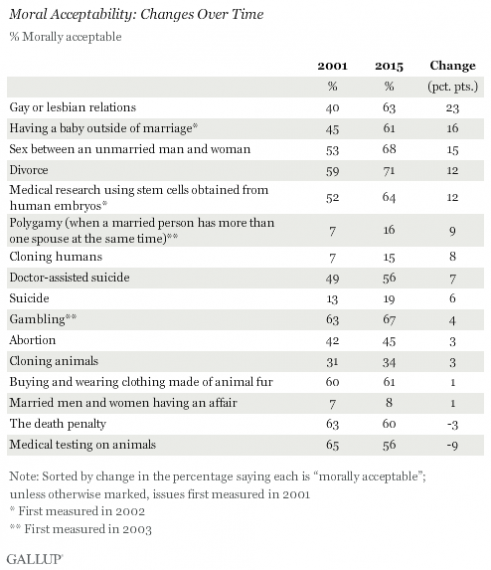 Some of the biggest changes that we see here, of course, are in areas that deal with private family and sexual matters, such as homosexuality, children born out of wedlock, divorce, and sexual relationships outside of marriage. In each case, I think the reasons behind the change in attitude is fairly easy to figure out. As I've noted before with regard to same-sex marriage, Americans have generally become more accepting of homosexuality as they have come to know people who are gay or lesbian and as the media, and especially television, has come to treat the issue far more openly than was true even thirty years ago. Not surprisingly, the younger someone is the more likely they are to support same-sex marriage but the cultural shift here has been near universal to the point where the only demographic groups that don't show majority support are people over 55 and Republicans, and even that is starting to change. The same is true when it comes to issues such as children born outside of marriage, divorce, and sexual relationships outside of marriage. Thanks largely to the immense cultural changes that took place in the 1960s and 1970s, the taboos that were once associated with all of these things have quite simply melted away and, even in cases such as children born out of wedlock or divorce where one could arguably make the case that these are not ideal situations, the public has clearly come to the conclusion that the subjects themselves do not have the same moral taboo that they used to. As for sexual relationships outside of marriage, that's something that has been going on since time immemorial. Much like the moral prohibitions against divorce and children out of wedlock, the social approbation that accompanied it was really nothing more than rank hypocrisy. The fact that we are no longer handing out scarlet letters for things that everyone does anyway is, in the end, a sign of progress.
The poll also indicates an up tick in support for controversial medical procedures such as stem-cell research and cloning of both humans and animals, and a decrease in support for medical testing on animals. To a large degree, I suspect that much of this can be attributed to the fact that there has been so much discussion in recent years about how these different types of research could potentially lead to treatments or perhaps even cures for a wide variety of ailments. Stem cells, for example have been discussed as potential cures for Parkinson's Disease and other neurological disease as well as, potentially, as method of helping the human body from fighting cancer. Cloning remains far more controversial, of course, but even here my assumption is that people are finding these practices more morally acceptable because of the potential promise they hold for helping develop new treatments that could significantly improve quality of life. The drop off in support for medical testing on animals, meanwhile, is likely due largely to success of various popular efforts to publicize this issue by playing on a natural tendency that most people have to be sympathetic toward animals. Personally, my view on the issue that animal testing is acceptable if it is scientifically necessary but in many cases, such as those involving cosmetics, it has been quite clear in recent years that it simply isn't. Fortunately, thanks to technological advances that include computer systems designed to mimic the human body we may be close to the day when we won't need to conduct medical tests on animals at all.
On a final note, it's interesting to see that even as public attitudes are becoming more liberal on some issues, there are still some things that the public finds morally unacceptable. The best example of this, of course, is adultery, where the widespread public disapproval that Gallup found in 2001 remains relatively unchanged. To a large degree, I think that this is because people view extramarital affairs as a trust issue rather than a sexual issue and that the vast majority of the respondents are innately aware of how painful something like this can be to a relationship. Granted, as Jazz Shaw notes, we don't punish people who have affairs the same way that we used to, the best example of that being former President Bill Clinton. At the same time, though, Americans don't generally hold serial adulterers in the highest esteem even when they are celebrities, and that I would suggest is largely because they see it as being a separate issue from the generally more liberal attitudes about sexuality that have developed over the last several decades.
For the most part, though, Americans have obviously become more liberal on social issues than they were in the past, especially when it comes to issues involving sexuality and personal relationships. How much further this will got is unclear, though. For example, the new survey shows an increase in the number of people who find polygamous relationships to be morally acceptable, but that is still very much a minority point of view. Whether this trend will continue in the future to the point where a majority believes that multiple partner consensual relationships are acceptable remains to be seen. At the very least, though, what this survey does suggest that politicians who make social conservatism a centerpiece of their platform are going to find it harder and harder to convince Americans to support them.