The Republican Civil War Over Same-Sex Marriage Has Begun
Sooner than one might have expected, Republicans are starting to battle over the issue of marriage equality.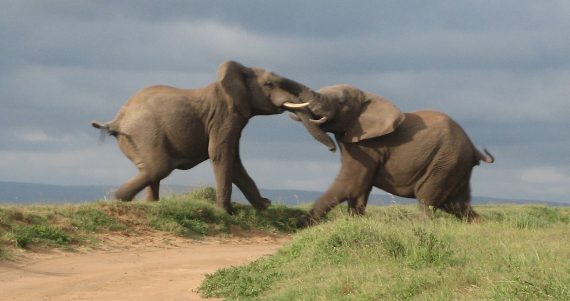 Politically and legally it appears that the battle for marriage equality is, in some sense at least, over and done with. Since Election Day 2012 when three states legalized same sex marriage while a fourth rejected an effort to enshrine a ban on same-sex marriage in the state constitution we've seen  states ranging from Rhode Island and Delaware to Illinois, Minnesota, and Hawaii legalize same-sex marriage via the legislature. On the legal side the Supreme Court's decision in United States v. Windsor, has set off an avalanche of court decisions at the state and federal level in states ranging from New Jersey, Michigan, and Ohio to Utah, Oklahoma, and Kentucky. At the same time, poll after poll has shown for several years now that a majority of Americans support same-sex marriage, and that number has only continued to grow. There seems to be only one part of the country left where marriage equality has yet to break through, though, and that's in the Republican Party and those parts of the country where it predominates. The same polling that shows that most American support same-sex marriage also show that most Republicans oppose it, and the prospect of the legislature in any red state passing a law that legalizes same-sex marriage seems to be pretty unlikely. In other words, when it comes to marriage equality the Republican Party is behind the times, and behind the rest of the country.
While not everyone is going to base their voting decisions on an issue like same-sex marriage, it's fairly clear that the Republican Party's position on this issue is something that will be a problem for them in the future. As a general matter, it's never a good idea for any political party to find itself on the opposite side of the American people on any issue, and that seems to be especially true when it comes to a social issue that hits on such a personal issue. The polling problems for the GOP become even more apparent when you look at younger voters, where the party already has problems to begin with. Even among younger voters who lean Republican, the support for marriage equality is overwhelming, and it becomes harder and harder for Republicans to make their case to new generations of voters when they are so far apart on what seems like the self-evident issue of whether or not two people who love each other should be allowed to get married. In the long run, then, the GOP's current position on marriage equality is quite obviously not in the best interests of the party.
Much like issues such as immigration, these political forces have turned same-sex marriage into an issue that is being closely fought over inside the Republican Party.
On the one side are those Republicans who have supported same-sex marriage for a long time who suddenly find their numbers bolstered by the segments of their party that actually want to win elections and recognize the danger that continued intransigence on this issue pose for the party. On the other side, of course, are the social conservatives who increasingly see themselves fighting a rear guard action, the outcome of which seems to have already been determined. The forces in favor of marriage equality have scored some interesting victory recently, including the decision by the Nevada Republican Party to remove the blank opposing same-sex marriage from its platform and the dismissal of officials in the Illinois Republican Party who attempted to oust the state party chairman over his statements supporting marriage equality. Additionally, Freedom To Marry, one of the largest umbrella groups in the marriage equality fight, recently announced the formation of Young Conservatives for the Freedom to Marry, a group made up of young conservatives who support marriage equality.
All of this, of course, is leading to some push back from the supporters of so-called "traditional marriage" on the other side of the argument:
Two conservative groups are pushing back on moves by the GOP to drop opposition to same-sex marriage from party platforms, releasing a poll of base voters taken last month that found in favor of defining marriage "only" as between a man and a woman.

The poll, commissioned by groups led by conservatives Gary Bauer and Tony Perkins, runs counter to a wide variety of opinion polls that show movement on the question of same-sex marriage, with more voters favoring it than opposing it.

(…)

The survey by the GOP polling firm Wilson Research Strategies was of Republican and Republican-leaning independents and was taken over a month ago, sampling 801 people from March 18 through March 20, with a 3.5 percent margin of error.

The survey showed 82 percent agreeing with a statement that marriage should be between "one man and one woman." It also found 75 percent disagreed that "politicians should support the redefinition of marriage to include same-sex couples."

(…)

Bauer, the president of American Values, faulted a "misinformation campaign waged by media elites" and insisted that "public policy-makers are doing a great disservice to themselves and future generations by continuing to misread the convictions of the American people … this survey should remind political and cultural leaders that this debate is far from over. If anything, it is taking on a new sense of urgency for millions of men and women of faith."

Perkins, the president of the Family Research Council, added that the "vast majority of the GOP base continues to believe that marriage is a non-negotiable plank of the national platform and want to see their elected officials uphold natural marriage as the national standard, a goal to stand for, encourage and promote in law."
I don't doubt that this poll is generally accurate. As I've noted above, even current polling that shows broad nationwide support for marriage equality shows that Republicans are one of the few demographic groups where a majority continues to oppose the idea of same-sex marriage. The other group where this is the case is among voters over 65, which has tended to be a strong group for Republicans since the beginning of the Obama Administration. However, even among Republicans it seems unlikely that opposition to same-sex marriage is such a vitally important issue for voters that it will cause them to vote against a candidate who happens to support marriage equality. The same goes for older voters. The only segment of the Republican Party for whom so-called "traditional marriage" remains a passionate issue are social conservatives, and while they are a vocal and active part of the party, they are not the majority. The idea that they are going to be able to hold the line against the social forces that have lead to wider acceptance of gay and lesbian relationships, along with the idea that those relationships deserve the same legal recognition as straight relationships receives is really rather silly.
Much as it has in the nation as a whole, the future of marriage equality in the Republican Party seems to already be set. The fact that we're seeing state political parties dropping opposition to the idea from their platforms, while growing numbers of conservative politicians and pundits voice supporter for marriage equality, is a fairly strong indication of where things are headed. It's unlikely that the GOP will nominate someone who supports marriage equality in 2016, however I think we can expect to see a battle over the "traditional marriage" plank in the party platform that year. Looking further into the future, though, the ground for Republican politicians to speak out in favor of marriage equality will be much friendlier, and the forces seeking to stop it will find themselves in the minority.