Vast Majority Of Americans Support Physician-Assisted Suicide
A new poll shows that nearly seven in ten Americans believe that people who are terminally ill should be allowed to end their lives with the help of a doctor.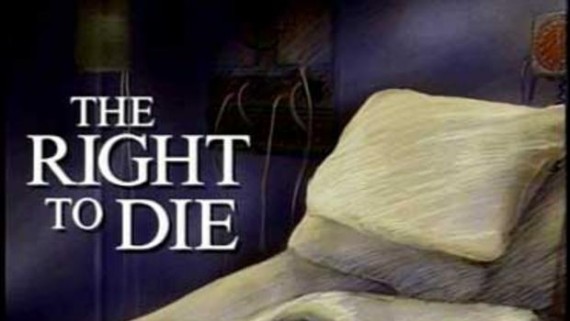 A new Gallup survey shows that the vast majority of Americans support the idea of allowing patients who are terminally ill to end their life with the assistance of a doctor:
Nearly seven in 10 Americans (68%) say doctors should be legally allowed to assist terminally ill patients in committing suicide, up 10 percentage points from last year. More broadly, support for euthanasia has risen nearly 20 points in the last two years and stands at the highest level in more than a decade

These results come from Gallup's Values and Beliefs survey, conducted May 6-10. Typically, firm majorities of Americans have supported physician-assisted suicide for certain types of medical patients, though the magnitude of the support ebbs and flows. In 2001, support for physician-assisted suicide mirrored the current peak — 68% — and remained slightly below that level for the ensuing decade. Possibly in response to the accusations of "death panels" that arose during the acrimonious debate surrounding passage of the Affordable Care Act, support dropped to bare-majority levels throughout much of President Barack Obama's first term. Public support for euthanasia fell to a low of 51% in 2013, before rebounding to 58% last year.

This year finds an uptick in support for euthanasia after the high-profile story last year of 29-year-old Brittany Maynard. Dying from terminal brain cancer, Maynard left her home state of California, where physicians are barred from assisting suicide, and ended her life in Oregon, where the practice is legal. Somewhat in response to this well-publicized story, the California state Legislature is currently considering a bill that would legalize doctor-assisted suicide.]
As this chart shows, support for the "right to die" is now at the highest level it has ever been since Gallup started polling this question, and opposition to the idea is near its lowest level ever: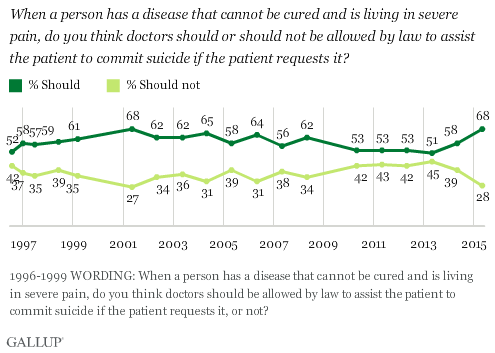 What's most interesting about the poll, though, is the fact that there has been such a big uptick in support over the course of the year, and that every demographic group shows a majority in support of the idea of a "right to die":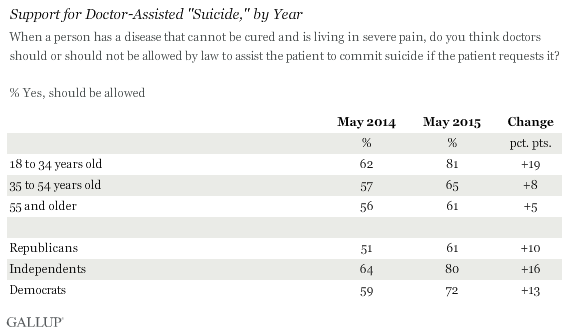 I'm unsure how much significance we should place on the fact that there has been such a large increase in support for the physician-assisted suicide since last year. For one thing, the numbers that we are seeing now are largely consistent with what this poll has shown over the nearly twenty years that Gallup has been asking the question. There has always been majority support for the idea of a "right to die," and the opposition has always been in the minority. Those numbers have varied somewhat over time, but there's always been that general consistency. The anomalies lie in the drop off in support for the idea that seemed to occur over the past five or six years or so. Gallup suggests that this may have been due to the political debates over the Affordable Care Act and the political rhetoric about "death panels," but I'm not sure that's a very good explanation. We may have just been dealing with issues relating to how the poll was conducted in that era, or it's possible that some people were experiencing doubts over the idea of placing that much trust in the medical profession. Whatever the reason, in recent years the poll numbers have returned to their historic upward trend.
Another explanation may lie in the fact that the poll also shows that a majority of Americans believe that physician-assisted suicide is morally acceptable, while the number of those who say that it is not has fallen to an all-time low: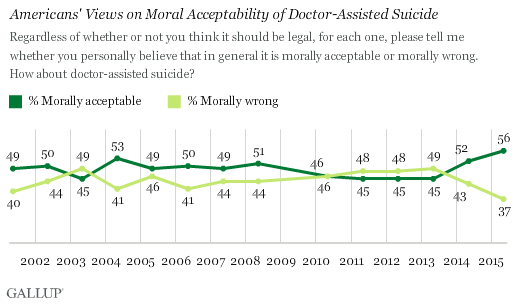 The issue of a terminally ill patient's right to die has been in the news more than usual over the course of the past year, and that may be one reason why public attitudes have shifted so much in such a short period of time. When I wrote about last year's version of this poll, Casey Kasem had just passed away after a long battle between his wife and the children from his first marriage who were seeking to end the life-sustaining treatment he was receiving. The issue was brought even more into public consciousness, though, with the case of Brittney Maynard, a woman diagnosed with stage 4 brain cancer who had moved from California to Oregon in large part so that she could take advantage of the laws in that state that allow for physician-assisted suicide. Maynard made news in the fall when she went public with the news that she would end her life in November and her case quickly became the subject of a the same kind of intense public debate that we saw during the Terry Schiavo controversy. After initially saying that she had decided to delay her decision, Maynard indeed ended up taking her life on November 1st just as she had planned all along. While the case raised intense opposition from many of the same conservative circles that were prominent during the Schiavo debate, it seemed rather clear at the time that the public consensus in the United States was that this was her decision to make and that she should not have been prevented from making it. No doubt, those two stories, and most especially Brittney Maynard's case, caused many Americans to give more thought to the issue of what they would do in a similar situation than they otherwise might have done.
From a moral perspective, it seems fairly clear that individuals ought to have the right to determine when and how their life is going to end when they are diagnosed with a terminal illness like cancer. If individual liberty means anything, it would seem to most especially mean the right to determine one own's destiny and fate in this type of situation, especially when it can be established that the decision is being made with full knowledge of the facts and not based upon mental illness or pressure from others. Ideally, of course, this is a situation that most people would make determinations about long before a decision has to be made through the preparation of Advance Medical Directives and similar documents. This is especially true in situation where someone isn't able to make decisions because of their condition, or because they are incapacitated. Physician-assisted suicide, of course, is a step beyond what is normally covered by such documents, but there isn't any reason why they couldn't be used to cover such situations as long as the law permitted it. At the very least, though, it seems obvious that it would be incredibly cruel to keep force someone to stay alive in a situation where the future that they face involves only suffering and inevitable death. Some people will choose to accept that fate, of course, but that's their own choice, it's not one that society as a whole should force on everyone.
Despite the fact that there is widespread public support for physician-assisted suicide, the practice is basically illegal in the United States. In 1997, the Supreme Court ruled unanimously that there was no constitutional right to physician-assisted suicide in a case that challenged laws that made the practice a felony in two states. Since then, four states — Oregon, Washington, Vermont, and Montana — have adopted laws that either establish a procedure that must be followed if a patient wishes to die with the assistance of a doctor or provide legal immunity for doctors who write a prescription for lethal medication upon a patient's request. In a fifth state, New Mexico, a trial court judge ruled last year that terminally ill patients have a right to die under the state's Constitution. That case is presently being considered by the New Mexico Court of Appeals, the state's intermediate appellate court. Beyond these states, though, there has been little movement on the issue in other states and several efforts to change assisted suicide laws either in state legislatures or via referendum have failed, Whether that will change in the light of new polling numbers that show such overwhelming support for the idea remains to be seen.