Brittany Maynard, Cancer Victim Who Advocated For A 'Right To Die,' Has Ended Her Life
Freedom of choice.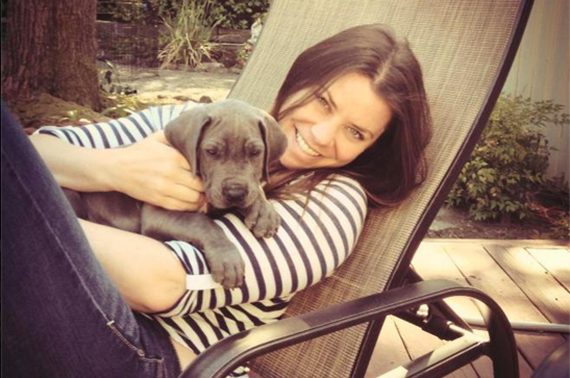 Early last month, I wrote about Brittany Maynard, a 29 year old Oregon woman who had become an advocate for the always controversial "right to die" movement when she announced that she would be ended her own life at the end of the month. Maynard had been diagnosed some time earlier with a terminal form of brain inoperable and incurable brain cancer. Several doctors had told Maynard that the cancer would eventually lead to her death, but not before she endured a long period of suffering that would likely require massive doses of pain killers just to preBrvent her from feeling pain. At the time she was initially diagnosed, Maynard and her husband moved to neighboring Oregon where there is a process to allow for physician assisted suicide. Maynard's announcement sparked some intense media coverage, of course, and we saw both sides of the debate on this issue chime in with their opinions. Early last week, though, Maynard seemed to back away from her initial statements when she said in an interview that she had decided that the November 1st date "doesn't seem like the right time." As it turns out, this may have been something of a ruse to divert the attention of the media from her previous announced plans, because yesterday it was announced that Maynard had indeed ended her life on Saturday as originally planned:
Brittany Maynard fulfilled her final wish Saturday, purposely ending her own life on her own schedule, activists close to her family confirmed Sunday night.

She was 29. She was diagnosed earlier this year with a fatal brain tumor — told the cancer likely would kill her in six months. But she had no intention, she said, of allowing the disease to control how she lived, or how she died.

Maynard had planned since spring — a bittersweet stretch packed with "bucket list" moments, seizures and excruciating headaches — to escape the final stages of her cancer on Saturday by drinking a lethal mixture of water, sedatives and respiratory-system depressants.

"Brittany suffered increasingly frequent and longer seizures, severe head and neck pain, and stroke-like symptoms," according to a statement Sunday night from Sean Crowley, spokesman for Compassion & Choices, a national nonprofit working to expand end-of-life options.

"As symptoms grew more severe, she chose to abbreviate the dying process by taking the aid-in-dying medication she had received months ago. This choice is authorized under the Oregon Death With Dignity Act. She died as she intended — peacefully in her bedroom, in the arms of her loved ones," the statement said.

An obituary also was posted to her website Sunday night, although friends have been posting Facebook farewells to Maynard since Saturday night.

"Brittany chose to make a well thought out and informed choice to Die With Dignity in the face of such a terrible, painful, and incurable illness," the obituary reads. "She moved to Oregon to pass away in a little yellow house she picked out in the beautiful city of Portland. Oregon is a place that strives to protect patient rights and autonomy; she wished that her home State of California had also been able to provide terminally ill patients with the same choice.

On Facebook, friends and family began openly mourning Maynard's passing Saturday evening and continued to do so throughout Sunday. Summer Holmes-Phillips and her sister, Erica Holmes-Kremitzki, posted that their "aunt, uncle, and Dan" are saying goodbye to Brittany, and they bade their own farewells.

Holmes-Kremitzki also explained in a subsequent post Sunday: "She was not 'set' on this date but as her condition worsened and the tumor took over control, it became increasingly more difficult for her to function. One comfort, is that she was able to make the choice to end her suffering before she was unable to function at all. That's what SHE wanted. Cancer took her but in the end, she got to decide when enough was enough. She was done and so, I'm comforted that it was her way."

That post was later removed.

Some of Maynard's friends did confide privately Sunday that Maynard felt "devastated" in recent days because, they said, several media outlets and social-media commentators had fully misinterpreted her latest video — released Wednesday, recorded on Oct. 13 and 14 — as a sign that she had changed her views on death with dignity and that she had decided to ditch her plan to end her life before the cancer claimed her.

She had not.

(…)

Maynard set Nov. 1 as the tentative date for her death and then devoted her last days to her most precious joys, family and nature — hiking, bicycling, dog walking, kayaking and traveling with her husband, mother and other loved ones to Alaska, Las Vegas and the Grand Canyon. She preferred to focus, she said, on living. She penned an essay for TODAY.com about hard wisdom she had forged: "Pay attention to the relationships you cultivate in life, and do not miss the chance to tell those you love how very much you love them."

Along the way, Maynard — and her choice — became the talk of the nation as she campaigned for a newfound passion, "death with dignity." She made a video that revealed her thinking. Shedebated physicians who questioned her logic. And she conducted media interviews to explain her choice.

"I'm not killing myself. Cancer is killing me. I am choosing to go in a way that is less suffering and less pain," Maynard told NBC News during a phone interview Oct. 9.

"Not everybody has to agree that it's the right thing, because they don't have to do it. And it's an option that for me has provided a lot of relief, because the way that my brain cancer would take me organically is very terrible. It's a horrible way to die. The thought that I can spare myself the physical and emotional lengthy pain of that, as well as my family, is a huge relief."

She disliked the word "suicide," calling it "highly inflammatory and just incorrect, because I am already dying from cancer. I don't want to die. People who commit suicide are typically people who want to die."

And she was heartened, she said, by the global dialogue her decision ignited. A YouTube video detailing her disease and final path has been viewed more than 8 million times. On her website, The Brittany Maynard Fund, she wrote: "The response from you all has surpassed our wildest expectations."

"What does seem necessary," she added in an interview with NBC News, "is to get people educated about this topic, to have discussions be based on facts not fear, and really have it be a health-care choice, which is what makes it a freedom."
As I noted in my original post on Maynard's choice, this is not an easy issue. The idea of someone who is only twenty-nine ending their life and, in the videos that we were able to see, seemingly healthy, well spoken, and even happy in some ways is something that obviously makes some people uncomfortable. Additionally, for many people this is an issue that brings to mind issues governed by religious faith, including, for some, the exceedingly weird, and to me kind of insane, idea that there is something inherently good about suffering. That, obviously, is an attitude that is largely unique to Christianity, but regardless of the source it ignores some very fundamental ideas about human freedom. Whether one likes the choice or not, it Perhaps if there was a decent chance that Maynard could have survived and gone on to live something resembling a normal life, I might find her choice more controversial. However, not only was her diagnosis confirmed by her own doctors, it was confirmed by the doctors that Oregon law required her to consult with before gaining access to the drugs she used to end her own life. At that point, it was clear that her choice was between a slow decline that consisted only of suffering for her and her loved ones, and the chance to end her life on her terms. Starting with the premise that if human freedom means anything, it means that one should have the right to control their own body, I don't see how anyone can reach any conclusion other than the one that says that this is something that obviously ought to have been her choice and her choice alone. She could have, obviously, decided to go the other way, and that too would have been her choice. The point is, though, that it's something that only she, along with the help, love, and support of her family and her loved ones and in consultation with her physicians should be allowed to make. Even if you don't agree with her decision, one must accept it, and the only appropriate response is sympathy for those who cared about her and some sense of relief that she will no longer be suffering needlessly.
In some of her comments when this story first became public, Maynard said that she hoped that her story would lead to more discussion of the issue of the "right to die" and the rights of people facing terminal illness to face death on their own terms. We've been talking about that issue in some sense, of course, for decades. In the 1970s, cases like that of Karen Ann Quinlan dealt with the issue of whether or not a family, acting in the stead of someone who is an persistent vegetative state and lacking the kind of brain function that would exist for a human being who would have the possibility of living anything approaching a normal life to end extraordinary measures such as respirators that typically do little more than keep a heart beating even though the brain is basically dead. It was in response to those cases that the law developed to allow things such as "Living Wills," which in the law are usually called Medical Powers of Attorney and Advance Medical Directives, which allow someone to set forth instructions about what they want to happen if they end up a situation and give the authority to someone else to make medical decisions for them if they are unable to do so. The Terry Schiavo case in the 2000s showed us what can happen when someone doesn't have those arrangements made, especially when family members disagree on the appropriate path forward. Now, the Maynard case gives us yet another scenario to deal with, and its one that has been controversial ever since Dr. Jack Kevorkian became the somewhat unfortunate face of the "right to die" movement in the 1990s. Now, there's Brittany Maynard. Perhaps because this is taking place at a time where a number of other stories — the elections, Ebola, and ISIS — are also grabbing the headlines, it won't spur the kind of debate those events in the past did, but it should, because it's an issue that we may all have to deal with at some point in the future.
Photo via NBC News