California Legislature Passes Bill Legalizing Physician Assisted Suicide
California's legislature has approved a bill that would legalize physician assisted suicide in the nation's largest state.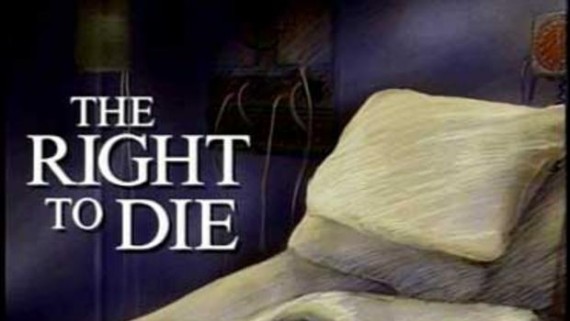 The California legislature has approved a bill that would allow physicians to assist terminally ill patients to end their life:
SACRAMENTO — In a landmark victory for supporters of assisted suicide, the California State Legislature on Friday gave its final approval to a bill that would allow doctors to help terminally ill people end their lives.

Four states — Oregon, Washington, Montana and Vermont — already allow physicians to prescribe life-ending medication to some patients. The California bill, which passed Friday in the State Senate by a vote of 23 to 14, will now go to Gov. Jerry Brown, who will roughly triple access to doctor-assisted suicide across the country if he signs it. Mr. Brown has given little indication of his intentions.

The California bill is modeled on the law in Oregon, with several notable changes. The California law would expire after 10 years and have to be reapproved, and doctors would have to consult in private with the patient desiring to die, as part of an effort to ensure that no one would be coerced to end his or her life — a primary concern for opponents of the law.

Leaders of the "death with dignity" movement said they hoped the passage of the California law could be a turning point.

"It allows for individual liberty and freedom, freedom of choice," said Mark Leno, a Democrat from San Francisco who compared the issue to gay marriage.

Since Oregon approved the country's firstassisted-suicide law in 1997, supporters have struggled to expand their reach, amid opposition from religious groups, some medical organizations and lawmakers whose skepticism crosses party lines.

"I'm not going to push the old or the weak out of this world," Senator Ted Gaines, a Republican, said on the floor. "I think that could be the unintended consequence of this legislation."

More than half the states, plus Washington, D.C., have put forward bills this year to legalize some kind of assisted suicide, according to the Death With Dignity National Center, which is based in Portland, Ore. So far, none of them have become law.

"If it becomes the law in California, that's going to be very, very significant nationally," said George Eighmey, vice president of Death With Dignity and a former state legislator in Oregon.

In spite of the bill's provision about coercion, Dr. Aaron Kheriaty, director of the medical ethics program at the University of California, Irvine, School of Medicine, said that low-income and underinsured patients would inevitably feel pressure from family members to end their own lives in some cases, when the cost of continued treatment would be astronomical compared with the cost of a few lethal pills.

He pointed to a case in Oregon involving Barbara Wagner, a cancer patient who said that her insurance plan had refused to cover an expensive treatment but did offer to pay for "physician aid in dying."

"As soon as this is introduced, it immediately becomes the cheapest and most expedient way to deal with complicated end-of-life situations," Dr. Kheriaty said. "You're seeing the push for assisted suicide from generally white, upper-middle-class people, who are least likely to be pressured. You're not seeing support from the underinsured and economically marginalized. Those people want access to better health care."

Mr. Eighmey said that the argument about pressure from families had the issue backward: "It's always the loved ones who want the dying person to try one more round of chemo, one more treatment down in Mexico."

Until after a Supreme Court ruling in 2006 threw out a Justice Department effort to block Oregon's law, no other state permitted assisted suicide. Washington adopted its measure in 2008. Several northern European countries, including the Netherlands, Belgium and Sweden, also allow assisted suicide. The British Parliament on Friday voted down a measure that would have permitted physicians to help terminally ill people end their lives.

Previous bills to legalize assisted suicide have failed in California, including one this year, when pressure from the Roman Catholic Church helped stall a similar measure in the Assembly. (The bill was resurrected for a special session, where it could bypass Assembly committees.)
In addition to the fact that supporters of the bill utilized the special session to bypass the means by which previous bills had been stopped, this year's push was also motivated in large part by a case involving a former California resident who became the public face for advocates of "death with dignity." Last year around this time, the public learned of the case of Brittney Maynard, a woman who had lived in California but had moved to Oregon in part to take advantage of that state's law allowing for physician assisted suicide. Maynard had been diagnosed with stage 4 brain cancer and was not given very long to begin with she made news in the fall when she went public with the news that she would end her life in November. Quickly, Maynard's case became the focus of a national debate over assisted suicide that pitted those who believed that people with terminal illnesses should have the right to die with dignity, and the pro-life crowd and those who believed that allowing physician assisted suicide would be the beginning of the road toward mandatory termination of the sick and elderly.  After first announcing near the end of October that she had decided to push back the deadline she had set, Maynard took her life on November 1st just as she had planned. While the debate at the time was contentious, it was clear at the time that the vast majority of the public was supportive of Maynard's right to make the decision that she did, and in May this was seemingly confirmed when a Gallup Poll revealed that 68% of Americans supported the idea of physician assisted suicide.
As I said at the time of the Maynard case and when the Gallup poll came out, it seems to axiomatic to me that individuals ought to have the right to determine how their life is going to end when they are diagnosed with a terminal disease. If individual liberty means anything, it means the ability to control one's own destiny and one's own body, and there is nothing more fundamental to that right than the ability to say that you would rather die with dignity than after having gone through months and months of suffering that can be relieved only by massive dosages of powerful narcotics. Obviously, there are tremendous ethical concerns surrounding the entire idea of physician assisted suicide, including the concern that older and poorer people will be pushed into making a decision for economic reasons rather than personal reasons. Additionally, most people would likely object to the idea of someone who is not terminally ill making use of the options to end their lives for what might be reasons tied to mental health problems. There are ways of dealing with these issues, though. Oregon's procedures, which require a person seeking physician assisted suicide to seek clearance from a series of physicians before being given access to the necessary drugs, seems to work quite well notwithstanding the concerns that raised by the cases noted above. Reforms to that procedure could address other concerns. In the end, though, allowing people who are going to die anyway to do so on their own terms strikes me as being something that is not only right from the perspective of individual rights, but also the humane thing to do.
As far as California goes, it's unclear where things go from here. Governor Brown has not taken a position on this bill and, as the article above notes, he expressed reservations about the move to push it through in a Special Session of the legislature. That doesn't necessarily mean he will veto the bill, though. If he does sign it, then the nation's largest state will become the latest state to legalize physician assisted suicide, and it would likely provide significant political momentum for those in other states seeking to get their legislatures to pass similar measures. While it wouldn't be the first state to allow people to die with dignity, California's influence across the nation could help provide momentum for the movement nationwide in a way that the passage of similar measures in state's such as Oregon has not. If Brown vetoes the bill, advocates are promising to begin an effort to put the measure on the ballot as a referendum. Given the fact that polling has consistently shown strong public support, it seems likely that such a referendum would pass. Hopefully, though, that step won't be necessary and Governor Brown will allow California citizens to have at least some control over one of the most personal decisions a person can make.