So Apparently Birtherism Is Still A Thing
Disturbingly large percentages of Republicans still don't think the President was born here.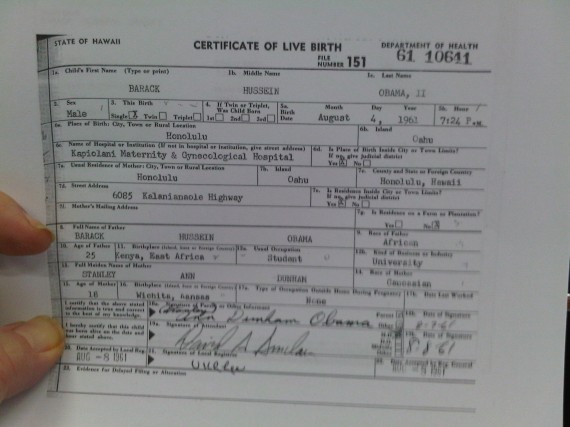 In the wake of Sheriff Joe Arapio's bizarre press conference last week about his "investigation" in to the President's birth certificate, Public Policy Polling decided to throw a question about the topic into its weekend polls:
-In Tennessee only 33% of GOP primary voters think Barack Obama was born in the United States, while 45% do not.

-In Georgia 40% of Republican primary voters think Obama was born in the United States, while 38% do not.

-In Ohio 42% of Republican primary voters think Obama was born in the United States, while 37% do not.
What explains this idiocy? After all it was four years ago now that the President provided proof of his birth in Hawaii in August 1961 and nearly a year since he took the extraordinary step of sending his lawyer to Hawaii to get a certified copy of the actual birth record on file with the State of Hawaii. Obviously there are always going to be a small amount of people in the world who believe crazy things — whether it's that the U.S. Government is covering up the truth about UFOs, or that Elvis is alive and well and working at an IHOP in East Memphis — but these are usually a pretty small part of the population and easily identifiable by the fact that they generally tend to be just plain nuts. Certainly you wouldn't find numbers like this for any other crazy conspiracy theory, especially one that has been so thoroughly debunked.
So, what explains this?
I'm sure most people who comment on this post will point to racism as the explanation and I'm sure that's a factor for some segment of this group. But, all of them are racists? I find that hard to believe. I would argue that a great deal of it is simply another manifestation of the "Obama is evil" meme that I've written about here before. Certainly, if one spends most of their time watching Fox News an listening to talk radio, one will walk away with the conclusion that Barack Obama isn't just wrong, he's something un-American and he has in min to fundamentally transform America into something resembling Europe. When that's all you're exposed to on a regular basis, it's not surprising that you'll come to believe even the most insane conspiracy theory about the President, no matter how much evidence is presented to counter it.
There really isn't a "cure" for birtherism then, it's a feature of the political culture that Rush Limbaugh and those who have followed him have created.
H/T: Balloon Juice