Solitary Confinement as Torture
WikiLeaker Bradley Manning has been held "under conditions that constitute cruel and inhumane treatment and, by the standards of many nations, even torture" for seven months and counting.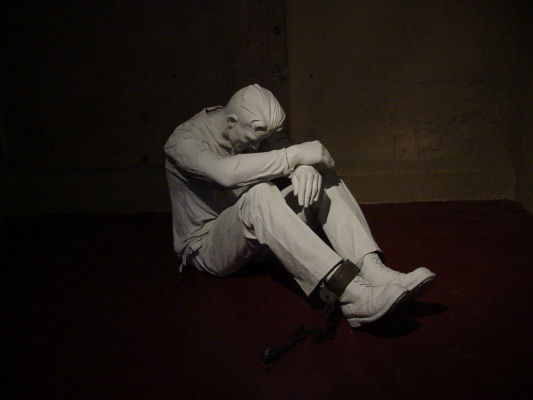 Glenn Greenwald's essay touting "The inhumane conditions of Bradley Manning's detention" has been linked just about everyone and garnered 15k Facebook likes.   The piece is rather long but the essence is that the accused WikiLeaker has, for the past seven months, been held "under conditions that constitute cruel and inhumane treatment and, by the standards of many nations, even torture."  To wit:
Manning been held in intensive solitary confinement.  For 23 out of 24 hours every day — for seven straight months and counting — he sits completely alone in his cell.  Even inside his cell, his activities are heavily restricted; he's barred even from exercising and is under constant surveillance to enforce those restrictions.  For reasons that appear completely punitive, he's being denied many of the most basic attributes of civilized imprisonment, including even a pillow or sheets for his bed (he is not and never has been on suicide watch).  For the one hour per day when he is freed from this isolation, he is barred from accessing any news or current events programs.
My initial reaction to this, roughly, was Boo Frickin' Hoo.   Manning has, to a high degree of probability, violated his sacred trust as a custodian of the secrets of the United States and committed crimes for which he will almost surely spend the remainder of his days in prison.
But Amanda Marcotte turned my attention to Atul Gawande's March 2009 New Yorker piece arguing that long-term solitary confinement constitutes torture.  After exploring the psychological literature a bit, powerful anecdotal evidence of the deprivations of loneliness sufferred by sailors, astronauts, hostages, and others are put forth.  This one in particular is salient and pithy:
"It's an awful thing, solitary," John McCain wrote of his five and a half years as a prisoner of war in Vietnam—more than two years of it spent in isolation in a fifteen-by-fifteen-foot cell, unable to communicate with other P.O.W.s except by tap code, secreted notes, or by speaking into an enamel cup pressed against the wall. "It crushes your spirit and weakens your resistance more effectively than any other form of mistreatment." And this comes from a man who was beaten regularly; denied adequate medical treatment for two broken arms, a broken leg, and chronic dysentery; and tortured to the point of having an arm broken again. A U.S. military study of almost a hundred and fifty naval aviators returned from imprisonment in Vietnam, many of whom were treated even worse than McCain, reported that they found social isolation to be as torturous and agonizing as any physical abuse they suffered.
Solitary confinement has its uses.   Protective custody is the most obvious case: sometimes, a prisoner is in danger and segregating him from the rest of the population is the lesser of evils.  Punishment for severe transgressions of prison rules is another; a short stint in solitary can serve as an effective attitude adjustment.   And, of course, segregating high value intelligence assets so they can't conspire with their fellow inmates to concoct lies is standard procedure.   But these are all short duration, controlled situations.
But Manning has reportedly been a model prisoner.  Whatever intelligence he hasn't already leaked has surely been ascertained by now.  So, on the surface, this just looks like he's being screwed with to be taught a lesson.
Now, again, Manning is a less than sympathetic figure.  But month after month of solitary confinement and deprivation well beyond what we give convicts on death row strikes me as cruel and inhuman punishment.  And Manning merely stands accused of crimes.