South Carolina Debate Was Terrible
CBS did a lousy job.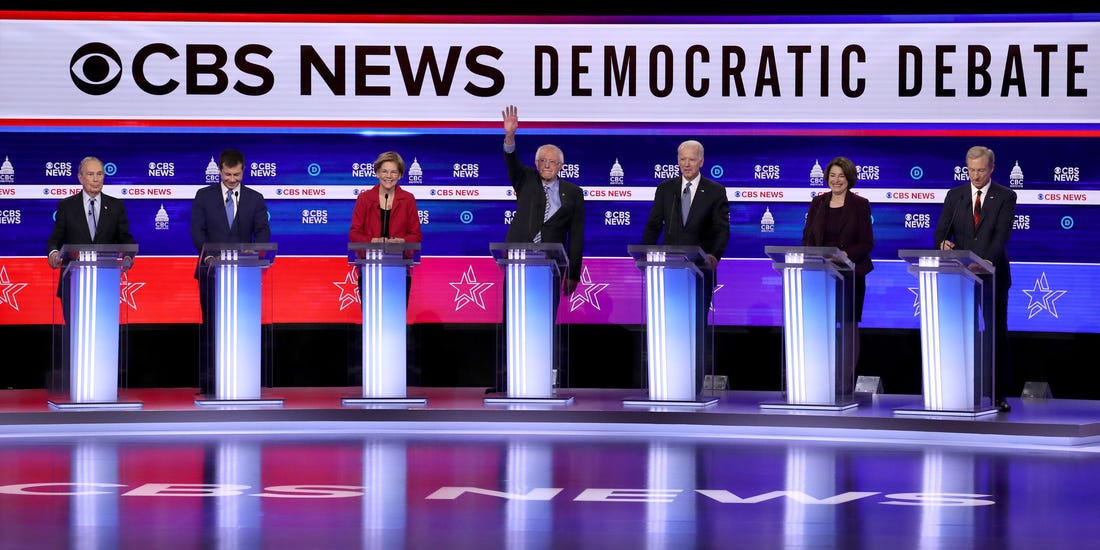 The consensus on last night's debate is that the CBS News moderators were stunningly awful. They asked terrible questions and were atrocious at managing the candidates. While I don't know that it was a "disaster," it was a wasted effort. It devolved into a contest that rewarded rudeness and volume rather than thoughtfulness.
Further, it was the last debate before the pivotal primaries in South Carolina this Saturday and the epic Super Tuesday contests next Tuesday. Indeed, the next debate isn't until March 15, by which time most states will have voted.
Joe Biden, who is leading most of the South Carolina polls, was less awful than in many debates. Still, he seemed genuinely flummoxed by the lack of timekeeping and complained multiple times about other candidates getting to continue talking after their time expired. And he committed a bizarre gaffe in asserting that 150 million Americans had been killed in gun violence. He meant 150 thousand. By itself, that's the type of thing that could happen to any of us. But Biden does it so frequently that, combined with his advanced age, it makes us question his mental fitness for the Presidency.
As with the Nevada debate, Pete Buttigieg was the only one who looked good to me. In both contests, he was the only one who maintained a calm demeanor and sense of humor rather than coming across angry or irritated. But, as usual, I'm not the target audience and the angriest of the candidates, Bernie Sanders, continues to rise in the polls.
NBC News' roundup:
The debate quickly descended into chaos as the current front-runner, Vermont Sen. Bernie Sanders, faced a torrent of attacks from all sides, Massachusetts Sen. Elizabeth Warren confronted former New York City Mayor Mike Bloomberg over his treatment of women, and several of the candidates literally shouted over each other about health care.

[…]

Bloomberg, who was attacked 10 times in the first 10 minutes of last week's debate, was attacked only once in the first 10 minutes tonight.

Sen. Bernie Sanders, on the other hand, was attacked seven times in that time, the most of any candidate on the stage and close to half of the 15 attacks doled out early on.

[…]

The debate opened with a question on the economy to Sanders — but his response (as well as an ensuing response from Bloomberg) prompted the topic to quickly shift to Russian interference in elections.

After being asked about why voters should support him, when the economy is growing under President Donald Trump, Sanders used his reply to take a shot at Bloomberg.

The economy, Sanders said, is only doing well "for Mr. Bloomberg" and "other billionaires" but that "things aren't so good" for ordinary Americans.

Bloomberg received an immediate opportunity to respond, saying that "I think that Donald Trump thinks it would be better if he were president."

"That's why Russia is helping you, so you lose to him," Bloomberg said. The line was a reference to reports that he had been briefed about efforts by the Kremlin to try to to help his presidential campaign as part of an effort to interfere with the Democratic primary and the 2020 election.
POLITICO ("Dems yell, scold and interrupt in tense South Carolina debate"):
Bernie Sanders got a taste of being the frontrunner. Mike Bloomberg was once again in the hot seat. Joe Biden slid under the radar without too much trouble.

[…]

Biden is staking his candidacy on a win in South Carolina in its Saturday primary, and judging by the applause in the audience, he's still the favorite in the Palmetto State.

Bloomberg was the odd man out. The billionaire media mogul essentially bought his way onstage and took heavy criticism from Elizabeth Warren, who repeated her performance from last week's debate in which she delighted in skewering him at every turn.

[…]

In their opening comments, Bloomberg told Sanders that "Russia is helping you get elected"; Warren insisted that she would make a better president than Bernie"; Steyer said that while Sanders has the right analysis of what's wrong with the economy, "I don't like his solutions"; and Biden invoked the nearby African American church where nine worshipers were killed by a white supremacist before highlighting Sanders' repeated votes against the so-called Brady Bill gun control legislation.

[…]

The question was about China building infrastructure. But Warren made sure it was all about her favorite topic: Bloomberg and his lack of disclosure.

"We know that Mayor Bloomberg has been doing business with China for a long time, and he is the only one on this stage who has not released his taxes," she said. "He plans to release them after Super Tuesday. It is not enough to be able to say, 'Just trust me on this.' We have a president who said he was going to release his taxes after the election and refused to do this."

[…]

"I am very proud of being Jewish. I actually lived in Israel for some months," Sanders said. "But what I happen to believe is that, right now, sadly, tragically, in Israel, through Bibi Netanyahu, you have a reactionary racist who is running that country."

Applause rang out, a sign of just how unpopular Netanyahu is with Democrats, many of whom consider him an arm of the Republican Party in Israel.

[…]

Asked about his history of sympathizing with socialist governments in Cuba and Nicaragua, Sanders said he has "opposed authoritarianism all over the world" and argued his comments on Cuba were similar to what former President Barack Obama has said.

"Occasionally, it might be a good idea to be honest about American foreign policy, and that includes the fact that America has overthrown governments all over the world, in Chile, in Guatemala, in Iran, and when dictatorships, whether it is the Chinese or the Cubans, do something good, you acknowledge that," Sanders said.

Biden said Obama "did not in any way suggest that there was anything positive about the Cuban government."

He continued: "He in fact does not, did not, has never embraced an authoritarian regime and does not now."

Buttigieg chimed in shortly after, adding he isn't looking forward to a general election that "comes down to Donald Trump with his nostalgia for the social order of the 1950s and Bernie Sanders with a nostalgia for the revolutionary politics of the 1960s."

[…]

Buttigieg called out Sanders for what he called the Vermont senator's "incredible shrinking price tag" for his "Medicare for All" proposal.

"I'll tell you exactly what it adds up to: It adds up to four more years of Donald Trump, Kevin McCarthy as speaker of the House and the inability to get the Senate into Democratic hands," Buttigieg said.

Then he tore into Sanders' electability, casting his nomination as all but a guarantee of losses at the presidential level and in key House and Senate races that could determine the control of each chamber.

"The time has come for us to stop acting like the presidency is the only office that matters," Buttigieg said, emphasizing the importance of maintaining control of the House and winning back the Senate. "Look, if you want to keep the House in Democratic hands, you might want to check with the people who actually turned the House blue: 40 Democrats who are not running on your platform. They are running away from your platform as fast as they possibly can."
Vox ("5 key moments from South Carolina's otherwise very messy Democratic debate"):
[T] he debate went off the rails pretty quick, and it never really got back on track. The all-white stage awkwardly talked a lot about people of color. Bloomberg was asked a lot of questions about his mayoral record — even his attempt at a giant soda ban came up. There was a pretty substantive debate about guns, but it was often hard to follow — was it about Sanders's NRA record, former Vice President Joe Biden's gun control work, or whether Congress will do anything with the filibuster still in place?

[…]

Tuesday's debate was just the latest one that didn't feature a single person of color — a dynamic that was painfully apparent as candidates sought to discuss racism and discriminatory policies like "stop and frisk." Much like the Nevada debate, even as candidates tried to call out disparities, none were able to speak directly about their own experiences, as candidates including Sens. Cory Booker and Kamala Harris were able to in the past.

Former South Bend, Indiana, Mayor Pete Buttigieg said as much in a striking exchange with Bloomberg, when both were confronted about their missteps with black and brown constituents in their communities.

"I come to this with some humility because I'm conscious of the fact that there are seven white people on this stage," Buttigieg said. "None of us — none of us have the experience, the lived experience of — for example, walking down the street, or in a mall, and feeling eyes on us, regarding us as dangerous, without knowing the first thing about us just because of the color of our skin."
There's more to the roundup but the points are long and analytical and therefore defy excerpting.
The bottom line is that I don't know that we learned anything new about the candidates last night or that the debate shaped the race in any significant way. And, by the time there's another debate, it may well be too late.