Speaking of Corruption
Does it get much more swampy than this?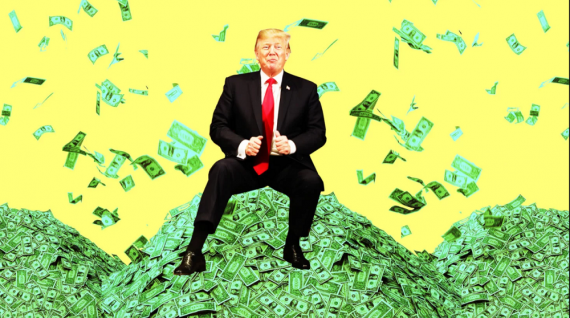 To add to Doug Mataconis' post from Saturday is the following story from the NYT: Checking In at Trump Hotels, for Kinship (and Maybe Some Sway).
Since Mr. Trump became president, there have been thousands of visits to his properties, not only by Mr. Trump himself, but by foreign leaders, lobbyists, Republican candidates, members of Congress, cabinet members and others with ties to the president. At least 90 members of Congress, 250 Trump administration officials and more than 110 foreign officials have been spotted at Trump properties since 2017, according to social media posts and counts by various watchdog groups.

"It reflects the normalization of corruption — this is just how business works in Trump's Washington, D.C.," said Robert Weissman, the president of Public Citizen, a nonprofit ethics group. "We have witnessed a stunning degradation of ethical norms."

Federal Election Commission records, meanwhile, show that since January 2017, at least $5.6 million has been spent at Trump properties by political candidates or party organizations, including by Mr. Trump's own political operation, according to an analysis by Public Citizen.

In the four years before Mr. Trump's bid for president, these same hotels and other venues collected a total of only $119,000 in federally regulated payments from political groups.
But hey, what's the big deal, right? I mean, heck, he donates his salary!
Omar Navarro, a Republican from California running for the House, has hosted fund-raising events at the Trump National Golf Club in Los Angeles, and more recently set up a series of meetings with donors at the Trump International Hotel in Las Vegas. When he came to Washington this year for the Fourth of July, he stayed at the Trump International Hotel.

"When you have an event there or do something there, it signifies that you are supporting the president, and supporting what he is doing," Mr. Navarro said. "It sends a clear message."
That's not disturbing at all! We should, of course, want aspiring candidates to show their loyalty to the president by patronizing his businesses. It is just like the Framers intended!
And it is quite the foreign policy tool:
The single biggest known tab was paid by the government of Saudi Arabia, which disclosed that it spent $190,273 at the Trump hotel in early 2017, as well as an additional $78,204 on catering.

The hotel has on an almost daily basis drawn visits from foreign officials. This week it was Imran Ismail, the governor of a Pakistani province who was in Washington to meet with the State Department and members of Congress to discuss human rights issues in Kashmir, among other topics.

The visit was first noticed by Zach Everson, who runs the 1100 Pennsylvania newsletter.

Jose Manuel del Gallego Romualdez, the Philippine ambassador to the United States, explained his own reasoning for scheduling an event at the hotel last year.

"The Trump hotel may have some political undertones because it is associated with the U.S. president," Mr. Romualdez wrote in a column in a Philippine newspaper. "But since several other embassies have also held their national day celebrations at the Trump hotel, which were well attended — I decided — why not do it there, too."
The whole piece is worth a read.