Spouses and Running for the Presidency
Can one effectively run for the presidency if one's spouse doesn't want to be in the spotlight?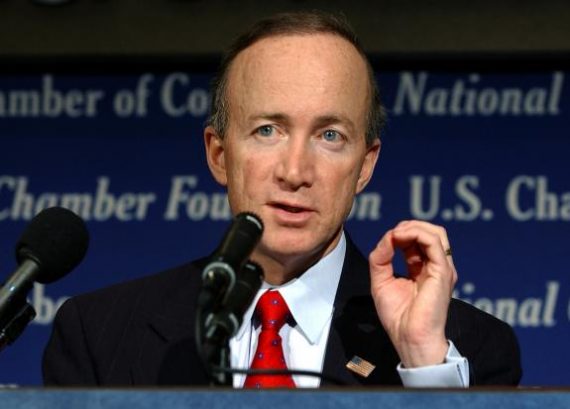 A story in the NYT (Weighing a White House Bid as Opening a Door to Past Pain) raises an interesting question:  can a candidate run a successful campaign for their party's nomination if their spouse isn't interested in campaigning and all that goes along with it?
The case that raises the question is that of Mitch Daniels and his wife Cheri:
Cheri Daniels has made no secret of her distaste for politics. She did not campaign for her husband, Mitch Daniels, during two races for governor. She did not fully move into the governor's mansion after his election. She has never delivered a political speech.
Just dealing with that paragraph for a moment:  I think it would be impossible for Daniels to run for the GOP nomination, and especially impossible to effectively run for the White House as the nominee, if the above scenario continued to play out.  We expect too much of First Ladies/potential First Ladies.
Part of the reason that Cheri Daniels is uninterested in politics is likely the following:
While much is known about Mr. Daniels in Republican circles, where he is viewed as a fiscally focused, budget-cutting, pragmatic-thinking conservative, there is one period of his life that has remained almost entirely private — until now.

He has been married twice — to the same wife.

Should he run, that chapter in his life would no doubt be picked over in public and become a part of the personal narrative that springs up around any serious candidate: in this case a three-year gap in their marriage in the 1990s, when she filed for divorce, moved to California with a new husband and left Mr. Daniels to raise their four daughters, then ages 8 to 14. She later returned and remarried him.
Now, certainly, I can respect the fact the Mrs. Daniels would not want to have this situation discussed ad nauseam in the press.  But, it would inevitably happen should Daniels decide to run.
Mrs. Daniels is, however, making her first public speech this week (the keynote address at the spring dinner of the Indiana Republican Party)—although what that means remains to be seen.
If she takes the following attitude, what do you all think are the odds that Daniels can effectively run?
If he does run, Republicans here believe, Mrs. Daniels will not dramatically change the distant role she has played in his previous campaigns or during his time at the White House as political director to President Ronald Reagan and budget director to President George W. Bush. She explained her reasoning in a 2005 interview with Indianapolis Woman magazine, saying, "They did not ask me to sit in on the job interview."

"I saw the campaign the same way," she said, "as an interview."
Thoughts?
To add evidence to the contention that spouses are rather important, see The Daily Beast, Haley Barbour's Wife Vetoes 2012 Presidential Bid.