Stephen Breyer's Retirement Timing
Should he be worried about the appearance of partisan gaming?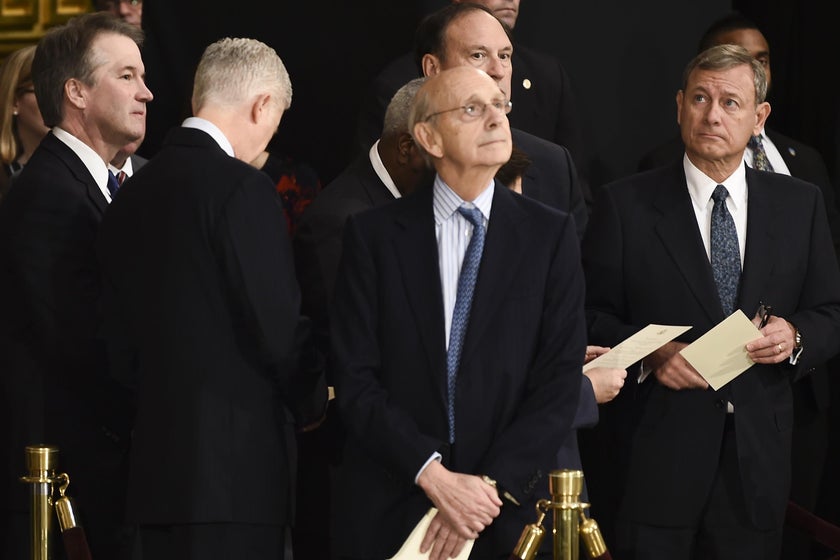 California-Irvine law professor Richard Hasen thinks Supreme Court Justice Stephen Breyer is playing a dangerous game in worrying about how retiring so close after a party change in the White House will look.
The New York Times reported last month that Supreme Court Justice Stephen Breyer, age 82, has been resisting calls for his retirement from fellow progressives. The reason? Breyer apparently worries that retiring in the face of a public pressure campaign from Democrats will increase polarization and a politicized view of the Supreme Court.
Reading the linked NYT report, Breyer really gives nothing away about his plans for retirement. Rather, he's making a more abstract argument about judicial legitimacy:
"My experience of more than 30 years as a judge has shown me that, once men and women take the judicial oath, they take the oath to heart," he said last month in a lecture at Harvard Law School. "They are loyal to the rule of law, not to the political party that helped to secure their appointment." In the speech, a version of which will be published in September as a book called "The Authority of the Court and the Peril of Politics," Justice Breyer said that the odor of partisanship damages the judiciary. "If the public sees judges as politicians in robes," he said, "its confidence in the courts, and in the rule of law itself, can only diminish, diminishing the court's power."
Regardless, Hasen is probably right here:
In reality, a Breyer retirement delay could well have the opposite effect. If Breyer delays too long and Democrats lose control of the Senate before a successor is chosen, then Mitch McConnell could have the opportunity to block a Breyer replacement and supercharge the last five years of intense polarization around the court.

It's not hard to imagine how a Breyer delay increases the politicization of the court. Breyer waits to retire for a couple of more years, or even a few more months. Democrats lose control of the Senate in the 2022 midterm elections, or because an elderly member of their bare Senate majority passes away and gets replaced with a Republican, restoring Mitch McConnell to his perch as Senate majority leader. Breyer dies or becomes ill soon after Republicans retake the Senate and leaves the court. President Joe Biden, fulfilling his campaign pledge to nominate a Black woman to the Supreme Court, chooses a judicial superstar like California Supreme Court Justice Leondra Kruger or (soon-to-be D.C. Circuit Judge) Ketanji Brown Jackson. McConnell shamelessly announces that Republicans will hold no hearings for a Supreme Court justice until after the 2024 presidential elections, much like he ran out the clock on a hearing for Merrick Garland to fill the late Justice Antonin Scalia's seat. Democrats stage protests about the blockade of the nominee, and the nominee's face is featured prominently in advertising about the court. A key debate in the 2024 presidential election is about who is going to take the seat on the Supreme Court, with knowledge that not only Breyer's spot, but also likely the seats of Justices Clarence Thomas and Samuel Alito (two staunch conservatives) could open up with a Republican presidential win in 2024. The court is once again the political football in our national arena.
He plays that scenario out a bit longer but you get the idea. And, again, I think Hasen is right here:
I understand Breyer's reluctance to leave the court in the face of public pressure to step down. If he does retire, it might look like he was doing it to help the party of the president, Bill Clinton, who appointed him. The public campaign to convince Breyer to do it also could well backfire (and of course this article could be viewed by the justice, if he sees it, as part of the campaign).

But Breyer, a former Harvard Law professor, is smart. Although his ideal of the court being above the fray in politics is a worthy aspirational goal, he must know it doesn't reflect the current moment. He also must know that he's not infallible, looking at the experience of his friend Justice Ruth Bader Ginsburg. She passed up the chance to retire when Barack Obama was president and Democrats controlled the Senate. She lived a few more years despite multiple cancer diagnoses, but she sadly did not live to see Joe Biden take office. She died, allowing Trump to replace her with Supreme Court Justice Amy Coney Barrett. This turned the court from a 5-4 conservative court where the liberal justices could sometimes pick off a conservative into a 6-3 court where that task is considerably harder.
Like Hasen, I'm sympathetic to Breyer's view of the judiciary. In my ideal world, Supreme Court Justices, in particular, would retire at a reasonable age (say, 70) based on their health and life circumstances without regard to national politics. (In a truly ideal world, the decision wouldn't be up to the Justices or the vagaries of the election cycle; we'd have a more systematic process in place. But we're bound by the Constitution of 1787 and its lifetime appointments.) But we don't live in that world.
The judiciary, and the Supreme Court in particular, are inherently political. They're not supposed to be partisan or ideological. Alas, that has never really been the case and the partisan wrangling has really heated up in the last four decades or so. Justices can't be the only ones pretending otherwise.
Indeed, as the above-linked NYT report notes, there's pretty good evidence that they very much take politics into account in timing their retirements.
If judges were truly apolitical, they would not time their departures with politics in mind. But they do, at least on the lower federal courts, according to a new study that looked at retirements among federal judges before and after elections in which a president of a different political party gained control of the White House.

"When the presidency changes from the opposite party of the president who appointed the judge to the same party, judges are substantially more likely to retire just after the election than just before the election," said Ross M. Stolzenberg, a demographer at the University of Chicago, who conducted the study with James T. Lindgren, a law professor at Northwestern. (The effect was somewhat stronger for judges appointed by Republican presidents.)

"I was absolutely stunned by this," Professor Stolzenberg said. "I guess I should be surprised that I was surprised. But I'd like to think that judges are not political."

The Constitution grants federal judges life tenure to insulate them from politics. But it seems that politics plays a role at both the beginning and the end of their careers, not only during what has become a brutally partisan confirmation process but also in retirement decisions.

Professor Stolzenberg said he found the second part puzzling.

"They have lifetime appointments," he said. "What's in it for them? They have every reason to not care about politics anymore, and they're acting very politically."
Presumably, a lifetime studying the law, culminating in decades at the apex of deciding what the law is makes them care very much about the future of our legal system. Surely, Antonin Scalia and Ruth Bader Ginsburg would have preferred to be replaced by likeminded Justices rather than those who would vote to undo their life's work.
Still, especially at the highest level, many stay as long as they possibly can.
"A lot of justices have passed up a supposedly politically opportune retirement window," Professor Chabot said.

"Since 1954, 16 justices have served an extended tenure of at least 18 years (and been over the general retirement threshold of age 65)," she wrote in her 2019 study. "A majority of justices in this window passed up opportunities to retire to ideologically compatible presidents."

There were incentives to stay. "It's an incredibly powerful and rewarding and desirable job to continue doing if you feel you are still able to do it," she said.

Professor Stolzenberg said that was the least of it. Staying on the court, he said, was correlated to a longer life.

"Some years ago, I published a paper in The Journal of Demography that looked at the effects of retirement by Supreme Court justices on their future longevity," he said. "I found that the effect of retirement was about the same as smoking two packs of cigarettes a day."

"These people love their work," he said. "It makes them strong. It makes them happy. That's what I think about Justice Breyer. I would guess he would rather do anything but retire."
In a different walk of life, Nick Saban, the 69-year-old coach of the football team at my Alabama mater, has signed a contract extension through the 2028 season. He has all the money he can possibly need and is coming off his 7th national championship, more than any other coach in history and more than every active coach, combined. He'll turn 70 early in the upcoming season and would be 77 when this contract ends.
Why isn't he hanging it up? Well, he tells us, "I don't know what the hell I would do if I wasn't coaching. I don't even want to imagine it."
I suspect Breyer will be more likely to postpone retirement for that reason than because of the optics.