Sunstein's Muddled Take on Kavanaugh
I'm not the only one confused on what to do about the allegations against President Trump's nominee to replace Anthony Kennedy.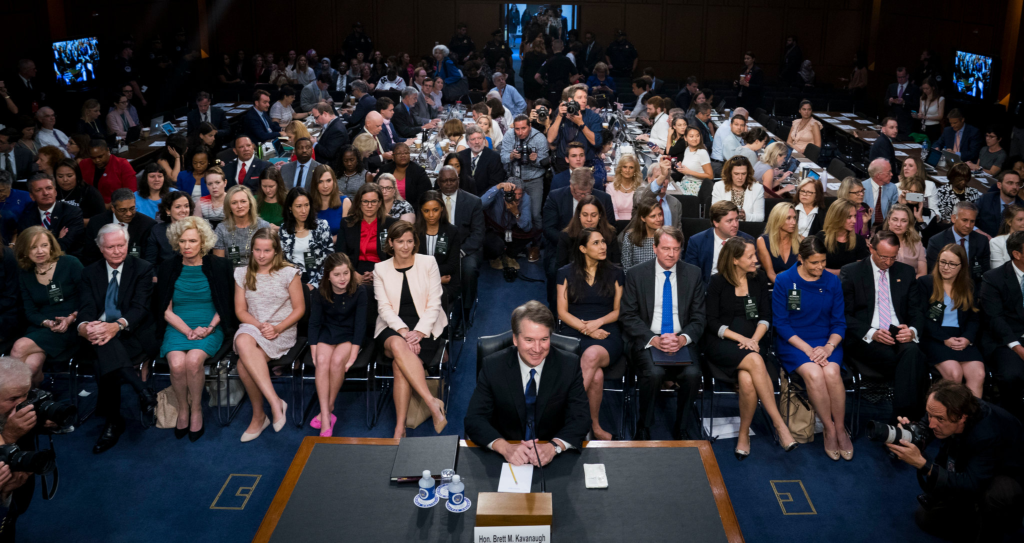 As detailed in a post this morning, my thoughts on the accusations against Brett Kavanaugh are complicated. But Cass Sustein takes muddled to a whole new level in his Bloomberg column "Senators Are Asking the Wrong Question on Kavanaugh."
After several paragraphs of throat-clearing, he gets to a point:
Suppose that a president, considering a large number of possible nominees, concludes that there is a 30 percent chance that an accusation against an otherwise superb contender is true. No president would be likely to nominate such a candidate. Apart from the inevitable political fight, no president is likely to think that of dozens or hundreds of highly qualified people, the very best choice for such an important position is someone who might well have committed a violent crime.

We could make the case harder by lowering the probabilities. Suppose that a president thinks that guilt is 20 percent likely, or 10 percent likely, or 5 percent likely. If the number approaches zero, a president might proceed to nominate the individual in question, thinking: I am not going to make my decision on the basis of unfounded accusations. But if the president believes that the likelihood of guilt is significant, another candidate will be chosen.
I'm with him so far.
That brings us to the key question: Is the U.S. Senate any different?

Suppose that senators believe that the allegations are probably false, but 30 percent likely to be true. There is a strong argument that confirmation would be a terrible idea. Why should the Senate consent to a Supreme Court appointment for someone who might well have committed a disqualifying act?
He answers his own question:
There are two countervailing considerations. First, a refusal to confirm a nominee is a pretty hostile act — especially if it is based on an accusation of criminal behavior. It is far more personal, and much more of a negative stain, than a president's decision not to nominate someone in the first instance. Reasonable senators might well be reluctant to vote against a nominee on the basis of an accusation that they do not, on balance, believe to be true.

Second, the Senate owes the president a degree of deference. We can argue about how much. But the president's job is to select the very best person for the job, which means that he has discretion to decide against potential nominees for any number of reasons. The Senate's job is much narrower. It is to decide whether the president's choice is unfit for the job.
Correct.
In practice, the Senate can reject any nominee—or, as demonstrated with the Merrick Garland precedent, simply refuse to so much as vote on the matter—for any reason it wants to. But the proper role of the Senate is simply to serve as a check on the President's appointing a crony or someone otherwise unfit. Having a single, uncorroborated accusation of a crime surely isn't evidence of lack of fitness.
These considerations suggest that senators might think that if a nominee to the Supreme Court has been accused of a disqualifying crime, the question is: Is it more likely than not than he did it? That's not crazy, but on reflection, it's probably wrong.

The Senate isn't a court of law. Senators are entitled to vote against confirmation of a Supreme Court nominee if they conclude that there is an undue risk that a nominee would be careless with the law, unfair to litigants or some kind of extremist.
But . . . those are wholly separate questions. Kavanaugh has been a practicing lawyer and judge for decades. The Senate can judge whether he'd be careless with the law, unfair to litigants, or is "some kind of extremist" based on his long career. If they're going to reject him based on a single allegation of sexual assault, then they ought believe it more likely than not that he's guilty of that crime.
If senators conclude that there is a significant chance that a nominee committed a crime of violence, they are also entitled to oppose confirmation — even if they think it more likely than not that the nominee is innocent.
That's . . . just nuts.
Again, there's nothing practical stopping Senators from opposing Kavanaugh for any damn reason they want to.  But "Eh, he probably didn't rape anyone but, who knows, anything's possible I guess" is a particularly shitty reason.