Susan Collins Forgoes Bid For Maine Governor, Will Run For Re-Election Instead
Susan Collins will stay in the Senate rather than running for Governor of Maine next year.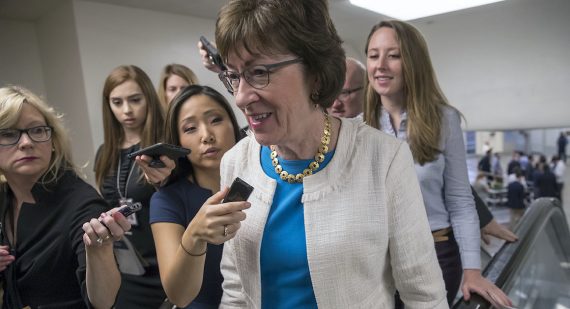 Ending months of speculation, Senator Susan Collins of Maine announced this morning that she would not run for Governor of Maine but would instead run for re-election to the Senate:
ROCKPORT, Me. — After several months of open deliberations about her future, Senator Susan Collins of Maine announced Friday that she would not run for governor and would remain in the Senate.

"I want to continue to play a key role in advancing policies that strengthen our economy, help our hard-working families, improve our health care system, and bring peace and stability to a violent and troubled world," she said. "And I have concluded that the best way that I can contribute to these priorities is to remain a member of the United States Senate."

Ms. Collins, a Republican who was first elected to the Senate in 1996, has become a thorn in the side of President Trump, for whom she did not vote. Most famously, she played a crucial role this summer in dooming his goal of repealing the Affordable Care Act.

Since April, Ms. Collins, 64, has toyed publicly with the idea of running for governor, which was the first office she ran for, in 1994. Though she lost that race, she said she was still drawn to the ability of a governor to have a direct and immediate effect on people's lives by creating jobs and spurring economic development. She also said she felt an affinity for Augusta, the capital, where a long line of ancestors served in the State Legislature, starting with her great-great grandfather and including her father.

Had she run and won the race for governor in 2018, she would have become the first woman in Maine to hold the office.

Although she has been one of Maine's most popular politicians for some time, there was no guarantee that she would win her party's nomination in the June primary. Gov. Paul R. LePage, a fellow Republican who is barred by term limits from seeking a third term, has been stirring the political pot against her. Ms. Collins, a moderate who has glided to victory in her recent elections, this time faced the likely prospect of bruising and expensive attacks from the right.

Now in her fourth term in Washington, she ranks 15th among the 100 senators in seniority and appears to be at the height of her power. As one of the few moderates in a closely divided Senate, she is often a swing vote, and, as she demonstrated during the health care debate, she can often influence the outcome of important legislation. Since Mr. Trump became president, she has voted less often with her party than any other Republican senator.

(…)

Ms. Collins made her announcement at a breakfast meeting here of the Penobscot Bay Regional Chamber of Commerce. She kept the audience of about 225 people in suspense for more than half an hour as she discussed the pros and cons of the Affordable Care Act.

Finally, she turned to what she called "the elephant in the room." She said a Senate colleague, whom she did not identify, had written her a note urging her to stay in the Senate. Ms. Collins read the note out loud: "The institution would suffer in your absence. While the temptation might be to walk away and leave the problems to others, there are very few who have the ability to bring about positive change. You are such a person."

The audience applauded but still seemed uncertain of her decision, as she continued. "As I thought about this senator's words, I realized how much remains to be done in a divided and troubled Washington if we are to serve the people of our states," she said. "I have demonstrated the ability to work across the aisle, to build coalitions, and to listen to the people of my state and my country."
Maine's Governor's office is next up for election in 2018, and a run for that office would have actually been Collins's second attempt at the job. The Senator began her career in electoral politics with a run as the Republican nominee for Governor in 1994 in a race that was ultimately won by Angus King, who ran as an Independent in a race in which Collins finished third behind King and the Democratic nominee that year. King and Collins, of course, now serve together in the Senate. Two years later, Collins managed to win the Republican nomination for the Senate seat being vacated by William Cohen, who went on to become Secretary of Defense under Bill Clinton. Collins won that race and has gone on to win re-election three times, most recently in 2014 when she was re-elected in a relative landslide. By all accounts, Collins is an overwhelming favorite to win re-election again in 2020, but there had been some speculation that she might decide to forgo that sure thing for the opportunity to become Governor in what would have been an open-seat election due to the fact that controversial Republican Governor Paul LePage is term-limited.
Notwithstanding the fact that numerous reports indicated that there were elements of becoming Governor of Maine that appealed to her, it's not entirely surprising that Collins decided to stay in the Senate and to seek re-election. In addition to the fact that she is fairly high up in Senate tenure, Collins is now arguably at the height of her power and relevance as a Senator, a position that is only likely to increase in the future. Most recently, of course, Collins has played an important role as one of the handful of Republican Senators that singlehandedly blocked efforts in that body to pass a bill that would 'repeal and replace' the Affordable Care Act. Behind the scenes, Collins is reportedly among a small group of Senators still engaged in the seemingly hopeless task of trying to find a bipartisan solution to current problems with health insurance and healthcare. Finally, given the narrow margin that the GOP currently has in the Senate, Collins is an important voice that can't simply be ignored by Senate Majority Leader McConnell and the rest of the Senate GOP leadership. This arguably gives her significantly leverage in that body and the ability to accomplish a lot for the nation and for her constituents. With all that going for it, it's not hard to see why Collins would decide to stick with a sure thing rather than rolling the dice on a Gubernatorial bid.