Tapper Asks Where Obama's Been on Guns
On rare instances in Washington, reporters do their job and ask tough questions of political leaders. Rarer still, the leaders give good answers.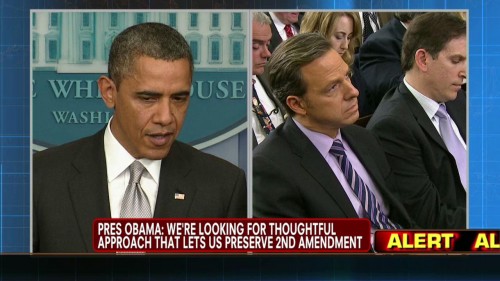 On rare instances in Washington, reporters do their job and ask tough questions of political leaders. Rarer still, the leaders give good answers.  That happened today.
In "Tapper to Obama on newly-found gun control advocacy: 'Where have you been?'" The Daily Caller rightly applauds the former but seems oblivious to the latter.
ABC White House correspondent Jake Tapper asked President Barack Obama Wednesday why the president's plea for action on gun issues has come so late in his first term and only after last week's tragic incident at Sandy Hook Elementary in Newtown, Connecticut. Obama was holding a noon press conference to announce the creation of a Vice President Joe Biden-led task force to craft new administration gun control policy.

"It seems to a lot of observers that you made the political calculation in 2008 in your first term and 2012 not to talk about gun violence," Tapper said during the noon White House press conference. "You had your position on renewing the ban on semi-automatic rifles that then-Sen. Biden put into place, but you didn't do much about it. This is not the first incident of horrific gun violence of your four years. Where have you been?"
The tone of the question borders on the smug but the substance is absolutely fair. And White House reporters, in particular, have tended to shy away from such pointed questions in recent years. But Obama's answer struck me as pretty powerful, too:
"Well, here's where I've been, Jake," Obama replied. "I've been president of the United States dealing with the worst economic crisis since the Great Depression, an auto industry on the verge of collapse, two wars. I don't think I've been on vacation. And so, you know, I think all of us have to do some reflection on how we prioritize what we do here in Washington."

Obama added that there was more involved in keeping children safe beyond dealing only with guns and reiterated his confidence in Biden and his task force.

"And as I said on Sunday, you know, this should be a wake-up call for all of us to say that if we are not getting right the need to keep our children safe, then nothing else matters," he continued. "It's my commitment to make sure we do everything we can to keep our children safe. A lot of things are involved in that, Jake. So making sure they have decent health care, making sure they got a good education, making sure that their parents have jobs — those are all relevant as well. Those aren't just sort of side issues. But there's no doubt that this has to be a central issue. And that's exactly why I'm confident that Joe [Biden] is going to take this so seriously over the next couple months."
Presumably, the president was expecting the question and was well prepared; otherwise, this is some world class thinking on his feet on display.
To be sure, he's dodged Tapper's question here. Given Obama's general ideological disposition, it strikes me as implausible, indeed, that he's had some sort of Road to Damascus conversion on the gun issue. As with gay marriage and gays in the military, he's resisted fighting for his preferred policy on an incredibly divisive issue of public policy until forced by events to do so. So, Tapper's implied premise, that Obama was waiting until he didn't have to worry about getting re-elected, is correct.
But his answer is nonetheless responsive and reasonable: Presidents pick their battles, taking on the most pressing issues and the fights that they're most likely to win, gauging the political realities. And, while I opposed several of Obama's initiatives, it's perfectly fair for him to claim that he undertook them at least partly with America's children in mind