Jake Tapper Moves to CNN
Jake Tapper is moving to CNN, where he'll host a daily show and run their political coverage.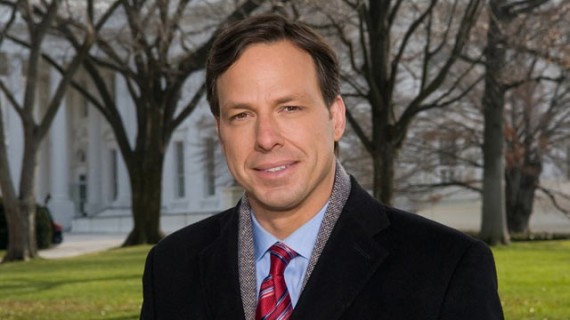 Jake Tapper is moving to CNN, where he'll host a daily show and run their political coverage.
CNN PressRoom ("Jake Tapper joins CNN as Anchor and Chief Washington Correspondent"):
Accomplished Washington journalist Jake Tapper, who has served the last four years as ABC's senior White House correspondent and is a best-selling author, joins CNN as anchor of a new weekday program and CNN's chief Washington correspondent, it was announced today by Ken Jautz, executive vice president of CNN/U.S.

Tapper has been a widely-respected reporter in the nation's capital for 14 years and his most recent book, The Outpost: An Untold Story of American Valor, is currently on The New York Times best seller list. In his new role at CNN, he will be a key Washington, D.C. anchor and correspondent for CNN.

"We are thrilled to have Jake join CNN and take the helm of a brand new weekday program," said Jautz. "Jake is an exceptional reporter and communicator, and we look forward to developing a program that takes advantage of all of his strengths, his passion and his knowledge of national issues and events."

"With CNN's impeccable reporting during the elections and the exciting changes in the works for the network, this is a perfect time to join the CNN team," said Tapper. "I am excited about the prospect of working with both the new leadership and some old friends and colleagues."

Tapper comes to CNN from ABC News, where he most recently served as senior White House correspondent, a position he was named to immediately following the 2008 presidential election. In this role, Tapper contributed regularly to "Good Morning America," "Nightline," and "World News Tonight with Diane Sawyer," in addition to serving as substitute host of "This Week" and publishing to his "Political Punch" blog on ABCNews.com. While on the White House beat, Tapper has earned the coveted Merriman Smith Award for presidential coverage from the White House Correspondents' Association an unprecedented three times in a row. He also played a key role in the network's Emmy award winning coverage of the inauguration of President Barack Obama.
A few years back, when George Stephanopoulos left "This Week" to take over "Good Morning America," ABC had a competition to see who would replace him as anchor of their Sunday show. Tapper clearly won it. Then, ABC inexplicably brought in Christiane Amanpour, who they hadn't tried out in the role and was obviously unsuited for it, instead. Then, when Amanpour left after her disastrous run, they lured Stephanopoulos to handle both shows. One imagines Tapper has been looking for the exits ever since.
As to the move itself, I don't even know how to evaluate it anymore.  None of the network news outlets carries anywhere near the prestige they had in my youth; the networks would all chop their news divisions in an instant if their licensing requirements didn't mandate public affairs programming. CNN, meanwhile, is ostensibly about nothing other than news. But, while they pioneered the 24/7 cable news format, they've trailed FOX and even MSNBC for years. So, it beats me whether this constitutes a lateral move, a promotion, or a nothingburger.