Further Reports Indicate Christiane Amanpour Is Out At 'This Week' (Update: Stephanopoulos To Return)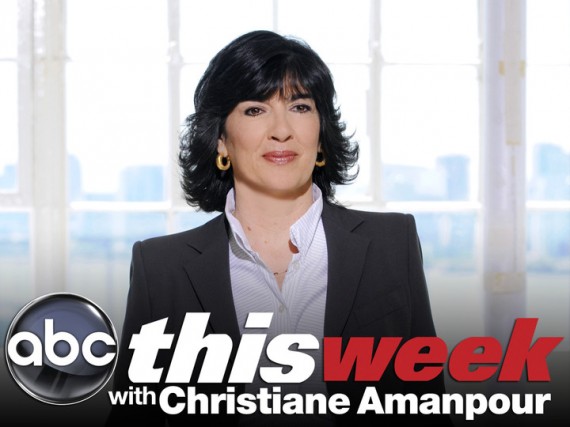 Following up on James Joyner's post yesterday, Brian Stelter from The New York Times is out with another report that seems to confirm that her departure from the Sunday morning show is imminent:
Christiane Amanpour is preparing to leave as the anchor of "This Week," the Sunday morning news program on ABC, two people with knowledge of her plans said Tuesday.

Ms. Amanpour, a longtime international correspondent for CNN, joined ABC about a year and a half ago to anchor "This Week." There, she replaced George Stephanopoulos, who had moved to the network's weekday morning program "Good Morning America."

Rumors about Ms. Amanpour's status on "This Week" have swirled for months. They were given more oxygen on Sunday when The New York Post said that ABC News executives were "mulling who might replace" her. ABC did not deny the newspaper's report.

(…)

"This Week," with its focus on domestic politics, was always perceived to be an unexpected shift in direction for Ms. Amanpour, who is known globally for her coverage of foreign conflicts.

When she joined ABC, she said she would "focus on the intractable convergence of domestic and foreign policy." Arguably her biggest scoop on ABC came in February when she interviewed President Hosni Mubarak of Egypt shortly before he stepped down.

Ms. Amanpour's tenure on "This Week" coincided with a decline in ABC's competitive position on Sunday mornings. For years "This Week" had been the No. 2 such program on television, behind NBC's longtime No. 1, "Meet the Press." Lately, though, CBS's "Face the Nation" has moved into the No. 2 position, challenging "Meet the Press" for No. 1 and making "This Week" No. 3
Coincidentally, or perhaps not, CBS announced on Sunday that Face The Nation would be moving to a full hour beginning early next year and would likely keep that format at least through the end of the 2012 elections. By then, one supposes, ABC hopes to have its own Sunday show back in the hands of someone who actually cares about domestic politics. Like James, I vote for Jake Tapper.
Update: The Huffington Post is confirming the reports and saying that Amanpour's future plans involve staying at ABC, but also doing a show for CNN International:
Christiane Amanpour will soon step down as host of ABC's "This Week" to take on a new role at the network, where she'll host about six primetime specials a year and appear on ABC News programs, while also launching a new global affairs show on CNN International, according a source familiar with the emerging arrangements.

The selection of Amanpour, a globe-trotting CNN correspondent, to replace a political animal like George Stephanopoulos as host of the program shook up the Washington political establishment. In March 2010, I described Amanpour as a "surprise and risk" for the network that had passed over its deep bench of political journalists like Jake Tapper, Terry Moran, and Jonathan Karl, each of whom has guest-hosted the show. By choosing Amanpour, ABC was making a statement that the D.C.-facing show would turn more to the rest of the world.

Some ABC News staffers told The Huffington Post that they feel "This Week" hasn't been as integral to the political conversation since Amanpour took over. While they greatly respect her as a journalist, staffers simply felt her passion remained with global affairs rather than in Beltway politics, the show's traditional bread and butter.
The selection of Amanpour was odd from the beginning considering that all the shows previous hosts — David Brinkley, Sam Donaldson/Cokie Roberts, George Stephanopolous — all came from the wheelhouse of American domestic politics and that is what the show was best known for. Obviously, ABC wants to get the show back on track in time for the 2012 elections and, hopefully, recover some of those lost ratings.
Second Update: The Washington Post reports that George Stephanopoulos is returning to host the show:
NEW YORK — George Stephanopoulos is returning to Sunday mornings at ABC News, replacing Christiane Amanpour as host of the political talk show "This Week."

ABC said Tuesday that Stephanopoulos, who returns Jan. 8, will remain as host of "Good Morning America," although likely on a four-day schedule.
Stephanopoulos will be far better than Amanpour, but this could've been ABC's chance to bring some new blood in rather than giving the show back to a guy who didn't become a "journalist" until he stopped working as Bill Clinton's paid spokesman.