Taxing Millionaires
A special tax rate for millionaires wouldn't raise much additional revenue but it would make journalists feel better.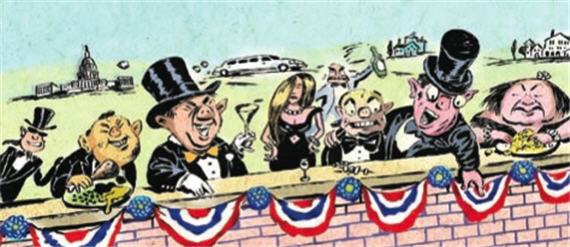 James Surowiecki thinks it obvious that, "An annual income of two hundred and fifty thousand dollars puts you in the top three per cent of American households, and is more than four times the national median. You're rich, and a small tax increase isn't going to rock your world."   Because those people have a lot of influence and have people convinced otherwise, however, he figures we should just go after the "very, very rich."
Between 2002 and 2007, for instance, the bottom ninety-nine per cent of incomes grew 1.3 per cent a year in real terms—while the incomes of the top one per cent grew ten per cent a year. That one per cent accounted for two-thirds of all income growth in those years. People in the ninety-fifth to the ninety-ninth percentiles of income have represented a fairly constant share of the national income for twenty-five years now. But in that period the top one per cent has seen its share of national income double; in 2007, it captured twenty-three per cent of the nation's total income. Even within the top one per cent, income is getting more concentrated: the top 0.1 per cent of earners have seen their share of national income triple over the same period. All by themselves, they now earn as much as the bottom hundred and twenty million people. So at the same time that the rich have been pulling away from the middle class, the very rich have been pulling away from the pretty rich, and the very, very rich have been pulling away from the very rich.

The current debate over taxes takes none of this into account. At the moment, we have a system of tax brackets well suited to nineteenth-century New Zealand. Our system sets the top bracket at three hundred and seventy-five thousand dollars, with a tax rate of thirty-five per cent. (People in the second-highest bracket, starting at a hundred and seventy-two thousand dollars for individuals, pay thirty-three per cent.) This means that someone making two hundred thousand dollars a year and someone making two hundred million dollars a year pay at similar tax rates. LeBron James and LeBron James's dentist: same difference.

This makes no sense—there's a yawning chasm between the professional and the plutocratic classes, and the tax system should reflect that.
It's not entirely clear to me why LeBron's dentist owes a greater proportion of his salary to the state than LeBron.  After all, a basketball player's earnings window is much, much smaller.  And dentist salaries are subsidized by the state, anyway, since many are paying with Medicare, Medicaid, and other government programs.
Still, while my theoretical ideal would be a tax system that charges an equal rate to everyone, preferably on purchases rather than income, that's not politically feasible.   Further, given that massive governmental spending is here to stay — because the American people effectively demand it — we've got to pay for it somehow.  And, while I believe everyone should pay something, the well off are going to have to pay more.  Disproportionately more.   And we've had top marginal rates as high as 92% in the postwar era, so it's hardly unprecedented.
Obviously, there are limits to how much you can tax the rich without killing the goose that lays the golden eggs.  But the Laffer curve does in fact bend!   Nate Silver runs some numbers and figures that a 3% hike on income over $1 million, "you'd bring in $26 billion per year, or $256 billion over ten years. If you taxed income above $1 million at 5 percent, you'd produce $43 billion per year, or $427 billion every ten years."  But that's without factoring in any productivity losses from the diminished incentive.  Doing that, he figures "revenues on the order of $35 billion per year, or $350 billion per decade, are more realistic."
Or, in other words, about what the Defense Department spends on toilet paper.
So, unless we're talking about very draconian raises — and, really, even then — we're not talking about a solution that would close the gap between spending and revenue.  And it's only going to increase if we don't figure out how to solve our demographics issues and control the cost of providing health care.
Megan McArdle has a theory as to why this keeps coming up:
[T]he definition of "very rich" seems increasingly to be set at "just above the level a top-notch journalist in a two-earner couple could be expected to pull down."
While snarky, I think that's about right.  Most of us tend to define "rich" at some level well above our own.   Unless you're making millions every year, you tend to think of yourself as merely "middle class."
If you're a journalist in a two income couple that makes $300,000 and still has to give up vacations in order to pay school tuition, it hardly seems fair that LeBron James and you are in the same tax bracket–not while you're living in less than 2000 square feet.  But if you're someone who has to give up vacations in order to pay the dentist and the electric bill, this probably seems eminently fair.  Anywhere in the country, you can live very well on $375,000.  Even in New York, if you look at living within the city limits as a luxury that costs a huge chunk of your salary, rather than as one of life's basic necessities.

The second–and I think the most important–point to make is that while LeBron James' marginal tax rate is the same as someone making $375,001 worth of AGI, his effective tax rate is much higher, since he pays the highest rate on much more of his income.  The latter pays 35% on $1 of his income.  James will pay it on most of his salary.
Right on both counts.
Look, there's no doubt that there's a decreasing marginal utility to each additional dollar earned beyond a point.   As Garth Brooks observed some years back, he'd already earned more money than his grandchildren would be able to spend.  And the Bill Gateses and Warren Buffets of the world are literally giving their money away, they have so much of it.
Regardless of how we structure our tax system, those at the upper end will pay more.   That's where the money is.    And adding another graduation point into the tax code, especially one at historically moderate rates, is unlikely to send people looking for tax havens or taking premature retirement.
But it's not going to go very far toward fixing our problems.