Teacher Suspended After Screaming at Students for Criticizing Obama
A North Carolina teacher screamed and cursed at students for criticizing President Obama.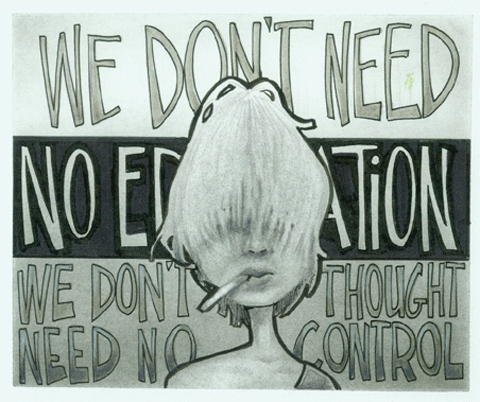 When I saw the headline "Teacher suspended after telling students not to criticize the president" on memeorandum this morning, I was a bit taken aback. While students have limited 1st Amendment rights, it's perfectly reasonable for teachers to encourage a civil tone toward the office. But that's not at all what happened:
 A teacher at a Rowan County school has been suspended after getting national attention for a YouTube video that surfaced last week showing her yelling at her students, saying it's wrong to criticize the president.

In the YouTube video, North Rowan High School teacher Tonya Dixon-Neely and her students were debating several political issues, including a discussion about President Obama and Republican candidate Mitt Romney.

The video, which was uploaded on May 14, had more than 178,000 views on YouTube as of Monday afternoon.  The story has been picked up by national media outlets, including Fox News and the New York Post.  Controversial radio host Rush Limbaugh discussed the issue on his radio show on Monday afternoon as well.

The conversation starts as the class discusses recent accusations that Mitt Romney bullied someone as a teenager in the 1960s.

But the conversation quickly turns into an argument between several students and the teacher, with some students questioning Obama and asking if Obama bullied someone in high school as well.

"That's disrespect.  This man (Romney) is a presidential candidate.  He's not the president," the teacher is heard shouting.  "Let me tell you something.  You will not disrespect the president of the United States in this classroom."

"I'll say what I want," countered one male student.

"Not about him you won't," yelled the teacher.

"I'm going to call my dad real quick.  We'll see," the student added.  "I didn't disrespect him, I was just asking a question.  I have different beliefs."

The teacher is still employed but has been suspended with pay.  An employee at the Rowan-Salisbury School System said they have been flooded with calls from around the country on Monday.

Later in the video the conversation turns foul-mouthed when the discussion changes to President Bush.

"Do you realize that people were arrested for saying things bad about Bush," the teacher continued.  "You are not supposed to slander.

"As a social studies teacher I cannot allow you to slander any president in here, past or present.  If that's the case, somebody could say negative things about the Tea Party."
Given that the teacher is black and the students are white–and, frankly, the students are more articulate than the teacher–I'd hate to see how Limbaugh treated the story. Certainly, it advances the conservative reverse racism meme I discussed this morning.  But this isn't a race issue, it's one of teacher demeanor and competence.
First, Dixon-Neely should be fired for her classroom deportment. It's simply unacceptable to for a teacher to lose their cool and scream at students, let alone when the students are engaged in a calm, thoughtful discussion.
Second, Dixon-Neely is clearly fantastically unqualified to teach social studies. First, we don't arrest people for "saying bad things" about the president, unless that bad thing is "I'm planning to kill the president." Second, asking a question about a factual matter is not slander. Third, the rules for defamation of character ratchet way up–not down–when we're talking about a public figure. There's virtually nothing that one could say about the president of the United States that would constitute slander. Indeed, there's virtually nothing defamatory that hasn't already been said about this particular president.  Fourth, it turns out that somebody can say negative things about the Tea Party.
On a side note, the Obama campaign is crafty: They've bought up the pre-load ad roll on this video.