Ted Cruz: Atheists Aren't Fit To Be President
Meet Ted Cruz: Religious Bigot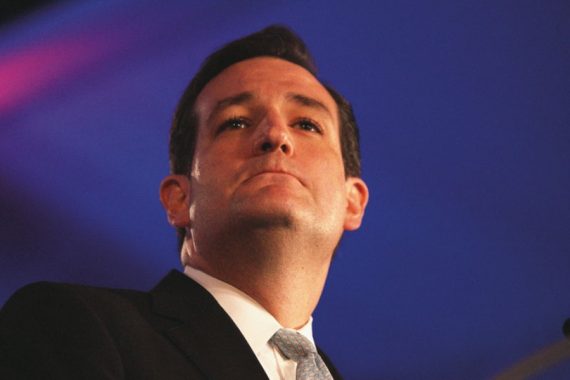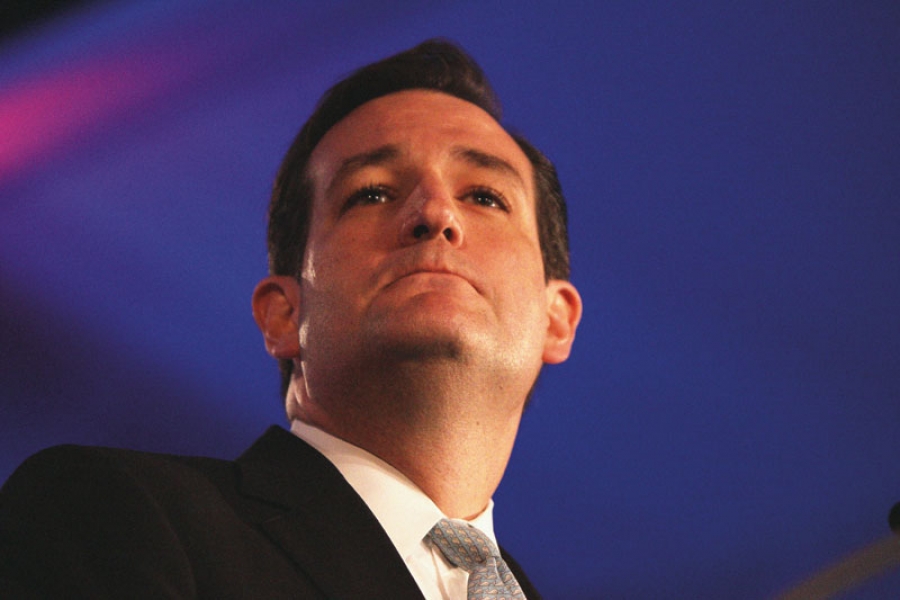 Ted Cruz says that people who don't believe in a supreme being are not fit to be President of the United States:
Presidential candidate Sen. Ted Cruz (R-Texas) said Friday that he believes anyone who wants to be president must fear God and pray daily.

Speaking at the National Religious Liberties Conference in Iowa, Cruz joined other GOP presidential candidates for a discussion about the persecution of Christians in the U.S. and around the world. After some very extreme, very weird comments about homosexuality, right-wing pastor Kevin Swanson introduced Cruz to the stage to ask him how important it was for candidates to submit to Jesus Christ as "the king of the President of the United States."

"Any president who doesn't begin every day on his knees isn't fit to be commander-in-chief of this country," responded Cruz.

Christianity has long been a part of Cruz's political identity. Since his election to the U.S. Senate in 2012, Cruz has been a regular feature at conservative Christian gatherings and on radio programs, where he's repeatedly taken on "radical atheists and liberals," whom he's accused of trying to strip religion out of the public sphere. His father, Rafael Cruz, is an evangelical pastor who has attracted controversy over the past few years with scathing anti-gay sermons and attacks on "Kenyan socialist" President Barack Obama.

(…)

Atheists are one of the most politically underrepresented groups in the U.S. According to the most recent Pew survey on religious affiliation, about 3 percent of Americans identify as atheist and 4 percent identify as "agnostic," all part of the nearly 23 percent who say they're "unaffiliated" with any particular religion. Despite those numbers, there are no openly atheistmembers of Congress, and only a handful of U.S. politicians who identify as unaffiliated, or who have chosen not to identify a specific religion.

While Cruz's remarks about the political viability of nonbelievers may be more of a personal opinion than a legal analysis, his views aren't out of line with the American mainstream. A Gallup poll published earlier this year found that only 58 percent of Americans would vote for an atheist presidential candidate, a 4 percent increase from a similar survey in 2012.
Here's the video of Cruz's remarks:
These comments by Cruz aren't entirely unsurprising, of course. Like many other Republicans and many of his fellow candidates for President, Cruz has built his political career in no small part by appealing to evangelical Christian voter and other groups for whom religious issues seem to trump nearly everything else in the political sphere. He also isn't the first candidate in the race for the Republican nomination to exclude an entire school of thought on the subject of religion from eligibility for the White House. Back in September, Ben Carson stated that Americans should never elect a Muslim President because of their alleged loyalty to "Sharia Law" over the Constitution and the laws of the United States. After his remarks were widely condemned, Carson attempted to explain his remarks by saying that "Sharia Law" was incompatible with the Constitution and that no person who adhered to it could be trusted with political power, Obviously, as the polls have shown us, Carson wasn't hurt at all by the controversy surrounding his remarks, indeed he only seems to have become more popular since that time. Unfortunately, the same thing is likely to happen with Senator Cruz in the wake of these remarks, at least not with the audience for whom they were intended and the people who are likely to vote in Republican primaries. Even beyond the Republican Party, though, it's unlikely to hurt Cruz at all. The Gallup survey cited above that showed that Americans said they are more likely to vote for a Muslim, openly gay, Mormon, or Jewish candidate for President they are to vote for an atheist. The only type of candidate included in the survey that scored lower than atheists were socialists, which is bad news for Bernie Sanders of course but hardly a surprise given the nature of American politics.
Cruz's assertions in his comments are utterly absurd and an excellent example of the kind of intolerance common among evangelical Christians. The implications, of course, is that an atheist or agnostic does not have the proper moral guideposts to be a political leader, but this simply isn't true and neither is the assertion that people who have religious faith can be trust to act in accordance even with their own morality. Numerous philosophers from a wide variety of traditions have demonstrated quite effectively, for example, that morality is not necessarily dependent on religious faith, and the idea that human beings can only be moral out of fear of eternal punishment essentially means that people only cat morally out of fear not because they believe it to be the right thing to do. Additionally, history is replete with plenty of examples of people committing utter atrocities in the name of religion and even our own recent history of political leaders shows us that politicians who profess to have religious faith often act quite differently from how that faith requires, whether in personal matters or in the policies they advocate. Beyond that, the idea that entire classes of people should be considered ineligible for political office because of their religious faith or lack thereof is nothing more than an excellent example of the kind of intolerance that Christians such as Cruz and those he is speaking to claim, usually with no good reason, that they are subjected to by America's allegedly "secular" society. It's of a piece with the kind of religious bigotry one sees from the likes of Kim Davis and other opponents of equal rights for people based solely on the fact that a certain group of people act in a way that they believe to be "immoral." It is, in other words, bigotry plain and simple.
As I said, Cruz is unlikely to be harmed by remarks like this and indeed it may help him with the group of voters he is appealing to. All that does is confirm how poisonous his rhetoric, and their beliefs, actually are.