Ted Cruz Begins Filibuster That Isn't Really A Filibuster
Ted Cruz is holding the Senate floor "until I can no longer speak," but he still won't be able to stop the Senate from going forward.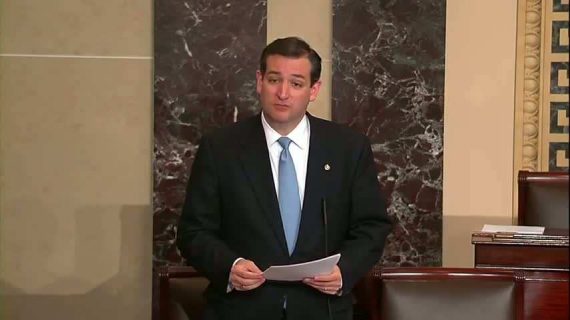 Just after 2;40pm EDT today, Senator Ted Cruz took to the Senate floor and said he won't yield until he's unable speak. However, for all the theatrics he's likely to engage in over the coming hours, he's not going to be able to stop the Senate from going forward on the House Continuing Resolution:
Ted Cruz seized control of the Senate floor on Tuesday afternoon, vowing to "speak in support of defunding Obamacare until I am no longer able to stand."

But Cruz cannot stop a Senate now in motion to eventually return a clean continuing resolution to the House a few days after the upper chamber approves it. By Senate rule, the latest the Senate will take the first procedural vote on a House spending bill that defunds Obamacare is 1 p.m. on Wednesday — a reality Senate Majority Leader Harry Reid (D-Nev.) broadcast to the world on Tuesday morning when he opened the Senate.

"I want to make sure everyone understands: There is no filibuster today," Reid said.

In other words, it's all over save for the theatrics. But Cruz promised to offer plenty of those on Tuesday in vowing to talk on the Senate floor for hours on Tuesday. He seemed unbowed by the reality that many Republican party elders are opposed to his tactic to halt the bill before Senate Democrats can strip out the defund Obamacare language. Joined by Utah Sen. Mike Lee on the floor beside him, the freshman Texas Republican forged ahead despite the fact that Republicans can't perform a talking filibuster to delay indefinitely the stopgap spending measure indefinitely.

"It is time to make D.C. listen," Cruz insisted on Tuesday on the Senate floor. "This is a point I intend to make over and over again."

The Senate is on "auto-pilot" since Reid on Monday set up a series of procedural votes on the House-passed government funding bill, although Cruz and Mike Lee of Utah have maintained they will continue to fight Reid at every turn.

"We are going to vote tomorrow. Under the rules, no one can stop that," Reid said.
Indeed, the Senate is basically on autopilot right now and Cruz's speech will have no impact on procedure, which is, after all, the point of a traditional filibuster:
[E]ven if Cruz speaks throughout the night, a vote Wednesday will occur regardless because the Senate is operating on "auto pilot," as Reid described it Monday. According to a senior Democratic leadership aide, Senate rules dictate that the Senate will automatically adjourn at noon Wednesday then return to session to hold a cloture vote on the motion to proceed, which will require 60 votes.
That's just the latest development in a day that started out badly for Cruz thanks to a Wall Street Journal editorial:
 The freshman Senator's latest gambit is to pledge to filibuster the bill he asked the House to pass so it never reaches the Senate floor and Mr. Reid can't strip the House language. But even if that succeeds, which is unlikely, it merely postpones the inevitable unless Mr. Cruz and Republicans want to prevent the Senate from passing any budget at all.

When Mr. Reid does send a budget back to the House, the question is what the GOP does then. If it passes another budget with the defund-ObamaCare provision, the Senate will refuse again, and we are headed toward a partial government shutdown. This won't be the end of the world, but the politics are treacherous and unpredictable.

When Mr. Cruz demands that House Republicans "hold firm," he means they should keep trying to defund ObamaCare even if it results in a shutdown that President Obama will blame on Republicans. It's nice of him to volunteer House Republicans for duty. The supposedly intrepid General Cruz can view the battle from the comfort of HQ while the enlisted troops take any casualties

(…)

The Lee-Cruz strategy, to the extent it's about more than fund-raising lists or getting face time on cable TV, seems to be that if the House holds "firm" amid a shutdown, then the public will eventually blame Mr. Obama and the Democrats, who will then fold and defund ObamaCare. Or, short of that, Democrats might agree to delay the health-care law for another year past its launch date on October 1.

Miracles happen, but it would rank as one for the ages if Mr. Obama agreed to defund his signature Presidential achievement. A year's delay would also be a victory, but Mr. Obama knows that punting the law past the 2014 election is risky if Republicans regain a Senate majority.

These columns opposed ObamaCare before it was known by that name, and we may have even been the first to call it by that name. We also don't need any lectures about principle from the Heritage Foundation that promoted RomneyCare and the individual mandate that is part of ObamaCare. Or from cable TV pundits who sold Republicans on Mitt Romney despite RomneyCare.

The question is how to oppose ObamaCare when Republicans control only one house of Congress. Oklahoma Senator Tom Coburn points out that the defund and shutdown strategy is giving Mr. Reid an excuse to bust the spending caps and shift public attention away from ObamaCare's flaws. The only real way to repeal the law is to win elections. Our strategy would be to conduct an island-hopping campaign that attacks the law's vulnerable parts to help win those elections rather than invade the Japanese mainland.

But we've lost this debate, and Generals Cruz and Lee are in charge. If they do succeed and defund ObamaCare, we'll gladly give them due credit. But if things don't go well, let's not hear any excuses about "the surrender caucus" or claims that it would all have worked out if only everyone were as brave and principled as the generals up at HQ.
That's some pretty harsh language from what is arguably the leading conservative Editorial Page in the country, and it's likely to provide coverage to others on the right whose criticism of Cruz until now has been muted for fear of being beaten back by the likes of Palin, Hannity, and Limbaugh (who, I'm told is actually on vacation and not on the air this week). If nothing else, it's likely to pretty much doom Cruz's efforts to convince his fellow Republican Senators to join him in opposing cloture. Indeed, even as Cruz was planning this move, though, other Senate Republicans were making it clear that they don't agree with him. In addition to Senators McConnell and Cornyn, who announced yesterday that they would be voting for cloture, Senators Blunt and Hatch have also announced that they are yes votes as well. Combined with other Republican Senators who have expressed opposition to Cruz's "defund" strategy, it's clear that Harry Reid already has more than enough votes to invoke cloture on the first vote tomorrow, and most likely on the second vote which will occur on either Friday or Saturday.
Rand Paul lasted 13 hours. Any guesses how long Cruz will last?
Update: Gawker's explainer is not to be missed, although it is slightly NSFW.