Ted Cruz Proves His Political Opportunism Is More Important Than His Conscience
In which Ted Cruz endorses the guy who called his wife ugly and said his father was involved in the Kennedy assassination.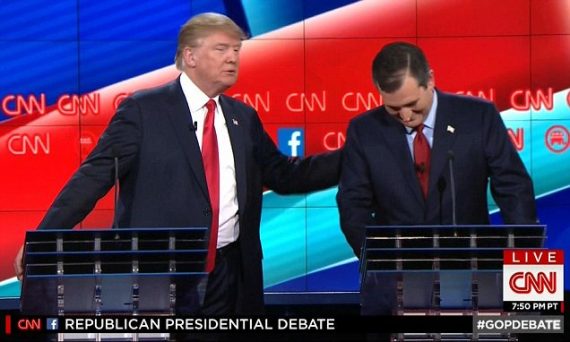 When we last heard from Texas Senator Ted Cruz, he had refused to endorse Donald Trump by name and called on delegates and Republicans around the country to 'vote their conscience,' rather than urging them to rally around the party nominee. This followed a long and bitter primary battle during which the fight between Trump and Cruz became more personal by the day, especially when Trump attacked Cruz's wife and accused Cruz's father of being part of a conspiracy to assassinate President John F. Kennedy0000000. At one point, in fact, Cruz specifically said that he could never support a candidate who had insulted his wife and lied about his father and Trump, who had taken to calling Cruz "Lyin' Ted" during the primary campaign, said he would never accept Cruz's endorsement if it was offered.
All of that was seemingly forgotten yesterday when Cruz, to the surprise of many, announced his support for Trump:
Senator Ted Cruz said on Friday that he would vote for Donald J. Trump for president, two months after Mr. Cruz pointedly declined to endorse his former rival in a speech at the Republican National Convention.

"After many months of careful consideration, of prayer and searching my own conscience, I have decided that on Election Day, I will vote for the Republican nominee, Donald Trump," Mr. Cruz wrote in a statement on Facebook.

For Mr. Cruz, who has fashioned himself as the unbending conscience of modern conservatism, the decision to endorse Mr. Trump is the latest remarkable gamble in a career defined by them, placing him in the corner of an ideologically elastic candidate who savaged Mr. Cruz — and, often, the senator's family — at every turn during the nominating contest.

But Mr. Trump's rise in the polls, combined with a handful of political overtures from Mr. Trump and his team in recent days, left Mr. Cruz effectively boxed in, raising the possibility that a narrow Trump defeat could be laid at his feet.

In his statement, Mr. Cruz said he had based his decision on two factors: a prior pledge to support the Republican nominee — which Mr. Cruz said in July had been "abrogated" by Mr. Trump's personal attacks on him — and his desire to defeat Hillary Clinton, the Democratic nominee.

"If Clinton wins, we know — with 100 percent certainty — that she would deliver on her left-wing promises, with devastating results for our country," Mr. Cruz said. "My conscience tells me I must do whatever I can to stop that."

But Mr. Cruz's statement went beyond the perfunctory, praising the policy aims and recent campaign promises of a man he once called a "pathological liar."
Daniel Larison sees this as part of Cruz's "boundless opportunism":
As I said after he refused to endorse Trump, Cruz is nothing if not an opportunist. When Trump first started running in 2015, Cruz didn't attack him and praised him on occasion, and then when Trump became his main rival Cruz became fiercely hostile. Once Trump secured the nomination, Cruz calculated that Trump was doomed in the fall and that the smarter bet to distance himself from the nominee. Now that the race has tightened and Trump still has an outside chance at winning, his calculation has changed once again, and he is ready to get on board the Trump bandwagon in one form or another. Of course, all politicians are self-promoters and opportunistic, but Cruz is an extreme case of a politician who jumps at each new chance for self-promotion without considering the efficacy or long-term consequences of what he does. He refused to endorse Trump because he bet that his stock would rise inside the GOP as a result. Instead, his favorability among Republicans cratered, and now he has to reverse course to repair some of the damage that has been done.

The trouble for him is that Cruz's self-seeking maneuvers have mostly done his political career great harm, and because he has tried to sell himself as the "consistent conservative" his record of switching back and forth between pro- and anti-Trump positions is all the more damaging.
There appears to be much truth in Larison's statement. Prior to this endorsement, Cruz's approval numbers back home in Texas were seen to decline significantly, and while there are still two years before Cruz has to face voters again, there's already talk that he could face primary challenges from both pro-Trump elements inside the Texas GOP and from the so-called party establishment, which was already frustrated with Cruz over his conduct as Senator since winning election in 2012. Lining up behind Trump is no doubt part of his effort to repair some of the damage that his convention speech had created. Instead, it just appears to be creating more problems:
As news of Mr. Cruz's plans surfaced, first on Politico, some Cruz allies wasted no time registering their displeasure.

"I'm just trying to get this Cruz sticker off my car," Rick Tyler, the senator's campaign spokesman, said shortly after the endorsement was announced. "I don't want anybody to get the wrong idea and think I'm a Trump supporter."

Steve Deace, a prominent Iowa conservative radio host who had supported Mr. Cruz, called the senator's decision "the worst political miscalculation of my lifetime."

Voters' responses were often no kinder.

"I am ashamed to have supported you," one man wrote.

"Conservatism is dead," said another.
Honestly, I'm not sure why anyone is really surprised by this. It's always been rather obvious that, for all of his appeals to purism and conservatism, Ted Cruz is a political opportunist who will do whatever it takes to advance his own interests. That's why he was backing a government shutdown strategy that could never work three years ago, and it's why he behaved the way he did during the primary. You'll recall, for example, that for the better part of 2015 Cruz refused to join his fellow candidates in attacking Trump even though he was arguably the candidate best situated to do so. The reason for that was that he calculated that, if and when Trump crashed and burned, it would be easier for him to pick up Trump's supporters if he wasn't one of the candidates who constantly attacked Trump on the debate stage. When it became apparent that this strategy wasn't going to work, he turned quickly negative on Trump and stayed there even during a convention speech during which one might have expected him to endorse the party nominee. Now that it appears that he could politically harm himself by withholding his endorsement, he's folding even though Trump has never apologized for the attacks on Cruz's family. So much for that conscience, I guess.