Thanksgiving Eve News Dump: Another ObamaCare Provision Delayed For A Year
The Obama White House dropped some big news as everyone headed out of town.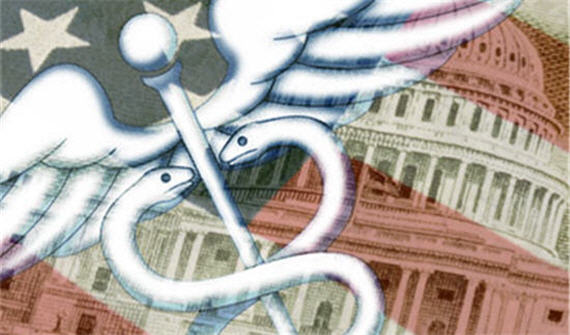 While large numbers of Americans make their way to their Thanksgiving Day destinations or, based on my lunchtime errands, conduct last minute grocery shopping, the Obama Administration will be dropping news of another delay in a provision of the Affordable Care Act:
WASHINGTON — The Obama administration is expected to announce on Wednesday a one-year delay in another major element of the new health care law, which allows small businesses to go online and get insurance for their employees through the website of the federal marketplace.

"We plan to offer online enrollment capability by November 2014, for coverage that takes effect in January 2015," the Department of Health and Human Services said in a series of questions and answers.

The administration had previously delayed online enrollment for small businesses, scheduled to start on Oct. 1, until the end of this month.

This insurance marketplace — known as the Small Business Health Options Program, or SHOP — was seen as one of the main benefits of the new law.

The announcement of the delay, just before Thanksgiving, is reminiscent of the way the White House announced, just before the Independence Day weekend, a one-year delay in the requirement for larger employers to offer health insurance to employees.

The new delay results, in part, from the well-documented woes of the federal marketplace. Administration officials said they had to focus on repairing the basic functions of the website and were not able to address issues related to the small-business exchange.

John C. Arensmeyer, the chief executive of Small Business Majority, an advocacy group, said, "It's disappointing that the online portion of the federal small-business marketplace through HealthCare.gov will be delayed, and it's important it get up and running as soon as possible."

The marketplace, he said, "is still the most important provision in the Affordable Care Act for small businesses," as it can offer "the most competitive combination of price and quality."

For years, small businesses have had difficulty getting insurance they can afford. As a result, small businesses have been less likely than larger companies to provide coverage to employees.

In a document explaining its plans, the administration said: "Employers can't apply for SHOP eligibility or enroll in SHOP coverage on HealthCare.gov at this time. However, they can go to HealthCare.gov to view plan and pricing information to help them choose a plan and insurance company."

The administration said that small businesses and their employees seeking coverage in the federal exchange could still apply for insurance and enroll through an agent or broker, as many do now.

"Agents and brokers are essential to making this happen," an administration official said.

However, the high-tech capability once promised by the White House will not be available at this time.

"The agent, broker or insurer will help the employer fill out a paper application for SHOP eligibility and send it in to the SHOP marketplace," the administration said. The insurer can also tell employers what premiums they would have to pay and can enroll employees.
The reasons for the delay aren't clear, although it's arguably the case that they may be tied into the technical issues that have plagued the Federal Obamacare Exchange's website since the beginning of October and that the delay is at least partly intended to ease the load on the website in the aftermath of the November 30th date on which the technical problems that the website has been experiencing are supposed to be fixed. If that's the case, then it isn't exactly a vote of confidence in just how "fixed" Healthcare.gov is doing to be by the end of this week. After all, if they were sure that the system would be completely ready for the traffic that could potentially be tossed at it, they wouldn't be doing things like this:
WASHINGTON — White House officials, fearful that the federal health care website may again be overwhelmed this weekend, have urged their allies to hold back enrollment efforts so the insurance marketplace does not collapse under a crush of new users.

At the same time, administration officials said Tuesday that they had decided not to inaugurate a big health care marketing campaign planned for December out of concern that it might drive too many people to the still-fragile HealthCare.gov.

With a self-imposed deadline for repairs to the website approaching on Saturday, the administration is trying to strike a delicate balance. It is encouraging people to go or return to the website but does not want to create too much demand. It boasts that the website is vastly improved, but does not want to raise expectations that it will work for everyone.

"We are definitely on track to have a significantly different user experience by the end of this month," Kathleen Sebelius, the secretary of health and human services, said Tuesday. "That was our commitment."

Ms. Sebelius, who supervised development of the troubled website, tried to rally state and local elected officials in a conference call organized by the White House. "I would urge you and your folks on the ground to not hesitate to recommend that people go to HealthCare.gov and get signed up," she said.

Officials said the website was now able to handle 50,000 users at a time, providing enough capacity on a daily basis to enroll millions of people in the next four months.

But those charged with fixing the site worry that 250,000 people might try to use the site simultaneously at times on Saturday and in the days ahead. They say that pent-up demand for insurance in the federal marketplace, combined with a surge of interest among people merely curious about whether it is working, could bring the website to a crawl.

"Our concern is that we want to make sure that people have the right expectation going into this," said Jennifer Palmieri, the White House communications director. "Early October was a frustrating experience for users. We are preparing for the outcome that we have as many or more visitors as we had on Oct. 1."

About 4.7 million people visited the website on that first day, the administration said.

White House officials offered a similar message on Monday in a meeting with some of their allies, including the Service Employees International Union and Enroll America. Both groups had pledged to work hard to drive traffic to the website.

In the meeting, Ms. Palmieri said, officials urged the groups to hold back, at least for the first several days of December, to see how much traffic the website is getting. Ms. Palmieri summarized the message: "Our recommendation is that we expect there to be really high traffic. You shouldn't be driving traffic."

If the website again crashes repeatedly, Mr. Obama's critics are sure to pounce and some of his Democratic allies may become anxious and apprehensive. Since the website went live eight weeks ago, the botched system has become a symbol of what Republicans say is an overreaching, incompetent federal government. The debate about the website's failures, and the broader role of government, may shape the outcome of next year's congressional elections.
It is, perhaps, prudent for the Administration to try to delay overwhelming the website with requests before they're sure that it's ready for more traffic than its been handling lately, but that just raises the question of why it wouldn't be ready for that kind of traffic. After all, major retail websites are likely to get hit with far more traffic over the next five days than Healthcare.gov will, and yet it's pretty unlikely that we're going to hear any stories about Amazon, Best Buy, Target, Kohls, or WalMart seeing their websites crash during that period. Indeed, such events are so uncommon at those high traffic commercial sites that it becomes news when it does happen. In the case of the Federal Website Exchange, we're talking about something that seemingly should have been development for more than three years prior to the date it went live and yet it wasn't ready to go. Now, some eight weeks later, the Federal Government is quite obviously not sure that it will be ready after the fixes are done to the point where they are issuing yet another signup delay and discouraging their own allies from sending people to the website despite the fact that, at the moment at least, individuals only have until December 15th to sign up for insurance if they want it to be effective on January 1st. Quite obviously, there's a lack of confidence that the system will be ready.
Most conveniently, of course, this delay means that what is likely to be one of the more important parts of the second stage of PPACA implementation until after the Election Day 2014. Does this mean that the only real motivation for this delay is political? We can't know that for sure, but it certainly sounds like it. The Obamacare rollout has already done significant damage to both President Obama and Congressional Democrats. If small business owners suddenly find out that it's going to be difficult if not impossible for them to shop for PPACA-compliant coverage for their employees, then the political damage is just going to become more severe. In that case, you can hardly blame the Administration for wanting to push the inevitable off as long as possible. At some point, though, they'll either have to get the system completely fixed, or face the political music.