The 1% are Paying Slightly Less Tax Than They Owe!
An interesting but rather misleading report from a Biden Treasury official.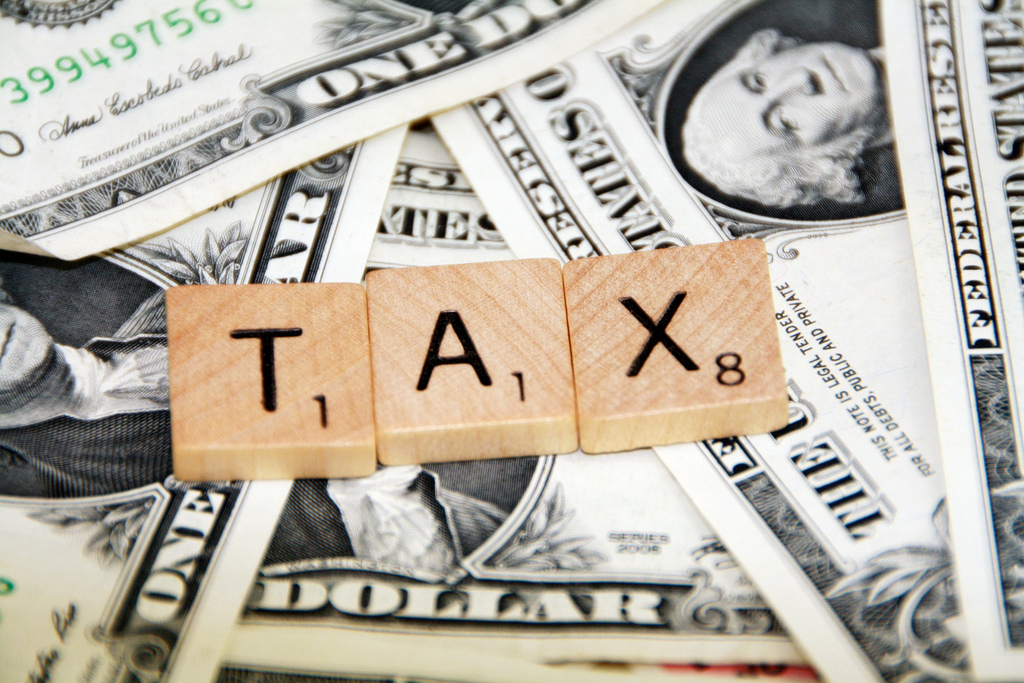 NYT ("The top 1 percent are evading $163 billion a year in taxes, the Treasury finds."):
The wealthiest 1 percent of Americans are the nation's most egregious tax evaders, failing to pay as much as $163 billion in owed taxes per year, according to a Treasury Department report released on Wednesday.

The analysis comes as the Biden administration pushes lawmakers to embrace its ambitious proposal to beef up the Internal Revenue Service to narrow the "tax gap," which it estimates amounts to $7 trillion in unpaid taxes over a decade. The White House has proposed investing $80 billion in the agency over the next 10 years to hire more enforcement staff, overhaul its technology and usher in new information-reporting requirements that would give the government greater insight into tax evasion schemes.

The proposals have been met with deep skepticism from Republicans and business lobbyists who argue that the I.R.S. cannot be trusted with more power and that the proposals are an invasion of privacy.

Democrats are counting on raising money by collecting more unpaid taxes to help pay for the $3.5 trillion spending package they are drafting. On Thursday, the House Ways and Means Committee is set to begin formally drafting its voluminous piece of the 10-year measure to combat climate change and reweave the nation's social safety net, with paid family and medical leave, expanded public education, new Medicare benefits and more.

The Treasury Department estimates that its tax gap proposals could raise $700 billion over a decade.
This leaves me with two, slightly contradictory, thoughts.
On the one hand, we're clearly underfunding the IRS's investigatory capacity. While I have some sympathy for those who fear invasions of privacy and the potential for overreach (see, for example, the infamous BOLO program wherein the Obama IRS targeted Tea Party groups for special scrutiny) it's been clear for some time now that the ultra-wealthy are able to evade paying what they owe through sheer accountant overmatch. See my 2019 posts "Taxing the Very Rich" and "It's Hard to Audit the Rich, So We Go After the Poor" for more background.
On the other, if $163 billion is the upper end of the delta between what's owed and what's paid—which is what I take from "as much as"—it's a drop in the proverbial bucket. The Treasury's annual take from taxes is around $4 trillion. And if "$700 billion over a decade" is the wished-for result, it's really not going to put much of a dent into a $3.5 trillion package. We're still left with $2.8 trillion!
Further, the Treasury report was not written by career professionals but by a Biden appointee:
The department's report, which was written by Natasha Sarin, deputy assistant secretary for microeconomics, makes the case that narrowing the tax gap is part of the Biden administration's ambition to create a more equitable economy, as audits and enforcement actions will be aimed at the rich.
Sarin is a brilliant scholar of the sort we wish to attract to these political appointments. She's superbly qualified and, indeed, this analysis is right in her wheelhouse. But she's pushing an ideological agenda—the one she was hired to push!—here, not simply doing accounting. Indeed, the "report" is titled "The Case for a Robust Attack on the Tax Gap."
By contrast,
A Congressional Budget Office report last week found that expanding the enforcement capacity of the I.R.S. would not raise as much money as the Treasury Department projects. The analysis, which did not include the information reporting part of the tax gap plan, estimated that the additional enforcement funds would raise $200 billion over a decade, while the Treasury Department projected it would raise about $320 billion over that time.
Because it's nonpartisan, CBO is likely a more reliable source here. (Although, in fairness, the linked report was authored by CBO Director Phillip Swagel. While his credentials are likewise quite impressive, he's decidedly conservative.) Even if we split the difference and estimate that we'll take in an additional $260 billion over the next decade, we're not doing much toward "closing a revenue gap."
Beyond that, it's not clear from the original Treasury report what exactly the gap is. Their claim is straightforward enough:
Today's tax code contains two sets of rules: one for regular wage and salary workers who report virtually all the income they earn; and another for wealthy taxpayers, who are often able to avoid a large share of the taxes they owe. As Table 1 demonstrates, estimates from academic researchers suggest that more than $160 billion lost annually is from taxes that top 1 percent choose not to pay.
And it's accompanied by this handy-dandy chart: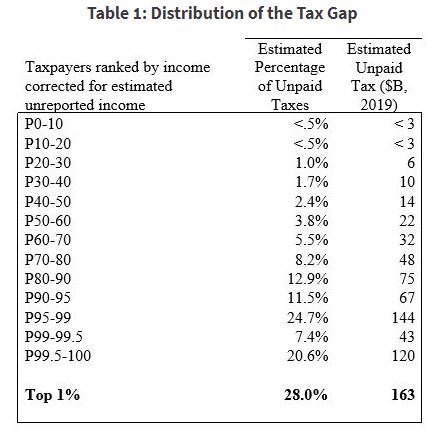 But "choose not to pay" does a lot of work here. How much of this is simply taking advantage of perfectly legal "loopholes" in the code and how much is hidden or otherwise unreported income? The former, presumably, aren't recoverable or, indeed, even rightly owed. (To the extent we think the loopholes unjust, we should simplify the code and close them.) The latter, obviously, should be recovered and, indeed, met with stiff penalties up to imprisonment for sufficiently egregious cases.
The bottom line here is that all of this smacks more of going after the rich for political optics than it does tax collection. That's amplified by the rhetorical heat aimed at "the top 1%" when their own estimates show that the top 5% actually accounts for a higher delta than the top 0.05 percent—and those in the 99-99.5 range are actually more complaint than lower groups.
Certainly, this claim (from Sarin's report) is absurd:
The tax gap also has meaningful implications for fiscal policy. These unpaid taxes mean policymakers must choose between rising deficits, lower spending on important priorities, or further tax increase to compensate for lost revenue—which will only be borne by compliant taxpayers.
Whether we collect $20, $26, or even $32 billion extra a year from the rich, it'll have next to zero impact on the deficit or taxing and spending decisions made by Congress. Even pre-COVID, our annual budget deficits were in the $700-$900 billion range; it was over $3 trillion last year and will likely be higher this year. And the total spending outlays were in the $4 trillion range before COVID and new political realities shifted them into the $6 trillion range. The amount of revenue in question here is literally a rounding error.
So, sure, let's fund the IRS appropriately to go after scofflaws. Let's enforce the tax code fairly. And let's punish the most egregious offenders severely. But let's not pretend this is why we can't pay our bills.