The "Anchor Baby" Myth
There are no "anchor babies," there are only Americans.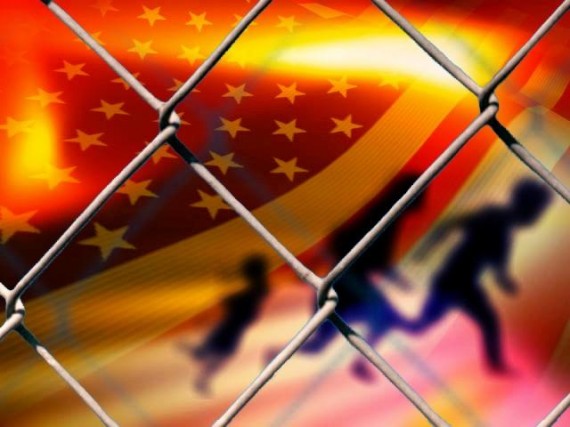 Jeb Bush and Donald Trump are taking some heat for referring to children of undocumented immigrants who are born in the United States as "anchor babies":
A feistier, combative Jeb Bush said Thursday that he doesn't believe the term "anchor babies" is offensive and blamed Democrats for perpetuating the idea that it's a loaded term.

In one of his most aggressive exchanges with reporters to date, Bush dismissed suggestions that the two-word term deemed offensive by many Hispanics and denounced by Democrats is improper.

"Do you have a better term? You give me a better term and I'll use it," he snapped at a reporter who asked him.

The former Florida governor first used the words Wednesday in a radio interview as he responded to questions about Donald Trump's use of the term. To some, it describes people who immigrate illegally into the United States and give birth here to ensure U.S. citizenship for their child.

Bush told reporters after a town hall here that in the radio interview, "What I said is that it's commonly referred to that. I didn't use it as my own language. You want to get to the policy for a second? I think that people born in this country ought to be American citizens."

Bush's defense of the term is a sharp departure from how he usually discusses immigration reform and the broader national debate on the subject. As a longtime advocate for comprehensive changes to the immigration system, he speaks out frequently about the need for Republicans to strike a respectful tone when discussing the issue. His 2013 book on the subject, "Immigration Wars," describes the complexities of illegal immigration at great length, but the two words in question are never used.

Until Wednesday's radio interview, Bush had not uttered the words publicly on the campaign trail, according to a Washington Post review of his public comments.

On Thursday, he again bemoaned that so much of the immigration debate continues to get mired in rhetoric — even while defending the term.

"There are a lot of people who share the immigrant experience, and when they hear this, what they hear is: 'You don't think I'm part of this. You don't think I'm part of this country.' I know that, I know that for a fact because I have hundreds of people who tell me that," he said. "So I think we need to tone down the rhetoric a little bit, talk about solutions and get on with fixing things in this country."

Concerns about the term are "a political wedge issue the left uses to win elections and we ought to be the party that solves this problem so that we can get back to the business of creating high-sustained economic growth."

(…)

Adding to Bush's odd defense of the term is that he's been a member of a national Hispanic advocacy organization that has denounced the use of the term.

Bush helped launch the Hispanic Leadership Network, a center-right group seeking to build GOP support among Latino voters. He is still listed as a member of the national advisory board. In 2013, the group issued a memo titled, "Dos and Don'ts of Immigration Reform," with tips on how Republican lawmakers should discuss immigration reform and avoid offending Latino voters.

A copy of the memo obtained by The Hill newspaper said that: "When talking about immigrants: Do use 'undocumented immigrant' when referring to those here without documentation. Don't use the word 'illegals' or 'aliens.' Don't use the term 'anchor baby.' "
Donald Trump was similarly unapologetic, albeit far more bombastic than the former Florida Governor:
Donald Trump lashed out at ABC reporter Tom Llamas on Thursday after the network aired segments critical of the presidential candidate's use of the term "anchor babies" to describe the children of undocumented immigrants.

During a Wednesday town hall in New Hampshire, Llamas grilled Trump on the term.

"Are you aware that the term 'anchor baby' — that's an offensive term. People find that hurtful," Llamas said to Trump.

"You mean it's not politically correct and yet everybody uses it?" Trump responded, adding that he would continue to use the term.
Some will likely argue that those complaining about the use of the term "anchor baby" are being hypersensitive, especially given the fact that it is term that has been used for quite some time now and has made its way into the popular culture in more ways than one. Even accepting that fact, though, it seems clear that referring to children born in the United States to undocumented immigrants as "anchor babies" is meant to diminish their status in some sense and use them as political pawns in the debate about illegal immigration. The people being referred to here aren't abstractions to be tossed about in a political debate, they are American citizens, and indeed very vulnerable American citizens given their young age and the status of their parents, who could be deported at any moment. Some people understanding, of course, such as Marco Rubio, who pointed out that the people being referred to as "anchor babies" and "illegal immigrants" are, in the end, human beings and not political abstractions. In the world of immigration politics, though, that doesn't really matter. Much like other large groups of people, they are just political abstractions to be tossed about.
At the heart of the whole "anchor baby" comment, of course, is the idea that when an undocumented immigrant mother gives birth her in the United States she automatically obtains some kind of defense against being deported. On the surface, I suppose, this makes sense because even the most restrictionist anti-immigrant pundit seems to think that splitting a family would be unacceptable and that deporting a child who is an American citizen would also be unacceptable. It's also said that women and families come to the United States to give birth in order to use the child as a means of acquiring access to public benefits, notwithstanding the fact that studies have shown that immigrants, legal and illegal, use public benefits at a lower rate than citizens. Thus, the popular culture, and most especially those anti-immigration forces that have seemingly coalesed around Donald Trump, have created a story about immigrant women coming to the United States to give birth and then using the baby as an excuse to stay in the country and receive public benefits.
As it turns out though, there is no such things as an "anchor baby" defense to deportation:
 For illegal immigrant parents, being the parent of a U.S. citizen child almost never forms the core of a successful defense in an immigration court. In short, if the undocumented parent of a U.S.-born child is caught in the United States, he or she legally faces the very same risk of deportation as any other immigrant.

The only thing that a so-called anchor baby can do to assist either of their undocumented parents involves such a long game that it's not a practical immigration strategy, said Greg Chen, an immigration law expert and director of The American Immigration Lawyers Association, a trade group that also advocates for immigrant-friendly reforms. That long game is this: If and when a U.S. citizen reaches the age of 21, he or she can then apply for a parent to obtain a visa and green card and eventually enter the United States legally.

(…)

If a person has lived in the United States unlawfully for a period of more than 180 days but less than one year, there is an automatic three-year bar on that person ever reentering the United States — and that's before any wait time for a visa. So that's a minimum of 21 years for the child to mature, plus the three-year wait.

And, for the vast majority of these parents, a longer wait also applies. If a person has lived in the United States illegally for a year or more, there is a 10-year ban on that person reentering the United States. So, in that case, there would be the 21-year wait for the child to mature to adulthood, plus the 10-year wait.

All told, the parents of the so-called anchor baby face a 24-to-31-year wait to even enter the United States, much less obtain a visa and green card or become a citizen.
More directly, if an undocumented immigrant is caught by authorities and put in deportation proceedings, the fact that they have a child who is an American citizen will not help them:
Immigration courts routinely reject claims that an undocumented parent must remain in the United States to care for a U.S. citizen child. The main but rare legal exceptions are for children who are so seriously ill or profoundly disabled that one parent must care for them full-time, or for a child in need of medical care unavailable in their parents' home country.

These parents are given something called "humanitarian parole," Chen explained. And this is very rarely applied to people already living in the United States illegally. It is more often given to the parents of, say, an Afghan war burn victim who want to accompany their child to the United States for medical care. And, even then, humanitarian parole is generally granted for limited period of time.

Alternatively, these parents can apply for something even more rare: an extreme hardship exception, according to Deborah Anker, a clinical professor of law and director of the Harvard University Law School's immigration and refugee clinical program. Very rarely they can apply for a waiver that may allow them to reenter the United States sooner, Anker said. But if that request is denied, there is no form of appeal available. Decisions are final.
In other words, there is no "anchor baby" defense to deportation, and there are no such such things as "anchor babies." There are only Americans, which is what these children are regardless of what Donald Trump and his supporters may think.