The Ayn Rand Generation?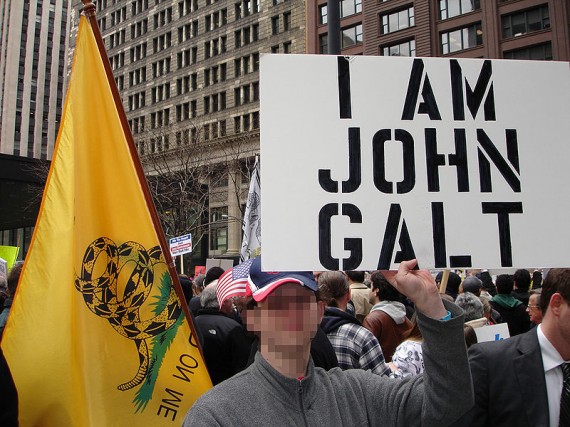 Alan Jacobs discusses the book Souls In Transition, a book that surveys and catalogs the spiritual views of 18-23 year olds. He highlights a passage that I find interesting:
The majority of those interviewed stated . . . that nobody has any natural or general responsibility or obligation to help other people. . . . Most of those interviewed said that it is nice if people help others, but that nobody has to. Taking care of other people in need is an individual's choice. If you want to do it, good. If not, that's up to you. . . . Even when pressed — What about victims of natural disaster or political oppression? What about helpless people who are not responsible for their poverty or disabilities? What about famines and floods and tsunamis? — No, they replied. If someone wants to help, then good for that person. But nobody has to.
Now, I haven't read the book or what lies between the ellipsis, but assuming a decent methodology and that Jacobs is presenting this correctly (and knowing him, I'd say this is highly unlikely to be misleading), this is certainly an interesting bit of information. I'm sure that if there's an afterlife, Ayn Rand is laughing through her cigarette smoke and clapping her hands in delight at this interview. Her goal always was, after all, to win the culture war.
Personally, I think I have to share Jacobs' concern–to a point. It really is disturbing that a majority of 18-23 year olds don't believe they have an obligation to help people. (Of course, maybe it's because I live in an area that's both very conservatively religious and wealthy, but I have to scoff a little bit at his anecdotes about his Christian students not sharing these views — is Jacobs' really unaware of the Prosperity Gospel or the infection of Social Darwinism into variants of contemporary Evangelicalism? Not that all Christians believe those things, but come on…)
On the other hand, I don't know if this poses any trend for the future. Full confession time–when I was 18-23, I fully shared those views about my obligation to others (or lack thereof) and would have been clapping my hands at this survey right along with the zombie Ayn Rand. When you're young and semi-independent in college, it's easy to lose track of the world around you and become isolated from the harsh reality that bad things happen and we have to help each other out to make it through. But then you graduate from college and you grow up.
If a follow-up ten years from now shows that a majority of this generation of 18-23 year olds still believes that they don't have to help other people, well, then there might be a cause for worry.