The Chaos is the Point
The anti-McCarthy holdouts have no end game.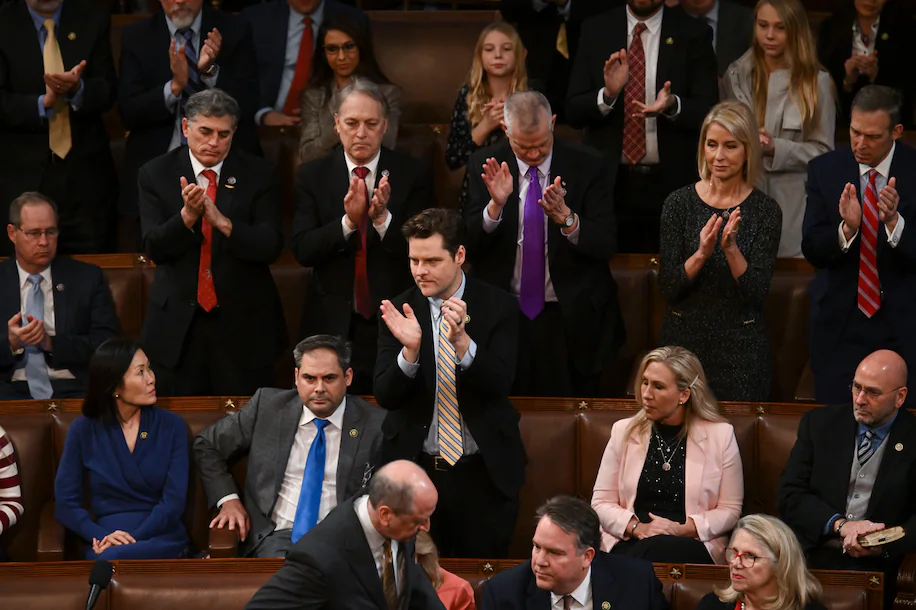 Assessing the ongoing House Republican clown show, TIME Washington Correspondent Philip Elliott contends, "The Chaos Is the Point: The McCarthy Holdouts Are Trolling Democracy." He makes a strong case. After a preliminary summary of events, he argues,
Around Washington, insiders have started to shift their conversation in a crucial way. At the start of the week, a lot of the chatter was about what McCarthy could trade away to win over the Never Kevins, the bloc of lawmakers who insisted they'd never support his ascent to Speaker. During closed-door meetings and hallway interventions, McCarthy and his allies have offered a seemingly never-ending raft of concessions: two seats on the powerful Rules Committee for the Freedom Caucus, plus another seat for one of their friends; allowing for one member to call a vote of no confidence in the Speaker at any time; a redo of the budgeting process to split the major spending bills into 12 pieces; and a vote on term limits.

On the outside, the nominally independent campaign arm aligned with McCarthy pledged it would no longer use its deep pockets to meddle in open primaries, meaning the far-right elements were free to nominate fringe candidates without fear of the Establishment working to block them. (It was reminiscent of Senate Republicans' decision to take a hands-off approach; ask Minority Leader Mitch McConnell how that worked out.)

The House holdouts accepted the wins. But they still couldn't get to yes on McCarthy as the person at the top of the heap. They just didn't trust him, even after Donald Trump himself directly intervened to help his most useful supplicant. They cashed millions of dollars in checks from him and his allies, but money wasn't going to buy loyalty.

Which is why it might be time for Washington to stop treating this like any other negotiation. McCarthy has traded away much of his potential power as Speaker, offloading a lot of the prerogatives to a vocal minority that, for the most part, doesn't even seem to care much about its legislative muscle. Even if McCarthy emerges with a gavel in his hand, his knuckles will be bloodied by the rulers his far-right tormenters have been using to whack him. His hold will be weak, given a single malcontent can call for his removal—and be guaranteed a vote on it. And the powerful appropriators won't have final say over spending, given an open-ended amendment process that could turn a tightly written spending package into an Amazon wish list on the fly. The damage, even in McCarthy's uncertain victory, has been done.

Maybe it's time to call the goal here what it actually is: chaos. This isn't about policy. It's about personality and personal aggrandizement. McCarthy allies asked the holdouts last night what they wanted, and they couldn't get an answer. "Behind closed doors, tell us what you actually want, or shut the f— up," Rep. Dan Crenshaw of Texas fumed. He wasn't alone.

"The Taliban 20" is how some lawmakers have started referring to their intransigent colleagues. Others are branding them "The Band of Others." Rep. Chip Roy of Texas has emerged as perhaps the most sincere of the GOP holdouts in pushing for achievable changes to actual rules. Yet his demands have been largely drowned out by those wanting…well, something. Even some of the House's most unpredictable right-wingers lined up behind McCarthy, including Marjorie Taylor Greene, meaning this wasn't about chasing conspiracy theories or kook agenda pieces. Motivating the opposition here is owning McCarthy, making this hurt, showing how a few insurrectionists can derail normalcy in the name of, frankly, fun.

This is what happens when celebrity is treated as a substitute for governing chops. You get obstruction for the sake of it, leaving legitimate concerns about the legislative process from Roy lumped with the tantrums. A tyranny of the minority has left the House stuck in park as Republicans look for the keys they already have in the ignition. They just can't bring themselves to turn over the engine, because apparently turning on themselves is so much more delightful.
A WaPo feature, "Policy demands, personal animus and more: Meet the McCarthy resistance" tries to get more granular but one comes away with a similar impression.
"They want to pull the pins on the grenades and lock the doors," Dan Crenshaw of Texas said of the defectors. "They need to be men and adults and say what they want, instead of playing these little games; that's what we're asking."

He added, "I'm tired of your stupid platitudes that some consultant told you to say on the campaign trail, all right. Behind closed doors, tell us what you actually want, or shut the f— up."

The group is ideologically aligned, with 19 members part of the House Freedom Caucus, a group of hard-line Republicans that was created eight years ago, born out of the tea party movement that challenged the GOP establishment and sought to disrupt Washington. All but two of the 20 baselessly denied the results of the 2020 presidential election, and 14 of them voted not to certify Joe Biden's victory on Jan. 6, 2021.

Some of the McCarthy critics played a role in unsuccessful efforts to overturn the 2020 election results. Perry was actively engaged with the Trump White House in the move to decertify Biden's electoral college votes, and the FBI seized his phone as part of its investigation into the use of fake electors to try to overturn Biden's victory.

Andrew S. Clyde of Georgia, another McCarthy defector, said during a May 2021 hearing examining security lapses during the Jan. 6, 2021, attack on the Capitol by a pro-Trump mob that the rioters resembled a "normal tourist visit."

Most of McCarthy's foes hail from deeply conservative districts and won their elections handily, although Boebert held her seat by just over 500 votes in a surprisingly close race. Five are newly elected freshman Republicans who, because of the speakership stalemate, are still waiting to be sworn in for the first time.

Some of the hard-right members started voicing dissatisfaction with McCarthy last year. On New Year's Day, nine Republicans signed a letter opposing McCarthy. "The times call for radical departure from the status quo — not a continuation of past, and ongoing, Republican failures," read the letter, posted on Twitter by Perry.

[…]

Although most of the 20 were endorsed by Trump in 2022 and align themselves with his MAGA movement, they were unmoved when Trump weighed in on social media with a tepid endorsement of McCarthy on Wednesday morning. "Sad!" Gaetz said in a statement to Fox News, adding that Trump's opinion "changes neither my view of McCarthy nor Trump nor my vote."

"We love Mr. Trump, but we also appreciate the moment. We also appreciate that Mr. McCarthy has a history that has been off-putting to some, and we don't think he's the guy," said Arizona Republican Andy Biggs, who had originally offered himself as an alternative to McCarthy. "He's just not the guy."

Biggs sent out a fundraising appeal on Tuesday, asking supporters to make a donation to his campaign if they "agree a CONSERVATIVE should lead us in Washington… not another RINO Establishment hack like McCarthy." A link to a donation page says, "BREAK THE ESTABLISHMENT ONCE AND FOR ALL. EVERY DOLLAR HELPS SECURE THE SPEAKER POSITION."

[…]

Tom Cole of Oklahoma, who supports McCarthy, said that there have been constant conversations between different groups of people trying to reach a deal for the past several days but that it's been hard to determine exactly what the 20 naysayers want other than to prevent McCarthy from becoming speaker.

"I don't see a lot of policy differences here. Clearly, we've got 20 people who don't trust the current leader. We've got a lot of other members that are losing their trust in those 20 members," Cole said. "And so that's a personal problem, but it's not a political or a policy one."

A common complaint from the 20 was McCarthy's failure to engage with them over the summer, when many in the party thought the GOP would retake the House by larger margins than it did in the midterms. Instead, the GOP's narrow hold on the majority meant that to get to the 218 needed to win the speaker job if all members voted for a candidate, McCarthy could afford to lose only four votes.

"He thought it was going to be a red wave; he didn't need us. That's not good faith," Norman said.
I have no respect at all for McCarthy, who's a coward and a weakling who sold out the country backing Trump's seditious claims. That it didn't buy him the support of the MAGA wing is fitting, honestly. But this is clearly about self-aggrandizement and personal pique, not policy. The Taliban 20 don't even have an alternate Speaker lined up. They just don't want to vote for McCarthy.