Republican Crazies Forcing Government Shutdown
The House is in recess as the exasperated GOP leadership tries to figure a way out.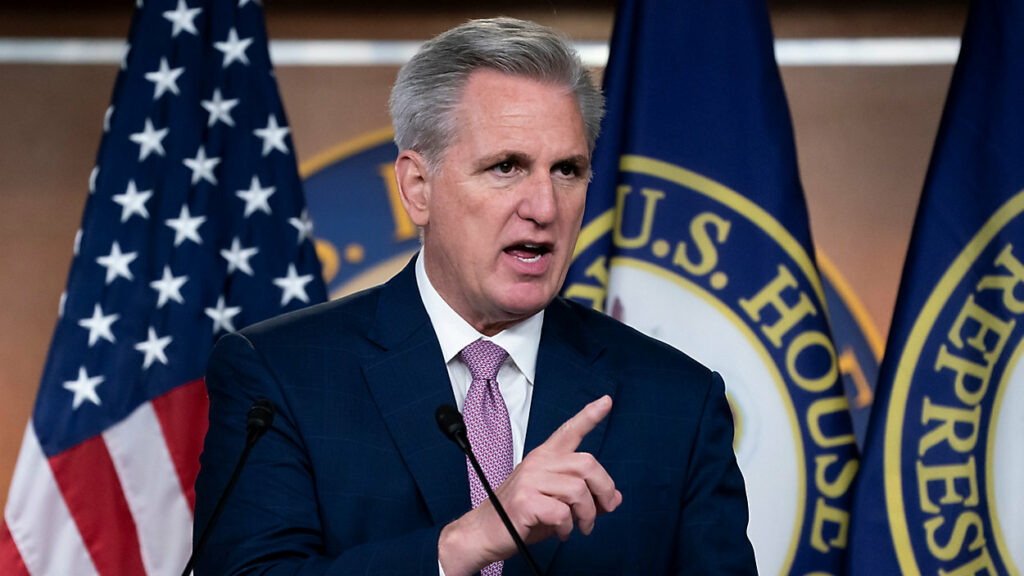 For the umpteenth time since I began my current job a little over a decade ago, we are devoting considerable time planning for a government shutdown. By all accounts, this one is inevitable.
WaPo ("House Republicans falter on funding plans, as shutdown inches closer"):
House Republicans for the second week in a row failed to move forward on any legislation related to funding the government, stunning many in their ranks as a government shutdown looms next week.

The status of negotiations on both a short-term funding solution and long-term appropriations legislation declined so severely Thursday that lawmakers began to return home, with no votes scheduled for the rest of the week.

Republicans' inability to pass a single funding provision since returning to Washington last week — including twice failing to start debate on a Defense Department appropriations bill — is the latest embarrassment for the conference whose direction is being dictated not by leaders but a handful of stubborn holdouts.

Unable to overcome the opposition, House Speaker Kevin McCarthy (R-Calif.) has scrapped discussion of a stopgap funding bill to keep the government open after the fiscal year ends Sept. 30, significantly increasing the already high chances of a government shutdown.

In an attempt to appease the demands of the far-right members who vowed to oppose any stopgap measure — called a continuing resolution and colloquially referred to as a "CR" — until there is progress on long-term appropriations bills, McCarthy and his leadership team will focus on passing the 11 remaining individual bills.

"The CR is dead," said one Republican aide who, like others, spoke on the condition of anonymity to speak frankly.

If there is enough progress on the individual funding bills to satisfy the demands of the holdouts, Republicans could resume discussions on how to keep the government open in the short term.

"I came up here to be responsible. We're gonna be responsible," said Rep. Tim Burchett (R-Tenn.), who is part of a group that would block a short-term funding bill and is demanding the passage of a budget and individual funding bills. "I'm going to hold firm."

But with just more than a week until the end of the fiscal year and no votes expected in the House until Tuesday, a shutdown seems likely.

"Obviously, the timetable is very short," said Rep. Chip Roy (R-Tex.). "And you know, getting stuff out of the House and then getting agreement in the Senate and so forth doesn't seem highly likely. But there's a number of options that are out there."

The Senate has been preparing to have to move first on a short-term funding plan should the House fail to act. Senators have a continuing resolution bill written, according to two people familiar with the internal workings of the chamber, but it's not clear if or when that bill would move.

The Senate had been waiting on the House to move first to avoid any parliamentary challenges since spending bills are constitutionally required to originate in the House.

After several setbacks over the past two weeks, a majority of House Republicans believed their luck would change early Thursday after finding a solution hours earlier to end a blockade that prevented them from advancing the Defense Department appropriations bill. But in a stunning defeat that McCarthy admitted he did not foresee, two new objectors emerged and caused the typically noncontroversial procedural hurdle to fail for the second time this week.

"It's frustrating in the sense that I don't understand why anybody votes against bringing the idea and having the debate," McCarthy said leaving the House chamber after the failed vote. "This is a whole new concept of individuals that just want to burn the whole place down. That doesn't work."

Lawmakers immediately huddled in McCarthy's office to find a path forward that would appease numerous holdouts. Many of those holdouts said they would never vote for a short-term spending deal in protest of Republicans not passing the remaining 11 appropriations bills necessary to fund the government for a full year — which in part includes the legislation they blocked Thursday.

McCarthy may need to relent on his insistence to pass funding measures with only Republican votes, a demand made by many in the far-right HouseFreedom Caucus who say they will introduce a motion to remove him from the speakership if he relies on Democrats to pass legislation. With only a four-vote margin, House Republicans have been — and will continue to be — tested throughout the fiscal fight.
POLITICO ("House GOP erupts as conservatives block defense bill again") adds:
Speaker Kevin McCarthy suffered yet another stinging defeat Thursday, as a handful of conservatives tanked a key vote that was supposed to signal the way out of days of intraparty bickering.

Instead, GOP hardliners again blockaded the floor for the second time in three days — leaving McCarthy unable to call the party's own defense spending bill to the floor. This time, though, it came as a shock to many GOP leaders, who believed they won over enough holdouts to finally bring up the Pentagon funding bill.

Perhaps more ominously, the ultraconservatives' gambit proved what many in the GOP had already suspected: That McCarthy is essentially powerless to avert a government closure that could begin Oct. 1.

Across the conference, House Republicans erupted in fury.

"This is painful. It gives me a headache. This is a very difficult series of missteps by our conference," Rep. Steve Womack (R-Ark.) told POLITICO. "If you can't do [the defense bill], what can you do?"

Walking down the steps of the Capitol after the failed vote, battleground Rep. Anthony D'Esposito (R-N.Y.), too, vented about the hardliners.

"At this point, it seems like there are some people playing policy warfare, and I think we need to move our country forward," he said. "We're pretty frustrated."
NYT ("Right-Wing Rebels Block Defense Bill Again, Rebuking McCarthy on Spending") adds:
Right-wing House Republicans dealt another stunning rebuke to Speaker Kevin McCarthy on Thursday, blocking a Pentagon funding bill for the second time this week in a vivid display of G.O.P. disunity on federal spending that threatens to lead to a government shutdown in nine days.

[…]

It was a major black eye for Mr. McCarthy, who has on multiple occasions admonished his members in private for taking the rare step of bringing down such measures, known as rules, proposed by their own party — a previously unheard-of tactic. And it signaled continuing right-wing resistance to funding the government, even after the speaker had capitulated Wednesday night to demands from hard-right Republicans for deeper spending cuts as part of any bill to prevent a shutdown on Oct. 1.

[…]

Democrats were left shocked at the level of dysfunction across the aisle.

"Just really a collapse," declared Representative Rosa DeLauro of Connecticut, the senior Democrat on the Appropriations Committee. "There really isn't any leadership."

Representative James E. Clyburn of South Carolina, a member of Democratic leadership, said he had never before seen a speaker lose a rule vote so many times — three times in four months, and twice this week alone — something that had not happened for two decades before Mr. McCarthy assumed the post.

"I don't quite understand this," Mr. Clyburn said of Mr. McCarthy's strategy, before suggesting he consider cutting a deal with the top House Democrat that could pass both chambers and keep the government open. "My advice is, 'Go sit down with Hakeem Jeffries.' If he's got a solid majority of his caucus, why wouldn't he? This is the tail wagging the dog. That's not the way to do it."

But Mr. McCarthy is keenly aware that if he were to turn to Democrats for help funding the government, he would face a right-wing effort to remove him from his post.
Given that McCarthy is unable to lead this caucus, anyway, giving up the Speakership arguably isn't even a big sacrifice. But it's not at all clear a replacement wouldn't be even worse.
While I understand that "right-wing" and "ultraconservative" are serving as a shorthand here, it's really misleading in that it frames as ideological something that's something else entirely. There's no policy dispute here. Those are solvable. McCarthy is right: there is a faction happy just to burn the whole thing down. I suppose "hardliners" works as a description but even that suggests that they're holding firm on an actual belief system. I went with "crazies" in the headline but that's not exactly a political science term.
That's not to say there aren't policy disputes. But there's no unity among the defectors in terms of goals.
In a sign of the complex and confounding resistance Mr. McCarthy is facing within his own party, the group of defectors on Thursday was slightly different from the five who broke with the G.O.P. to oppose the same measure two days earlier.

Ms. Greene, who has emerged as a McCarthy ally in this Congress and supported the debt ceiling bill he negotiated with President Biden, on Tuesday had voted with her party on the rule. But she said online that she voted against it on Thursday because it contained funding for the war in Ukraine.

"Our Defense bill should not fund our DOD for blood money for the Ukraine war, that's why I'm a NO," she wrote on X, the platform formerly known as Twitter.

Ms. Greene was also aligned with hard-right Republicans who made it clear they planned to stand in opposition to Mr. McCarthy's latest stopgap funding proposal, even after he bowed to their demands for steep spending cuts that stood little chance of surviving in the Senate. The group, which included at least seven Republicans, appeared to be large enough to defeat it given the party's tiny majority, which allows for no more than four defections if all Democrats vote in opposition.
This is a very small group. Alas, when there's a four-vote majority and the attempts to appease this group have made the bill toxic for Democrats, seven votes is huge.