The Drumbeat to War With Iran: Take a Stand
We need to have opinions on a subject as serious as war with Iran.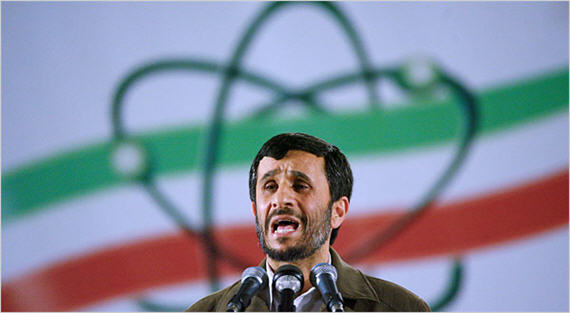 Hardly a day goes by it seems without a news article, column, or statement from a prominent leader on the likelihood of war with Iran. Yesterday's example was this column by David Ignatius:
Defense Secretary Leon Panetta has a lot on his mind these days, from cutting the defense budget to managing the drawdown of U.S. forces in Afghanistan. But his biggest worry is the growing possibility that Israel will attack Iran over the next few months.

Panetta believes there is a strong likelihood that Israel will strike Iran in April, May or June — before Iran enters what Israelis described as a "zone of immunity" to commence building a nuclear bomb. Very soon, the Israelis fear, the Iranians will have stored enough enriched uranium in deep underground facilities to make a weapon — and only the United States could then stop them militarily.
Mr. Ignatius is an opinion writer (it says so right below his name). His column does not offer an explicit opinion, an odd choice for an opinion writer. I do not know whether he has an opinion on the subject or has some reason to avoid taking a stand.
In the months before the U. S. invasion of Iraq, there were complaints, too few, unfortunately, of a "drumbeat to war". I believe that columns of this sort are just that sort of drumbeat. By not taking an explicit position against a U. S. attack on Iran, a column like this renders the idea more acceptable, part of the prevailing wisdom. As I read Mr. Ignatius's columns, he is the doyen of the prevailing wisdom.
I do have an opinion. I do not believe that, in the absence of a direct attack by Iran on the U. S. or U. S. interests, the U. S. should bomb or invade Iran. I know of no evidence that Iran is preparing to attack the United States. An attack by the U. S. in the absence of such evidence such an attack would be preventive in nature. Preventive war is immoral.
Furthermore, our on-the-ground intelligence in Iran is notoriously bad. I find it highly unlikely that limited strikes against presumed nuclear weapons development sites will do more than slow a nuclear weapons development program by more than a few years and it will certainly incentivize such a program. It also might rally the people to the present regime, very much the opposite of what we might wish to happen.
Finally, Iran is not Afghanistan or Iraq. Remember what Ralph Waldo Emerson wrote: if you strike at a king you must kill him.
I invite my colleagues at OTB to update this post with their own opinions on the subject. Commenters, weigh in in the comments. Please keep your remarks as succinct and dispassionate as I have attempted to keep mine.
UPDATE (James Joyner): Longtime readers will know that I oppose military intervention in Iran to prevent their acquisition of a nuclear weapon. Given the regime's enmity toward the United States and history of promulgating terrorist violence  against the United States and its allies, I have no moral objections to doing so. Rather, I think there are no politically acceptable military solutions to the problem. Further, I'm not entirely convinced that an Iranian regime with a handful of nuclear weapons even constitutes a particularly significant threat to the United States.
Among people whose views on the matter I respect, few think we can significantly disrupt Iran's nuclear drive from the air. The most notable exception is Chuck Wald, who made his case in an August 2009 WSJ op-ed. But even he allows that it would set of a perpetual game of cat and mouse rather than being a permanent solution.
We could, of course, follow an air attack with a ground invasion, decapitate the regime, and establish a long term occupation aimed at dismantling the nuclear program and installing a more friendly government. That option, however, is not only not politically viable at home but would almost surely create ripple effects in the region that would leave us less secure than we'd be if we just let Iran alone.
Finally, the notion that a nuclear Iran would pose some sort of existential threat to the United States–or even Israel–seems far-fetched. While the notion that the ayatollahs are a bunch of madmen eager for martyrdom may have been plausible 30 years ago, they've certainly demonstrated in the interim that they're rational actors interested in long term survival. Frankly,  we've had some really bad actors in charge of significant nuclear arsenals over the years. Joe Stalin. Mao Zedong. Kim Jong Il. Not to mention the unstable morass that is Pakistan. None has ever launched a nuclear attack on their enemies.
Indeed, while my strong preference would be that Iran not get nukes, there's an argument to be made that being a possessor nation would actually make them less threatening simply because they'd feel less threatened. Right now, they have to live under the constant specter of an Israeli, American, or Arab attack. As North Korea demonstrated, it's better to be the nuclear end of the axis of evil than the non-nuclear end. And, as Libya demonstrated, it's probably not a good idea to give up your nuclear program for a bag of magic beans.
Update (Doug Mataconis): I generally agree with James and Dave on this issue. Absent an attack or direct threat to the United States, or vital American interests, I see no justification for military action against Iran. Not only should our experiences in Iraq  and elsewhere educate us on this regard, but the rather obvious potential consequences of war should cause anyone in the "Bomb Iran" crowd to pause before pumping their fist in victory. Increased terrorism, threats to shipping in the Persian Gulf, and a massive oil spike are only the most obvious unintended consequences of military action, any one of which would turn an "easy" military strike into something that has long term consequences for the region and the world.
There are three dangers that we need to be aware of as we get closer to what seems like a final decision point. First, the antipathy toward Iran in the United States that goes back some three decades makes it far too easy for pro-war advocates to whip up war fervor among the public. Second, Iran itself seems intent on acting in a manner that provokes its enemies. Barring inspectors, war games in the Straits of Hormuz, and apparently plotting terrorism inside the United States are just a few of the actions we've seen most recently that seem guaranteed to help raise tensions to a tripwire level very quickly. Finally, this decision may not be entirely in our control. Israel is likely to strike out if it feels it has no other choice, and that is likely to lead to a wider conflict. So far, we've been successfully in convincing the Israelis to calm down vis a vis Iran but we may be nearing the point where those assurances aren't going to be good enough. At that point, we may have war whether we want it or not.