The Fauci Who Stole Christmas
You're a monster, Dr. Grinch, Your heart's an empty hole.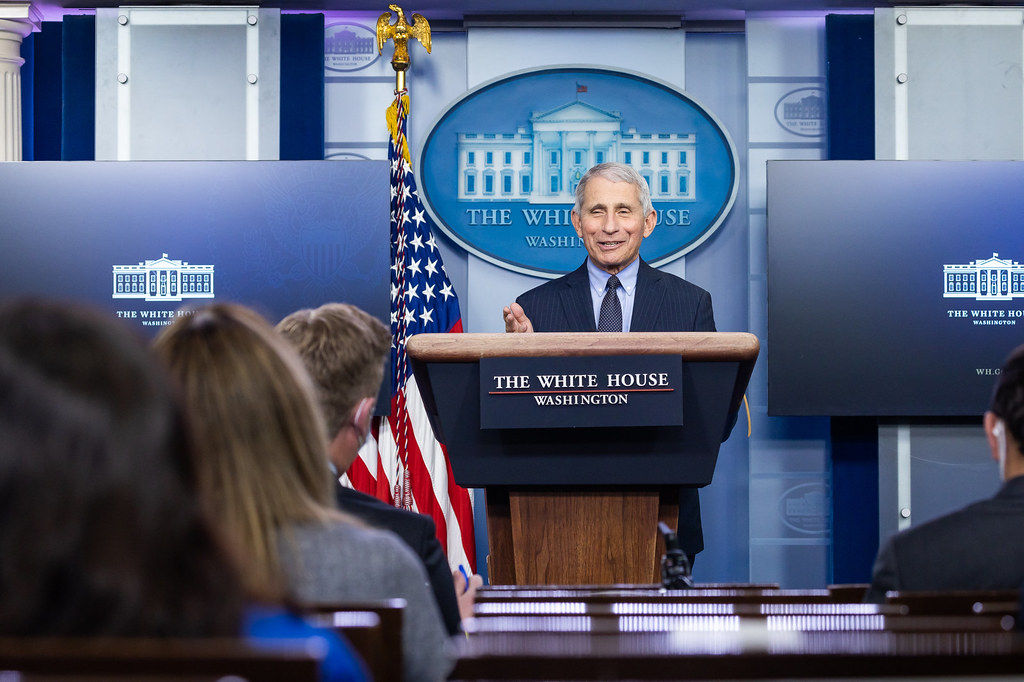 Reason's Robby Soave has grabbed onto the unfortunate neologism "Faucism" and is foursquare against it.
Last week, the CEOs of American Airlines and Southwest Airlines told Congress that they do not think mask requirements make much sense on airplanes, where the air filtration systems are superior to what is typically found in an intensive care unit.

"I think the case is very strong that masks don't add much, if anything, in the air cabin environment," said Gary Kelly, CEO of Southwest. "It is very safe and very high quality compared to any other indoor setting."

Unwilling to let anyone undermine the case for keeping a government mandate in place, White House coronavirus advisor Anthony Fauci threw cold water on the idea.

"You have to be wearing a mask on a plane," he said bluntly on television Sunday.

When ABC News' Jon Karl asked Fauci specifically if he thought we would ever reach the point where we did not need to wear masks on planes, he responded: "I don't think so. I think when you're dealing with a closed space, even though the filtration is good, that you want to go that extra step when you have people—you know, you get a flight from Washington to San Francisco, it's well over a five-hour flight. Even though you have a good filtration system, I still believe that masks are a prudent thing to do, and we should be doing it."
So, a certified public accountant who has a self-interest in making air travel seem safe and convenient has a different view on the matter than a man who graduated top of his class at Cornell Medical School and has spent the last 55 years in the field of public health, the last 37 of which as director of the National Institute of Allergy and Infectious Diseases? How ever would we go about breaking the tie?
The filtration argument makes some sense. Except for the fact that it used to be pretty common to catch colds as a result of being confined on planes with sick people for hours on end. So, apparently, the filtration system isn't all that effective against coronaviruses. So, maybe Fauci is on to something here?
This is Faucism distilled down to its very essence. For the government health bureaucrats who have given themselves sole authority over vast sectors of American life—from travel to education to entertainment to housing—it doesn't matter what the CEOs of these companies think. It doesn't matter what their customers want. It doesn't matter if maskless air travel is, for the most part, quite safe (especially for the vaccinated). It doesn't matter if the mask mandate makes air travel impossible for families with young children. All that matters is the calculus of the most risk-averse people: unelected public health experts at the Centers for Disease Control and Prevention (CDC) and the National Institutes of Health (NIH).
So . . . none of this is a refutation of Fauci. It just demonstrates that, if what Fauci says is true, it kinda sucks. I mean, CEOs are going to advocate for their bottom line. Customers are often selfish. And, goddamn it, how long do we have to be in this pandemic before people understand that not all of these precautions are about the individual being asked to take them?
Look, I don't like masking. To the extent that most of us are vaccinated, it's largely useless in a lot of situations—especially since few are wearing K95 masks and most are still wearing cloth ones, which are considerably less useful. And that's to say nothing of the absurd theater of wearing them into restaurants, only to take them off almost the entire time one is inside. In most instances, people are going to simply have to make tradeoffs.
And, yes, there's a certain bureaucratic inertia at work. As with the thankfully defunct DHS terrorism color codes, nobody in authority was ever likely to proclaim that the crisis is fully over given the incentives.
But, surely, commercial air travel is among the last places we'd end the mask mandate? Especially if we're not going to have vaccine passports or make them mandatory for air travel. We're talking an entirely voluntary activity that's necessarily much more regulated than most activities. And, given the aforementioned tight spaces, it makes sense to take measures to protect the elderly, immunocompromised, small children who are ineligible for vaccination, and other vulnerable populations.
Like Fauci, NIH Director Frances Collins said this past weekend that air passengers should be masked—and should think twice about large gatherings, and even about going anywhere at all.

"I'm not going to say you shouldn't travel, but you should do so very carefully," he said, before adding that the unvaccinated should definitely remain at home.
But Collins wasn't issuing a government mandate; he was simply stating the obvious. We're in the midst of a surge in cases and deaths with a new variant on which we have little data. Breakthrough cases are spiking. So, yes, it makes perfect sense to advise caution.
My wife and I are boosted and my kids and stepkids are all vaccinated. We're more-or-less going about our normal lives at this point. But I'm still not keen on, for example, sitting in a movie theater for three hours. And, if we had family who were unvaccinated, I would probably not allow them into our home or go visit them in theirs.
Indeed, the vaccine is the only public health innovation doing much to save people's lives from COVID-19, but it's obviously not the case that we are just one more round of booster shots away from triumphing over the disease. The reality is that COVID-19 will be with us for years to come, no matter how faithfully people wear masks, practice social distancing, and get boosted.
That's . . . probably not right. That is, if we had one hundred percent vaccination—or as close to it as possible—we would probably beat this thing. But, yes, we'll likely have some residual cases regardless.
Yet the Faucists talk about COVID-19 as if the pandemic is still some kind of we're-all-in-this-together civilizational struggle that justifies and necessitates the suspension of civil liberties, whole industries, and school time. In his ABC interview, Fauci told Karl that he's never walking away from his position of authority until COVID-19 is defeated.

"You know, we're in a war, Jon," he said. "It's kind of like we're halfway through World War II, and you decide, well, I think I've had enough of this. I'm walking away. You can't do that. You've got to finish it—and we're going to finish this and get back to normal."

But the U.S. government is unlikely to ever defeat COVID-19 in the same sense that it defeated Nazi Germany and imperial Japan. In the meantime, the government is claiming more and more power for itself; this power is being wielded by the agencies least accountable to the democratic process, and it is being used to enact harmful restrictions on people's lives that will apparently last for years, for decades, or forever. Americans still remove their shoes and belts in order to board air planes, even though the event that inspired this policy happened more than 20 years ago—and even though the evidence against this policy is overwhelming.
Again, I agree that government bureaucracies tend to over-react and think we likely have on some policy choices regarding the COVID pandemic. The absurdity of taking off one's shoes—unless one paid extra for a precheck that does little—to board airplanes presumably makes it marginally more challenging for a would-be terrorist and gives the illusion of a government exercising due diligence. Requiring masks on a plane—and, again, especially if the requirement were for ones that actually did a good job—makes a lot more sense.
The Faucists clearly want to make masks just as permanent as the TSA: Indeed, they have said so explicitly, as Fauci just did. At every stage of the pandemic, public health bureaucrats have uttered some version of the sentence Now is not the time to ease up. Not today, not tomorrow, not ever. Not as long as they are in charge.
Fauci has been in this post since the year I graduated high school and he's never heretofore demonstrated an inordinate will to power. We've had influenza for decades, including spikes that killed thousands. We never had mask mandates during flu season, despite them being commonplace—and effective!—in other cultures. He was actually slow—too slow!—to encourage their use during the COVID pandemic. I just can't imagine the man is cackling with glee over the fact that he gets to make us wear them on airplanes for the foreseeable future.