The Five Reddest States
Pursuant to a comment on my post about the potential for an electoral college sweep, I expanded my pool of GOP-no-matter-what-states to five to include Alaska and Idaho, which are actually better cases for my argument than Oklahoma (although OK certainly fits).
While one will readily acknowledge that past performance is not indicative of future outcomes, these are five states that, no matter who is nominated, will go Republican in 2012 and likely will be in that position well into the future.
There are no comparable Democratic states over the same period of time, unless one counts DC, which is undeniably a guaranteed win for the Democrats.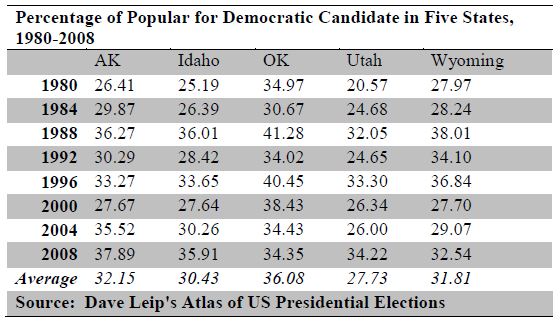 In regards to 2012, there are a number of other states that also will almost certainly go GOP no matter who is nominated, but they do not have the same long-term electoral profiles as those in the table.  Specifically for 2012 I would easily include Alabama, Arkansas, Louisiana, Mississippi, and Texas as very reliable Republican wins regardless of nominee.