The Genius of Mitch McConnell
The Senate Republican leader is running a shrewd political game. But what's good for the GOP is bad for America.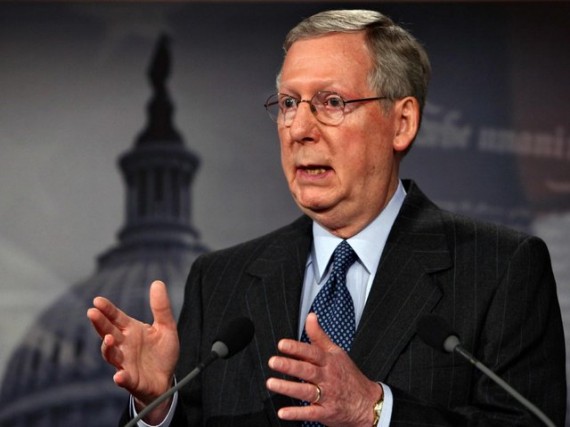 Ezra Klein writes a column "In praise of Mitch McConnell." He's not being sardonic.
In a city split between liars and idealists, McConnell is the rarest of all things: an honest cynic. He's the only powerful politician in America willing to tell you how Washington actually works, and that's why he needs to be heard.

McConnell's first brush with radical truth-telling came in October 2010, when he told National Journal that "the single most important thing we want to achieve is for President Obama to be a one-term president." McConnell quickly qualified his remarks, although he never quite apologized for them.

Nor should he have. McConnell wasn't articulating a radical new theory of politics. He was telling us how he and his party were already voting. Consider the dozens of elected Republicans who, at one time or another, supported an individual mandate for health-care reform, cap-and-trade for carbon emissions and tax cuts for stimulative purposes. Over the past three years, almost all of them have renounced their former views. Unless you understand McConnell's argument, you can't understand their actions.

[…]

Many here understand a "bipartisan bill" to mean one with ideas from both parties. On deficit reduction, for instance, it would mean Democrats give in on spending cuts if Republicans give in on tax increases. McConnell understands it to be one with votes from both parties. That's why he can keep a straight face while saying something like "President Obama needs to decide between his goal of higher taxes, or a bipartisan plan to address our deficit. He can't have both."

McConnell is right. Voters don't spend their time conducting detailed analyses of legislation and neither — let's be honest — do the media. Instead, both groups take their cues from political leaders. If the Republicans call a bill partisan and refuse to support it, the bill gets reported as partisan no matter its content.

[…]

There's supposed to be a curb on this sort of behavior: If you don't participate in the legislative process, you don't get anything out of the process. Here's McConnell's most important insight: That's wrong. Withholding minority-party votes forces the majority party to hand its most moderate members — and the most moderate members of the other party — an effective veto, which drags the legislation substantively to the center, and in the current situation, to the right.

Health-care reform was more conservative than it would have been if more Republicans had been willing to support it. The stimulus was smaller than it would have been if conservative senators had been willing to back the whole in return for concessions on the parts. It turns out that a partisan political strategy results in more bipartisan policy. The opposition can have its cake and eat it, too. That doesn't leave much reason for it to be bipartisan, of course. But for a minority party that wants to defeat a president who sold himself as a unifier, that's a plus.
I've made variations of this argument for month but Klein encapsulates it wonderfully. McConnell's strategy  may be cynical but it seems to be effective.
The obvious contrast is with Bob Dole at this point in 1995. Bill Clinton had come stumbling out of the gates, so much so that his party lost not only the Senate but, for the first time in decades, the House. If 2010 was a "shellacking" for the president's party, 1994 was a good old fashioned ass whoopin'.  Yet Clinton managed to rally back and sail to easy re-election in 1996.
Partly, this was a function of a rebounding economy. Partly, it was a function of Newt Gingrich being a much better revolutionary than Speaker. And partly it was Clinton's brilliance as a politician. But another major piece of the puzzle was that the Republicans played into the Clinton-Dick Morris triangulation strategy, giving the president all manner of major legislative victories.  Yes, they got most of what they wanted on the policy front on such things as welfare reform. But Clinton got what mattered more: The credit.
While Bob Dole was arguably more crucial in getting those bills passed in a form that appealed to the American public than Clinton, in doing so he undercut his own argument for why we needed a change in the White House. The public was quite happy with the results of a Democrat in the Oval Office and Republicans running the Hill and decided to keep that arrangement.
McConnell was around for all this and likely internalized the lesson.
There is, however, an important caveat to all this praise for McConnell: While it's a brilliant strategy for an opposition party seeking to become the governing party, it's incompatible with our institutional arrangements. Tight party discipline makes absolute sense in a parliamentary system with its "responsible government" model. But it's a recipe for permanent stalemate in our system of checks and balances.
Yes, it makes it easier for the Republicans to regain the presidency. But it means that prize will be much less valuable if won, since the Democrats will surely employ exactly these tactics when the shoe is on the other foot.