The GOP's Battle Plan Against Hillary: Arguing That "She's Old?"
The GOP is going to have to come up with a lot more than just age if they end up facing off against Hillary Clinton in 2016.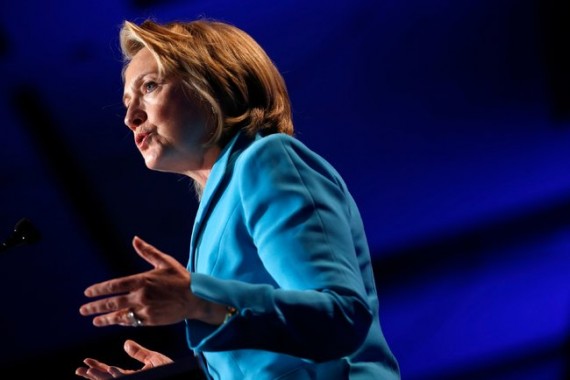 In what I'm pretty sure is his first piece for The New York Times, Jonathan Martin, formerly of Politico, lays out what seems to be becoming the central Republican message against Hillary Clinton, who seems likely to be the Democratic nominee for President in 2016. That message seems to boil down to pointing out that she's old:
The 2016 election may be far off, but one theme is becoming clear: Republican strategists and presidential hopefuls, in ways subtle and overt, are eager to focus a spotlight on Mrs. Clinton's age. The former secretary of state will be 69 by the next presidential election, a generation removed from most of the possible Republican candidates.

Despite her enduring popularity, a formidable fund-raising network and near unanimous support from her party, Mrs. Clinton, Republican leaders believe, is vulnerable to appearing a has-been.

"Perhaps in the Democratic primary and certainly in the general election, there's going to be an argument that the time for a change of leadership has come," said the Republican strategist Karl Rove. "The idea that we're at the end of her generation and that it's time for another to step forward is certainly going to be compelling."

A yesterday-versus-tomorrow argument against a woman who could be the last major-party presidential nominee from the onset of the baby boom generation would be a historically rich turnabout. It was Mrs. Clinton's husband, then a 46-year-old Arkansas governor, who in 1992 put a fellow young Southerner on the Democratic ticket and implicitly cast the first President George Bush as a cold war relic, ill equipped to address the challenges of a new day. Mr. Clinton then did much the same to Bob Dole, a former senator and World War II veteran, in 1996.

A Republican approach that calls attention to Mrs. Clinton's age is not without peril, and Democrats predict that it could backfire.
Indeed the perils here seem fairly self-evident. For one thing, arguments that stem, either explicitly or subtly, from the idea that the candidate is "too old" for the job of the President haven't generally been all that successful. Mrs. Clinton will be roughly the same age that Ronald Reagan was when he ran for President in 1980, for example, and he was able win quite handily. When the question came up again in the 1984 campaign, when Reagan was older than any other person who had ever run for President and had just been through a debate performance that had some questioning whether he was too old and tired for another term in office. Reagan responded to those criticisms with what may have been the most memorable moment in any Presidential debate, only to follow it up later with a thorough refutation of an argument Walter Mondale had made about defense spending. What those incidents teach us is that making a campaign about an opponents age can often end up backfiring, especially when there are independent forces driving the campaign, such as the economy and national security in 1980 and 1984.
In the case of Clinton specifically, though, it strikes me that an attack based on age would be especially problematic because it poses the danger of turning into an attack on a woman based on her age, which I'd suggest has the potential to be a far different animal than simply pointing out a la Reagan or McCain that a candidate is older. Indeed, how long would it take before some idiotic conservative pundit, or even a member of Congress, made a comment about Clinton as the "Old Lady," or worse. As Allahpundit puts it, at that moment it would be welcome to the War On Women 2.0. Moreover, if Clinton maintains the relatively high favorability numbers that she has now going into the campaign, it's hard to see how such a strategy could even possibly work, and how it could not backfire.

Michael Tomasky ascribes the idea that the GOP can beat Hillary by contrasting her with a younger candidate like, say, Marco Rubio, to their ongoing failure to speak to a whole host of minority groups:
Republicans make the same mistake all the time with groups they don't normally talk to or know much about, whether it's African-Americans or Latinos or young people. They think they'll change loyalties on the basis of symbolism. But people turn out not to be that stupid. They actually pay some attention to substance, and the GOP stands against what young people support in almost every particular.

(…)

Direct attacks on Clinton's age will, if history is a guide, go overboard and backfire; and as for rebranding the GOP as the forward-looking party of young people, well, that has to start with changing policy positions that the party has no ability to change. Other than that, great idea.
That brings us to Allahpundit's idea that the GOP should concentrate on Hillary's "old ideas" rather than her age:
The "old news" message is really just an anti-establishment message at base: The problem with Hillary isn't that she'll be almost 70 by election day, it's that she'll have been a Beltway institution for close to 25 years at that point. If, like many Americans, you're disgusted with the federal government generally and Congress in particular, why nominate someone who's been a "co-president," senator, and Secretary of State, and not particularly effective in any role?
On some level, this isn't a bad suggestion. Electing a candidate of the same party after a two term Presidency has not been a common event in recent American history, especially since the adoption of the 22nd Amendment. Kennedy followed Eisenhower, Nixon followed Kennedy/Johnson, Carter followed Nixon/Ford, Bush followed Clinton, and Obama followed Bush. The only exception to this pattern over the course of fifty years was the election of George H.W. Bush after eight years of Ronald Reagan, and Bush only managed to last for one term. There's at least some support then for the idea that, at some point, the American public gets burned out on a particular political party controlling the White House. Might that happen in 2016? It's possible, even with someone as currently personally popular as Clinton heading the top of the ticket. At the same time though, that requires the GOP to be able to present a credible alternative. In order to do that, they're not going to need just a young, dynamic candidate that looks good on television, they're going to need a platform of ideas that appeals to the voting public. We saw how that worked out in 2012, and the party has shown no real inclination toward changing it's platform in the slightest respect. The way that the immigration debate has gone so far is the best exhibit of that, I would submit.
All bets are off, of course, if Mrs. Clinton decides not to run. At that point, the Democrats will have as wide open a field as Republicans will and, of the names that have been mentioned as second-tier Democratic candidates, none of them seems to be particularly well-suited to being the center of the kind of mass appeal campaign we saw from the Obama camp in 2008 and 2012, and that we'd likely see from the Clinton campaign. Additionally, things could be very different if the Obama years end with an economic downturn or an international crisis that calls the record of the Administration that Clinton was a major part of for four years into serious doubt. At the moment, though, it sees pretty clear that the GOP is going to have to come up with with a lot more than they appear to have now if they end up facing off against Hillary Clinton in the 2016 General Election.