The Heart of the Bain Story?
Isn't the bottom line here that Romney and his campaign just screwed up?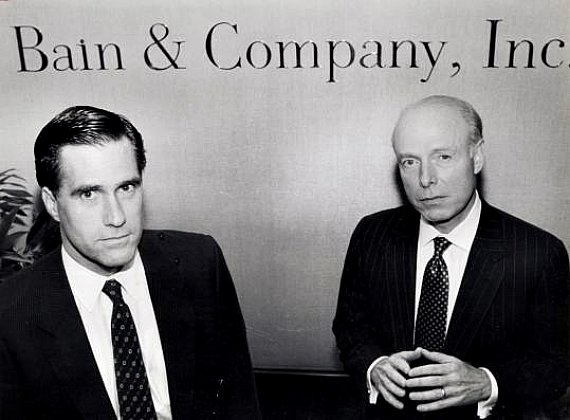 Ok, so for the last week I have been buried by a combination of summer school teaching and trying to get a book ready to send to shop to a publisher, so I have consumed a lot less news and bloggage than I might otherwise.  I point this out because it demonstrates a bit of distance from the roiling commentary on the Romney Bain story.  I am aware of the story, and I think I know the basics and have read a little bit here and there.
However, watching the typical political storm from a somewhat more detached-than-usual vantage point, I have to ask, is not the fundamental issue as follows?  Earlier in the year, Romney and his campaign claimed that he has left the firm in 1999 to go work on the Olympics.  The reason they wanted to make this claim is because Bain was under criticism for being involved in investments decisions that led to some companies closing and therefore to people losing their jobs.  Since being associated with people losing their jobs in an era in which jobs are a major political issue, Romney wanted no association with post-1999 job losses.  Indeed, the Romney campaign was pretty adamant about Romney being gone from the company during the period in question.  Now, however, it ends up that Romney did not leave, but that he was the president and CEO until 2002.  He is now having to explain this discrepancy.  This is problematic for him because a) he appears to have lied about (or, at least, severely spun) his 1999-2002 involvement in the company, and b) he can now be associated with the aforementioned job loses.  Meanwhile, some commentators are suggesting some criminal might be found in the SEC filings, etc.
Do I have the basics?
Now, it seems to me that while this story will fade (and, further, as much of blogstorm that it may be, one suspects that most voters are paying it no mind whatsoever), that the following is true:
1.  This all reinforces the notion that Romney is willing to bend the truth, if not lie, in his pursuit of office.
2.  He is now connected with the job loss/outsourcing issue (and it looks like he lied to cover up that fact, and hence making it seem that the action may be worse than originally thought, because after all, why lie about it if it wasn't a big deal?).
3.  Criminal charges are not happening.
None of this, by the way, speaks well to the alleged management skills that Romney is supposed to be bringing to the table.
In regards the the question of how the Romney campaign created this mess, I would point to a post from Dave Weigel yesterday who noted that following:
So who gave people the idea that Romney had completely severed ties with Bain in February 1999? The Romney campaign! On May 14, bristling at the first Obama/Bain attacks, the Romney campaign (via spokeswoman Andrea Saul) sent out a kitchen-sink debunking statement. The argument, made VERY LOUDLY in bolded sentences, was that Romney "left Bain Capital" in 1999. The sentences in question:

The Bankruptcy And Layoffs At GS Industries All Occurred AFTER Governor Romney Had Left Bain Capital in February 1999.

After Agreeing To Head The Salt Lake Olympic Committee In February 1999, Romney Said He Will Leave Running Day-Today Operations To Bain's Executive Committee.

Fact Checkers Have Stated That The Facts "Exonerate Romney" From Allegations Relating To Any Bain Deals In The Early 2000s.
Now, granted, she did say he would "leave running day-to-day operations" and so it depends on what that is supposed to mean.  Clearly we now understand that he remained in charge, at least on paper (and, really, as president and CEO, it had to be more than a mere paper relationship).
The bottom line on all this, then, is that Romney wanted to be held harmless in politically difficult actions that Bain was involved in after February 1999, so he and his campaign obfuscated at best and lied at worst about his involvement and now they have been caught, yes?
In other words:  this is all fundamentally about a campaign mismanaging a potentially negative element of their candidate's bio, by doing so, making it several orders of magnitude worse?